After eight days on the slopes of Idaho Ski Resorts, I've found the state where a value-hunter like me can rejoice at the prices. I didn't think there were still ski hills around where the local ski bums outnumbered lawyers and hedge fund managers anymore. But if you ski Idaho, you'll find mellow mountains with no lift lines and people who are more concerned about snow conditions than how their outfit looks.
I've talked before about the high cost of skiing in the USA and how it's often cheaper to ski in Europe than it is in America. The folks at Ski Idaho begged to differ though and said, "Not here! Come see for yourself."
So I did—bigtime. I skied eight days out of nine, hitting a wide range of mountains in three distinct areas of the state. The most expensive lift ticket I encountered was $75 and one place dipped as low as $20. The last time I saw prices like that I had a full head of hair.
It was refreshing, fun, and a serious workout since I never had to wait in line even once. Up the lift, swish down the slopes, repeat. Then when it was time to grab a bite to eat or drink a beer, those prices were refreshing too.
Here's a rundown of my road trip adventure, with details on each option you can use for making your own future Idaho ski resort plans.
Idaho Ski Resorts North of Boise
Tamarack Resort
My skiing adventure started out at what felt like the biggest resort I would visit on the trip: Tamarack. It has the second-longest vertical drop in the state at 2,800 feet. That's just 600 feet shy of much more expensive Sun Valley.
This one 90 miles north of Boise was limping along for years before a new owner with big bucks took over in late 2018. A residential ski village is going in now and more permanent buildings are replacing some domed structures for restaurants and bars that were in place when I visited.
I did have a fine meal and some good local brews at Seven Devils Pub, but the upgrades will allow continuous expansion with more lifts and trails. This is the only place I visited that had a full-blown lodge hotel on site. So at Tamarack you can stay put after your last run.
The skiing at Tamarack Resort is downright great, with a wide variety of runs I didn't get tired of over the two days I checked it out, including some really long blue trails that had my legs screaming out for a break by the time I made it to the bottom. There are also some beginner runs that are long and gentle, with good scenery. Seven lifts serve 50 runs and three terrain parks for snowboarders. There's glade skiing, some challenging black diamond slopes, and a beginners' area.
A full rental shop with regular skis and demo options is run by a former racer. My small group also went out on some fat tire mountain bikes through the snow, which was big fun.
This is the most expensive Idaho option besides famous destination resort Sun Valley, but that word is a relative term in this McCall Idaho skiing region. Compared to most places this size in the Rocky Mountains or Vermont, it's a bargain. Walk-up lift tickets are $75 adult, $49 teens, and $34 for kids 7-11 (6 and under are free). Rental packages run from $25 to $61 per day. They sell a terrific Boundless year-round pass that's a dream for locals who love to mountain bike too. Kids and teens ski free in March. See more at TamarackIdaho.com.
Brundage Mountain Resort
My group of three visitors all got a happy vibe from this place near McCall, Idaho. Brundage made us feel nostalgic with its trails full of ski bums and teen snowboarders, smiling locals enjoying the sunshine, and nary a lift line in sight. They put their money where their mouth is in luring beginning skiers: there's one lift and bunny hill that's completely free. Park your car, pop on skis, and start snowplowing.
Brundage Resort is about the same size as Tamarack when it comes to trails and lifts, with six lifts and 51 trails, plus glade skiing areas and backcountry options. This places averages 320 inches of snow a year and usually stays open until mid-April. There's a restaurant, coffee shop, and bar with sit-down lunch service at the base, where we ate surprisingly well and had some local craft beers to choose from. There's no lodging on site, but you can see the town of McCall from the slopes and there are several options in town. We stayed at the funky circa-1911 Hartland Inn in nearby New Meadows, which has three kinds of rooms and a terrific ski-and-stay package for $82 per person.
Lift tickets are $73 adult, $42 teen, and $27 kids 7-11 (those 6 and under are free). Rental packages are $35 – $59, with attractive combo packages with lessons for beginners. For more information visit Brundage.com.
Little Ski Hill – Payette Lakes
Since we hadn't put our legs through enough already, after Brundage we headed to nearby Little Ski Hill to experience some more McCall Idaho skiing—at night. I actually learned to ski at night in Virginia, which is certainly not ideal, but it was kind of fun to come down the trail here while the sky was orange with the sun going down. Then we made a few runs on the lighted slopes in the dark after letting the T-bar pull us up the hill.
The Little Ski Hill is operated by the Payette Lakes Ski Club, not some big corporation, and the prices reflect that. Their mission statement is the real deal:
Our mission is to provide affordable, accessible, and sustainable winter recreation facilities that provide a full spectrum of programs for the community while reducing any financial barriers to participation.
There are only six trails plus a snowboard terrain area here, but where else can you buy a lift ticket, a basket of nachos, and a beer for under $30? When's the last time you saw a ski hill lift ticket for $20? Well it's still reality here, with youth tickets $15. A season pass here is less than what one half-day ticket will cost you at most big resorts you've heard of in the Rocky Mountains.
This place is operated like an after-school program for mountain kids, with hours of 3:00-8:00 on weekdays and a casual noon opening time on weekends. There's nothing even slightly pretentious about this option, but it's been open for 79 years and quite a few downhill racers got their start here. It's only two miles from McCall, so it's easy to zip up here for a few hours then have a short ride back to your hotel. See more at the official website.
Skiing Near Boise at Bogus Basin
The name may be Bogus but the skiing is not at the closest resort to Idaho's largest city. It'll probably take you a half hour or less to get here from your Boise hotel or the airport, making it the easiest flight-to-slopes option in the state. Yet this is a full-blown resort that will have you worn out if you try to cover the whole thing in a day. There are reportedly 2,600 skiable acres here and it'll take you quite a while to explore: there are 82 named runs when everything is open. Bogus Basin has the second-largest snowmaking operation in Idaho.
This is a non-profit 503(c) company run by a volunteer board and self-funded. It has been that way for 3/4 of a century. This keeps prices down and also allows them to plow any profits back into upgrades.
The part of the mountain that finishes up at the base lodge can get a bit crowded on weekends since the Deer Point Express quad chair there only serves about 1/3 of the trails.There's a huge expanse of other trails though served by a range of other lifts, including some very long black diamond trails and one of the most scenic traverse trails I've ever been on, pictured above. Dipping down off that ridge is a whole section of fairly wide black diamond trails and just one blue to escape them. For expert skiers, Bogus Basin probably has the most trails to choose from of all the resorts I visited and a whole lot of them were groomed. There are lots of intermediate ones too, but a comparatively low number of green slopes. There are better options a little further away if you want lots of long and easy cruising trails to choose from.
Adult lift tickets are $67, teens are $49, juniors are $26, and kids 6 and under are $10. There are lots of good package deals for those still learning to ski and there's night skiing here. Adult rentals are $32-$60, 12 and under it's $24.
There's also a super-fun Glade Mountain Coaster you can ride that goes on gravity (you have a hand brake) and that's $15. For the same price you can go snow tubing on a course with a conveyor belt. See more at BogusBasin.org.
South Idaho Ski Areas Outside Twin Falls
Soldier Mountain
As the crow flies this is almost as close to Boise as it is to Twin Falls, but by road it's a lot easier to drive up from Twin Falls as the route is less convoluted. Soldier Mountain is located on Forest Service land not far from Sun Valley, but it's a whole different world in terms of cost, lift lines, and attitude. It's the antithesis of a fancy ski mountain for millionaires. Here the snowcat driver might be a barley farmer and the lift operator will tell you how many head of cattle he has. The skiers making tracks down the mountain will more likely give you hunting and fishing tips than stock picks.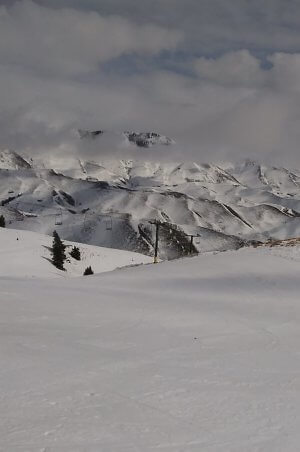 As I write this in mid-March they're finishing up for the season: there's no snowmaking here and some winters they're not as blessed as other ski hills in the state. Soldier Mountain is a blast to ski though, plus when there has been a powder dump they offer great backcountry skiing one mountain over via snowcat. The scenery here is stunning as well, so when it's a clear day out you feel just plain happy to be alive as you're cruising down the mountain.
There are a lot of long and fun cruising trails here that are plenty wide for non-experts and even on weekends there's seldom much of a lift line. That's even though there are only two lifts. One goes up to 6,628 feet, the other takes you from near there up to 7,177 feet. From the top you've got lots of ways to get down though, including 13 black diamond trails. This would be a great place to learn also as there's a bunny slope served by a magic carpet conveyor plus two long green runs from the top of the first chairlift.
Lift tickets here won't set you back much: they're $45 adults, $25 youth, and free 5 and under. Magic carpet or "last hour" tickets are $15. Ski rental packages are $29-$39 including a helmet.
The nice lodge at the bottom has a good restaurant filled with natural light, a full bar with a couple local craft beers on tap, and a rental shop. There's no place to stay on site, but the Prairie Inn located in nearby Fairfield is reasonably priced and comfortable. See more at the Soldier Mountain website.
Magic Mountain
Not to be confused with one in Vermont that has the same name, this Southern Idaho ski resort had the lowest lift ticket price of any option with a real chairlift. It'll only set you back $33 for adults, $25 for youth, and it's free for kids 6 and under with a paying adult.
Like some of the others on this list, Magic Mountain is on Forest Service land, so making changes requires a not-so-magic mountain of paperwork and the patience of Rip Van Winkle. They may have to break $35 a day if they finally get approval to install the second lift that's been planned forever. For now there's just one generator-powered lift out here off the grid that takes you two-by-two to the top and "We don't need no stinkin' safety bar!" (To be fair, lifts at Soldier Mountain and Pomerelle didn't have them either—hold on tight.)
We had a blast skiing here though and there are a lot of ways to get down from the top. When there's fresh powder there's enough variety that it would take you most of a day to hit every trail. A few of the steepest runs were a bit crusty during my visit though so we mostly kept to the groomed trails. This is a terrific place to learn since they have a rather long magic carpet conveyor and bunny hill. You might want to go elsewhere after the snowplow stage for now though: the easiest way down from the top of the chairlift is (for now) a blue intermediate run.
No matter what you order for lunch it'll be less than 10 bucks in this simple lodge and odds are it'll be a burger, but they do have some local brews in cans and chicken fingers for the kiddos. There's a great snow tubing run here as well.
Rentals are only $20-$25 here and there are very attractive lesson packages for first-time skiers. There's nowhere to stay at the mountain itself, but the drive from Twin Falls is the prettiest jaunt to a ski resort I've seen since I made the trip from Santiago, Chile to Valle Nevado above the treeline close to a decade ago. We stayed at a very new Towneplace Suites that had oversized studios with a kitchen and lots to choose from for breakfast. See the Southern Idaho tourism site for ideas on what else to do in the area.
Pomerelle Mountain Resort
I ended on a real high note at Pomerelle by skiing 23 of their 24 runs to close out my eight days on the slopes. At this point my legs had stopped complaining, resigned to the fact this was the new normal, though I started to feel it as we stood by the vehicle in the parking lot and took sips from a bottle of local whisky to mark the occasion. Two moms who were packing up joined us and in true Idaho fashion, one owned a barbecue stand in nearby Albion and the other said, "We run our cattle up here in the summer."
In some ways I felt like Pomerelle Mountain Resort–which often gets 500 inches of snow in a season–might be the best Idaho Ski Resort bang for the buck of them all. The two chair lifts are fast, the runs offer a lot of variety, and the scenery is gorgeous. You're already at 8,000 feet in elevation before even getting on the lift. It seemed like there were far more trees between trails here than usual and with half the trails being blue intermediates, it's a good one for families wanting to ski together.
Apart from the fun Stampede narrow chute down the mountain, most of the black diamond slopes are plenty wide for budding experts to traverse the mountain slowly and stay in control. There's a terrain park run for snowboarders and a magic carpet conveyor for the beginner slope ($15).
All-day lift tickets are just $45 for adults, $33 for youths, and free for kids 6 and under with a paying adult. Night skiing is an especially good bargain at $17 since it runs 4 to 9 p.m. A day with a group lesson and rentals is just $40. Lunch won't set you back much: a cheeseburger, fries, and craft beer can will set you back $10. See more at Pomerelle.com.
The closest place to stay is the nearby town of Albion, where there's a small inn, a bed-and-breakfast, and a group lodge set in some historic teachers' school buildings. We stayed at little further on in Burley, in a brand new Hampton Inn overlooking the Snake River. They have a hot whirlpool next to the indoor pool where you can soak your sore muscles after skiing.
A Few Last Idaho Skiing Notes
– The best place to get overall info, stats, and links in one place is the official Ski Idaho website at SkiIdaho.us. In my search for the best skiing in Idaho, I only hit 7 of the 18 ski mountains in the state, so there's plenty more beyond the ones I've highlighted here. The organization offers some coordinated multi-mountain deals, including an unbelievable "18 Resorts for $18" deal for 5th graders.
– Lookout Pass, Schweitzer, and Silver Mountain are way up north and are actually much closer to Spokane than they are to any Idaho city. If you're flying and can't find a good flight deal to Boise, check Spokane instead.
– Cottonwood Butte is another place where you can step back in time. Pull out a $20 bill for your lift ticket and ride a T-bar up to the top for an 845-foot vertical drop.
– I listed regular adult lift ticket rates above, but all of these places have military discounts, 70+ discounts, group deals, and learn-to-ski deals. Check the websites for details.
– If you live in the state or close enough to drive over regularly, all of these Idaho ski resorts offer extremely attractive season pass deals. Most of them are roughly 10X the daily lift ticket price, but often they go on sale after Presidents' Day weekend the season before and you can really get a lot of days on the slopes. Some have reciprocal deals with other Idaho ski areas too so you can sample them a bit.
It was turning to spring skiing time as I posted this and thoughts then soon turn to what to do outdoors in the summer instead, but we had sunny days every day we were out on the slopes, which is a big advantage of going later in the season. When your biggest worry is whether you've put on enough sunscreen rather than whether you've put on enough layers, that's a good ski day in my opinion!