Costa Rica is just a little dot on the map in Central America, smaller than many U.S. states, but it's one of the most popular international destinations for Americans, getting close to two million of them each year. If you're a budget traveler though, that's not a good thing: Costa Rica travel prices are the most expensive in Central America, though Belize is a close second. As I've said before, this destination is not a bargain.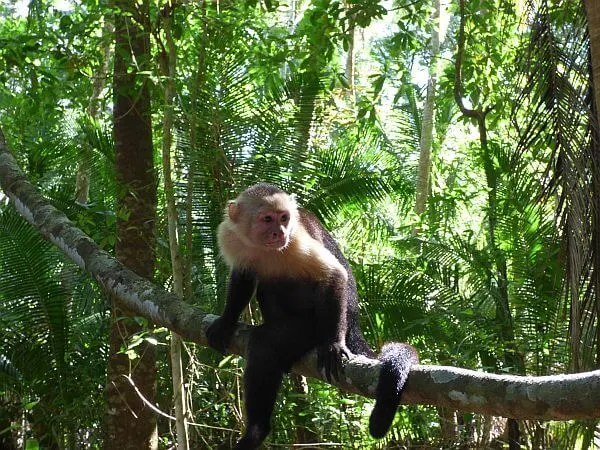 The good news is that prices and exchange rates always stay roughly the same. The bad news is, those prices are always about 1/3 higher than those in Panama and about double those in Nicaragua and Guatemala. When people ask, "Is Costa Rica expensive?" the answer is yes if you're comparing to anywhere else in Central America besides Belize. And yes, it's more expensive than Mexico too.
Plus what you get for your money does not seem like a good value sometimes. The roads have improved considerably in some areas, but here's what one of the "national highways" looks like in the Nicoya Peninsula where I was a few months ago.
On top of the roads being bad, they're poorly marked and they frequently confuse Google Maps and Waze. One time I followed the former to find an alternate route when there was construction on the main "highway" above. I ended up at a river that even a raised 4WD vehicle would not have been able to cross. I had to backtrack about 35 miles.
While the food gets a bit better all the time, especially when you are in an expat zone, Costa Rica still suffers from the same strange malady that strikes the rest of Central America: great ingredients, boring preparation. You'll pay two or three times as much for a simple meal of the day lunch as you would in neighboring Nicaragua (usually $6 – $8), but it won't be any better.
The tropical cocktails are a different story. If you stick with rum and local fruit, you can have a nice poolside drink for far less than you'd pay at home.
On a Vacation Budget, Costa Rica Feels Like Home
To answer the question in that headline, if you've got enough money, Costa Rica travel can definitely be a fantastic experience. The concentration of wildlife is simply staggering. The jungle here is really jungle. The preserved parks and preserves are huge and really preserved, not just designated as that and then not policed. Down around the Osa Peninsula, the off-limits part is big enough for the big cats to roam for 100 miles.
Nearly everyone working in tourism speaks English. The service in the best Costa Rica hotels is friendly and accommodating. This is by far the cleanest and most eco-friendly country in the region. Universal health care, universal primary education, high literacy, no army, real democracy—this is no sad and corrupt dictatorship.
For the most part, the adventure activities are well-organized and there are good safety procedures in place. Your tour operator will actually have liability insurance if something goes wrong and your guide will probably be a trained and certified naturalist. No wild west adventure operators with sketchy equipment. Here's a story from my first trip to the country where I experienced a lot of this first-hand.
Many of the best beaches here are stunningly beautiful and near-empty. Because of development limit laws that are actually enforced, a beach with 30 places to stay will still look like this:
For Backpackers, Costa Rica Travel is Expensive
At the backpacker level, it can be quite tough though. It's hard to get a decent hotel for under $50 outside of the rainiest part of the year and hostels can be close to $30 for a bed. The further you get off the standard tourist route, the tougher it gets. Getting off that main tourist route is not all that easy either without flying or renting a car. The local bus system is lousy, so most travelers get from place to place by private shuttle van, their own car, or prop plane. That can get expensive fast. If I were on a strict budget in Costa Rica, I'd be grumpy. For all these reasons, it's actually cheaper for some itineraries to go on a group tour with someone like Adventure Life (as I did the first time) or G Adventures than to go independently.
As with other worthwhile but not cheap places (like most of Western Europe), in my opinion it's better to come here when your budget is $100 or $200 a day (or higher) per person instead of $50 a day. I've been to Costa Rica five times now and whenever I run into backpackers traveling overland, they seem a bit shell-shocked by the prices here. Some end up cutting their Costa Rica portion shorter than they had planned so they can cross a border to somewhere far cheaper. This rafting trip was a blast, but it can cost you close to a hundred bucks.
If you live here instead, renting out an apartment and eating where the locals eat, things get far cheaper of course. This is still a developing country after all. Although you wouldn't know it by looking at prices in the grocery store, the average Tica salary is less than $1,000 per month. Your tips are much appreciated.
If you're a surfer and you're going to spend all day on the water, it might not be too pricey for you. If you stay in one place and cook some of your own meals, it can start to seem almost reasonable and not a splurge.
Be advised that there are really only five months when you can count on good weather for Costa Rica travel outside of the dry Guanacaste region though: mid-December through mid-May. After that, you'd better pack a deck of cards and a few good books (or a loaded Kindle) because you'll be spending a lot of time indoors waiting for the rain to stop, especially in the afternoons.
As for guidance, this is a country worth buying a guidebook for if you are traveling independently. The Moon Handbook, Rough Guides, and Lonely Planet ones have all been published since 2021 and the Fodor's one is from 2023 if you like their format (I know the author and he's a trustworthy veteran). All will be packed with lots of great background info on all those plants and animals you'll be seeing, plus they have useful maps. See the options on Amazon.
This is an easy place to get lost. In a country with this much to know, do, and see, traveling without a guidebook means you're only scratching the surface unless you have a really great human guide with you.