The sidebar of this Cheapest Destinations Blog always shows the most popular posts over the past 90 days, but of course, if you're reading this on mobile you probably don't see it. On a one-column stream, everything gets shifted to the bottom.
Those most popular cheap travel articles don't change very much because often they're the ones that have had a good search position for years and people keep landing on them for answers on cheap travel and living abroad. So first up I'm going to list the five most popular overall posts from the past year. It doesn't matter when they came out originally.
Then the next list of five will be the Cheapest Destinations Blog posts that came out in the past calendar year only. These had to resonate much faster or get shared a lot on social media to move up the list.
Which travel articles got read the most overall last year?
Most Popular Cheap Travel and Living Posts Overall
This was originally a guest post that I added onto after I visited this popular destination myself the summer before last, after running the career development part of a bloggers' conference in Ostrava and then going on a tour up to Bohemian Switzerland. It wasn't as hard to get away from the tourist hordes as I expected and prices drop quickly once you get out of Old Town.
I wrote this after taking a few cheap 3-day weekend jaunts between Tampa Bay and Greenville, SC on Allegiant Air, which is like Spirit Airlines but with more smiles and more legroom. It's not easy taking advantage of those cheap fares without paying a lot in fees, especially for luggage. Where there's a will there's a way, however…
This post was in a tight race with similar ones on the cost of living in Bali, Cambodia, Hungary, Bulgaria, and other locations. I updated this one in mid-2018 though with some updates on this dynamic country and will be doing so again sometime this coming year as I work on the second edition of A Better Life for Half the Price.
This classic from the archives came out of me answering the same question over and over by e-mail and realizing I should probably just have an article to point people to. Finding a place to stay for a few nights is easy through Airbnb and finding one for a year is not all that hard either.
It's the in-between periods that digital nomads and long-term slow travelers want that can be tricky. Start with this post if you're looking to have a base somewhere for a while.
1) The Cheapest Places to Live
I'm going to cheat a bit on this one's link because…the most popular post was on the cheapest places to live around the world in 2019. Since there's a newer version out, here's that instead: The Cheapest Places to Live in 2020.
Most Popular New Posts on the Blog
So which ones came out of the gate the fastest and kept getting traffic? Obviously, ones earlier in the year had an advantage, but these are articles, not horses or people, so forget the fairness factor in this race.
I made my fifth trip to Peru last year and I'm sure I'll be back again. It's one of my favorites for sure. There are tens of thousands of tourists heading to the most popular well-worn path, however, so prices can vary quite a lot depending on where you are. Just the price of going to Machu Picchu could wreck most backpackers' budgets for a couple weeks.
Get away from the tour bus crowds though—and the spots the Instagram posers are heading to in order to get the same over-saturated photo everyone else has posted—and Peru is a different story.
Peru's star attraction isn't the only one that will trip up a budget traveler's finances. Petra is even worse and if you try to do both Borobudur and Prambanan outside Yogyakarta, Indonesia, those will hit your wallet hard too. Some of the world's best-known attractions are surprisingly reasonable though, so check out the article so you'll know what to expect.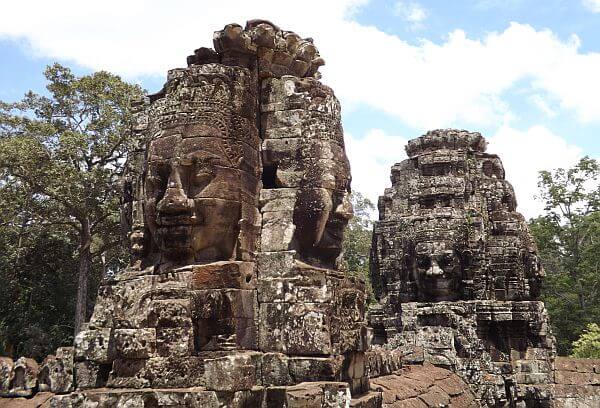 Colombia costs have actually gotten cheaper than when I put out A Better Life for Half the Price–for those making their living in dollars or euros that is. The Colombia peso has weakened a good bit, so I hit up some expatriates to get a sense of what their living costs were like in the country at the top of South America.
As the author of The World's Cheapest Destinations, I know a few things about which travel destinations provide the most bang for your buck. Fortunately, if you're taking off for a trip around the world, 10 bucks will set you up with the kind of knowledge that could save you $1,000s. New 5th edition out now!
If you're dreaming of retiring in a nice beach town in California or Florida, well, I hope you're loaded. Otherwise, you might want to consider these foreign beach locations where a couple collecting two social security checks from the USA could be living quite comfortably in a place on or a few blocks from the sea.
So there you have it—the most popular cheap travel articles as we move on to a new year and a new decade. I can see 20/20, but I have no idea what will happen in 2020. If there's something you're wondering about in the worlds of budget travel or moving abroad that I haven't covered, hit me up in the comments with suggestions.
Pin it!