Every year I publish a report on the cheapest places to live in the world, with a wrap-up on where you can find the lowest living expenses for expats.
I am the author of A Better Life for Half the Price, an expat who has lived abroad for years, and a guy who profiles the living expenses in different countries throughout the year on this blog. So I know more about international living costs than most people writing articles on this subject, especially the ones sitting behind a desk in a cubicle in New York working for corporate media or travel sites.
Prices don't change drastically from one year to the next, so this report doesn't usually show dramatic changes. Currencies ebb and flow though, inflation goes up or down, and visa law changes can make a country more or less expensive for expatriates. So I try to give an updated picture as we transition to a new calendar. This was all on the cheapest places to live in the world pre-pandemic though. If you want to see the latest version, go here.
I have been working on a second edition of this moving abroad book in 2020 (update – out now), so I'm interviewing expats in these less expensive destinations to see how their living costs compare to where they come from. With any of these cheapest places to live, you should easily be able to cut your living costs in half if you make a lateral move (city to city or beach to beach, for example).
Some see their cost of living drop by much more, however. When your health care costs, housing costs, and transportation costs all drop by 1/3, there's a pretty good chance you're going to come out way ahead. You then have more to spend, more to save, and more to pump into your own business you're trying to grow.
For now anyway, Americans have a double incentive to leave. There are certainly plenty of negative factors pushing people out: the political mess, the overt racism from the top down, lax gun laws leading to more shootings, and an economic situation where we were running up the national debt in time of prosperity and now have to print money to keep the economy from crashing.
(Before you Fox News viewers whine like a wounded snowflake in the comments and say you didn't come here for political commentary, remember that politics is the reason many people leave the country to live abroad in the first place. For immigration going in both directions, politics is very relevant. So is health care policy, which is political too and is a major emigration driver.)
The positive reason to leave is, your income in dollars is worth less each year at home, but is worth a fortune in a few dozen other countries. The U.S. dollar has remained strong for an especially long period–basically since we came out of the last recession. That means anyone earning dollars is in a great position almost anywhere else on the planet where average earnings are lower. Also, unemployment is historically low right now, so this is a good time to find remote work you can do from anywhere, especially as a freelancer.
Europeans have it pretty good as well, though the picture is not quite as pretty for the Canadians and the Brexit-depressed Brits earning pounds sterling. All the more incentive to find the real bargains out there with low living costs.
What Has Changed in the Cheapest Places to Live
First up, it's important to take a long view and see that international living costs don't generally bounce around like a Mexican jumping bean. When I looked at every country featured in A Better Life for Half the Price and analyzed what's happened in the past five years, the majority of them are flat, with no big changes in cost or currency compared to the USA. Here are the ones where that is not the case:
More expensive than five years ago: Thailand (about 10%), Albania (about 12%), and Portugal (about 15%)
Cheaper than five years ago: Argentina, Colombia, Mexico, India, Nepal, Malaysia, Vietnam, and the Philippines.
On a year-to-year basis, there have only been a few dramatic moves compared to the post I wrote last year. Argentina has gotten even cheaper due to an ongoing currency crisis, as long as you are earning foreign currency and not the local one. The Argentine peso dropped around 60% against the greenback last year. I don't feature Turkey in the book because the dictatorship political situation scares me, but if you're okay with that, the Turkish lira is down 12% over the past year due to economic troubles on top the political ones.
The euro is down about 3%, but a couple of the cheapest places to live in Europe are down more: around 6% for the currencies of Hungary and Romania.
There have been a few positive visa changes here and there. It's getting easier to make a permanent move to Portugal, for instance, and Mexico has made it easier to jump straight to permanent residency, without the four years of temporary residency that were previously required. Several countries have announced special visas for location independent workers, including the republic of Georgia.
Now with all that out of the way, let's get to the cheapest places to live in 2020! (Reminder, this went up pre-pandemic, so for an update, see a newer version.)
The Cheapest Places to Live in the Americas
If you're coming from the USA or Canada, Latin America is an especially attractive option for living abroad full-time or even part of the year. You can stay in a similar time zone for doing business and staying in touch with loved ones. The air connections are quite good, often with direct flights or just one hub stop. Fares are reasonable in economy unless you're going all the way down to the Southern Cone, even better in business class. (The frequent flier mileage deals are good too, especially if you're getting credit card bonuses.)
Unless you're headed to Brazil, you can learn Spanish for any of these countries, then use it as you travel around. In expat enclaves or tourist zones, you can get a lot done in English.
Exotic but Close: Living in Mexico
Close to a million Yanks and Canucks live in Mexico at least part of the year. Now they're spending even less on expenses. For most of the time I was visiting and living in this country, the peso ran in a range of 11 to 14 to the dollar. For the past year I've been here it has been between 19 and 20 to the dollar.
This means a country that was already an easy half-price destination—more like a one-third one in parts of Central Mexico—is now consistently on sale. This is now one of the mot affordable places to live in the world.
Imported goods cost more than they did before the currency drop of course, but Mexico grows a lot of its own food, brews its own beer, makes it own tequila and mezcal (and so-so rum), and has relatively inexpensive real estate in most areas. Labor costs remain relatively flat or even lower than five years ago if you compare them in dollars. The minimum wage for a day is less than the minimum wage for an hour in the USA, to give you an idea.
For those coming from other countries it mostly means prices in your home currency are flat or lower compared to five years ago. For the neighbors in Los Estados Unidos though, most of what you spend your money on that's not imported is around 40% cheaper than it was in 2015. I pay $2.60 for a taxi across town or a haircut at a barbershop, $16 for a four-hour house cleaning, $1.50 for a beer in a bar, $2 for a plate of tacos, 35 cents for a local bus, and on it goes.
The food is varied, there's a robust depth of culture, and you'll never run out of new places to visit. They're also used to foreigners co-existing in their cities and are not freaking out about it. (Unlike some rural Americans, apparently…)
There are also some huge practical advantages. Getting residency is fairly straightforward, but a lot of people don't even bother. You get 180 days for the asking on a tourist visa. Flights to get there are usually not more than a long one within the U.S. or one from Canada to the U.S. Heck, you can even take a bus if you have the time and stamina. Or drive down with a vehicle full of your most precious belongings. A pet even. Mexico is close, fun, cheap, and easy to get to, with affordable health care that's quite good in the cities.
Guatemala Living
As you read this, there are foreigners living on the shores of Lake Atitlan, with a gorgeous view of the volcanic mountains, spending less than $800 a month for all their expenses combined. They're eating healthy, getting coconuts delivered, having their house cleaned each week, and enjoying nice weather all year. Others are kicked back in historic Antigua, or having a blast in the adventure jumping-off point of Xela.
Guatemala is not quite the bargain it used to be since Mexico's currency decline has made that closer country a better value, but it's still quite easy to lead a half-priced life here and feel a lot less stressed as a byproduct. You only need to show income of $1,000 per month to get residency and the application process has gotten easier the past few years.
Bargain Living in Colombia
The Colombian peso has stopped its downward slide, but it's at a bargain 3,300 to the dollar as I write this, about 10% below where it was when I put out the first edition of A Better Life for Half the Price. This has made it a terrific bargain as an expat place to live.
Medellin has been an expatriate hotspot for a decade now and there are no signs that's going to change anytime soon. It's one of the few places in South America that really attracts a sizable number of location independent workers from other countries, so if you're looking to network with other online entrepreneurs and freelancers it's probably the best spot on the continent besides Buenos Aires—and is a much easier place for banking.
I always recommend renting for a while before making a big commitment, but if you're rolling in with a big account balance in greenbacks, this would be a very opportune time to invest in Medellin real estate. Houses in smaller towns and in the countryside are much cheaper, of course, but Cartagena is no bargain, unfortunately. The array of visas here is dizzying, so you might want to hire a local lawyer to sort it out, but once you do it's easily achievable. Health care prices are fixed and transparent, and care is good in the cities. Get more details here on the cost of living in Colombia.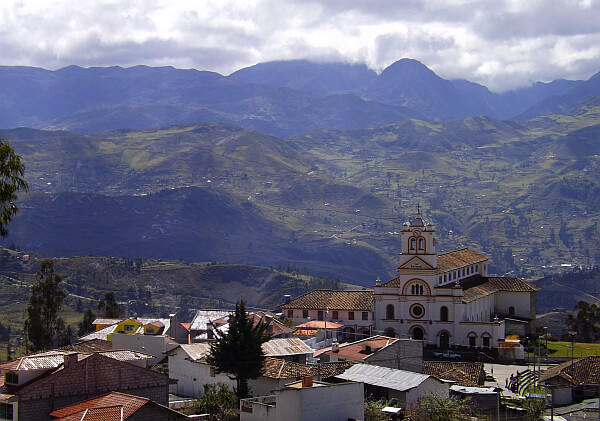 Ecuador the Expat Hotspot
Ecuador is the grayest expat destination on this cheapest places to live list, with it regularly showing up as one of the cheapest places to retire in the world. Cuenca especially attracts a lot of economic refugees who moved here more as a matter of survival rather than getting ahead. That lack of cultural curiosity can be a problem, as can the fact that only Vilcabamba can claim great year-round weather.
This is one of the easiest countries in the world though for foreigners to get residency and the income requirement is a low $800 per month. If you're retired you get lots of perks and discounts, including flight discounts. You can head to the coast part of the year and trade the mountains for the beach.
Health care is generally good overall and infrastructure spending has been on a roll for many years. The economy is precarious though, the leadership is very authoritarian, and if you like to drink alcohol you'd better stick to what's made locally. Anything imported has taxes of 100% and up. See a detailed round-up with the cost of living in Ecuador, according to the expats living there.
Living in Peru
For whatever reason this extremely popular tourist destination is not so popular as an expat one. That's despite the fact they'll give you a generous six months in the country before you have to leave and renew. (Unfortunately, you can't just turn around and return though, so it's better for snowbirds and nomads unless you're willing to get residency.)
Usually gray Lima and other ugly cities aren't exactly the places of dreams, but Arequipa is a different story and the towns in the Sacred Valley attract a lot of foreigners looking to chill out in the mountain air for a while, hiking in the Andes. There are plenty of cheap places to live to choose from.
The food is good, the scenery varied, and there are plenty of tourism business opportunities if you haven't made the leap to running a portable business. Costs are slightly higher than Ecuador's in most respects, but not by much.
Argentina on Sale
I recently wrote an updated post on the cost of living in Argentina, so check that out for details. As mentioned earlier, this country has seen the biggest currency drop of any around the world, so everything is on sale if you're a foreigner except real estate: that's priced in dollars.
Argentina has some of the best Apartment rental bargains in the world right now though, so you could lock in a long-term lease as a renter with no hassles. Then go enjoy all the red wine and grilled beef you can stomach while enjoying the Andes Mountains, Patagonia, and the beautiful desert landscapes around Salta. When I hit someone living in Patagonia up for Argentina living prices, she gave me these nuggets: "50¢ for a kilo of sugar, $4 for a good bottle of wine, $8 for a great bottle of wine, and $15 a month for my cell phone bill."
Argentina is one of the most volatile economies in the world though, so while it's one of the cheap places to live right now, it may not be a couple years from now. You have to keep an eye on the financial news here.
Other Places to Live in Central and South America
There are plenty of other countries in the Americas where you can live on half what you're spending now if you go city to city or rural to rural.
Panama has long been the top retiree pick south of Mexico and it's still an attractive place to move to if you avoid the ever-increasing prices in the capital. For lushes, it's got some of the lowest wine and liquor prices in the world—no sin taxes or duties.
Nicaragua is probably the best overall value in the Americas for cheap living. To get residency as a foreign "retiree" here you only have to be 45 and the income requirement to get residency is only $750 a month. It has some of the best beaches in Central America. Unfortunately, the political situation there is dicey and it could turn into another Venezuela. It has some of the cheapest real estate in the world right now, but that's because there's a lot of inherent risk. I'd feel safer renting.
Honduras is quite cheap, though it suffers from legitimate safety concerns, especially in the two largest cities. Thankfully it's mellower on Roatan Island where the most foreigners live.
Bolivia is probably tops among the cheapest countries in South America, but the government is not very welcoming to expatriates. It seems like more people pass through here and stay for a few months than settle down permanently, but if you're willing to pay someone to wade through the bureaucracy, you'll find some hardy souls you can join who have made it work.
The Cheapest Places to Live in Europe
While you could spend fare more than you're spending now in some parts of Europe, others are a surprisingly good value. There's a big swath of land stretching from the Balkans through Eastern Europe where houses or apartments to buy or rent are a bargain and you can eat out for a few dollars. It won't cost you much for a beer or glass of wine and getting around is a good deal too. This whole region presents one of the most inexpensive places to live on the globe. If your heart is set on Western Europe, there's still one place there that will work too…
Bulgaria: the Cheapest Place to Live in Europe
Yes, Bulgaria is on most counts the cheapest country to live in for the whole continent of Europe, yet it's a gorgeous place with green mountain ranges and peaceful towns. Poke around online and you'll find prices like a 2-bedroom apartment in Veliko Tarnovo for €230 a month, or a furnished one in the historic district of Plovdiv for €170.
This country continues to have some of the cheapest real estate in the world. Thanks to the fact a lot of people have moved elsewhere in Europe to work, you can buy a house in Bulgaria for less than you probably spent on your last used car. If you ever wanted to throw caution to the wind and take a flyer on some real estate, there's little downside when you can buy a house like this for less than €13,000. That's not a typo!
See this post for more details on living prices in Bulgaria, like €1.50 beers, a multi-course meal for €6, and health care prices that are lower than your co-pay in the USA. As one resident there laid it out, "A visit to the doctor will generally run between 15 and 50 euros, the high end being for a specialist who speaks English." Vrbo and Airbnb rentals are so cheap that some people don't even bother finding a long-term lease. They just go through Airbnb for four or five months in a row.
Hungary in the Heart of Europe
If you can get past the right-wing, anti-immigration politics that has turned this into Europe's least democratic government, Hungary is a great place to live. Budapest is one of the world's great cities and it's also one of the cheapest cities to live in that's a major European capital. It's still possible to find a nice apartment for less than 600 euros a month in a convenient area there. Once you get out of the capital though, prices drop dramatically. This is an attractive country with a lot of gorgeous scenery and it's one of Europe's best bargain wine destinations.
If you're white and European looking, you'll blend right in and things will probably go smoothly if you're not too outspoken. If you're black, Asian, or Hispanic, however, the welcome may not be as warm in this nationalist, one-party state, even if you don't open your mouth…
See Hungary cost of living prices here.
Romania for Good Prices and Fast Internet
This is not on many location independent workers' short list, but it probably should be since it is one of the countries with the fastest internet speeds in the world. It also has some of the cheapest international flights when it's time to escape winter or go see the relatives. Add to that bargain prices on apartments, food, drink, and utilities and Romania is a country where most westerners can chop their monthly expenses by 2/3.
As with Bulgaria, a lot of the younger residents have left the villages and are working elsewhere in Europe, so if you're coming the other direction it's easy to find an inexpensive place to live. But as with much of Europe, the challenge is enduring the long process to get residency and you've got some cold winters to fight if you stay all 12 months.
Albania: Come Stay for a Year
What if you could pick a place that's a ferry ride away from Italy, with a similar climate, that would allow you to stay a whole year with just a tourist visa (if you're American)?
That's Albania, a once-reclusive communist dictatorship that is working hard now to catch up with the rest of the world. Albania has a pleasant capital city of Tirana, long stretches of beaches on the other side of the Adriatic from Italy, and lots of mountains and lakes to explore. Get a cup of espresso for 25 cents in a cafe and watch the locals demonstrate the "work to live, not live to work" principle.
See more details here on the cost of living in Albania.
Western Europe's Best Bargain: Portugal
The one country not located on that map at the beginning of this section, Portugal is a true "Western Europe" destination that also has warm and sunny weather most of the year. Living in Portugal is no longer a secret and prices have been rising fast for real estate in the most popular areas. They are still some of the cheapest in Western Europe on a per-square-meter basis, however. This is still one of the most affordable places to live in the world if you want a country that's clean, safe, reasonably well-run, with beautiful cities and beaches.
Many of the people who have moved here think it's the best place to live in the world, one that easily ticked off all their boxes. You get all the classic European advantages such as good wine and food, interesting architecture, water you can drink from the tap, and good health care. Excellent health care actually, better than you probably have now. Here's a quote from a report from resident Susan Korthase, who is one of my sources there.
"A World Health Organization (WHO) ranking of global healthcare systems places Portugal at number 12. That's below France (one), Italy (two), and Spain (seven), yet above the U.K., Ireland, and Switzerland, which are rated 18, 19, and 20, respectively. Canada receives 30th place, with the United States at number 37 on a scale that evaluates 191 countries."
My line before on visas was "EU country for Brits, much more difficult residency visas for Americans." Post-Brexit though, we may all be in the same situation. Residency gets a little easier to obtain each year, however. Here's Susan's take on new visa developments.
"Attracting more immigrants with highly desired professional training and entrepreneurial skills is the goal of streamlined processes under the Type 1/D/D7 visa called the 'Entrepreneur, Employed and Self-Employed Program (Article 88/89).' Easing this group's entrance to Portugal started in 2017 and saw renewed emphasis in 2019. This program exists to attract and fast-track highly qualified, educated professionals to work and invest in Portugal. SEF (Border Services for Foreigners or Immigration and Border Services), which oversees immigration matters, offers full details on their website."
See more details here on prices in Portugal.
Other Countries in Europe to Consider
I added three Balkan region countries to the 5th edition of The World's Cheapest Destinations book. The steady improvements in the economies and the infrastructure of countries such as Albania (mentioned above), Montenegro, and Bosnia-Herzegovina make them wild card cheap living destinations for pioneer types up for an adventure. Travel prices in Bosnia are on par with Southeast Asia in some spots—but with cooler temps and better wine. As with Eastern Europe though, winters can be too cold and bleak for some.
Only slightly higher in cost than some of the others profiled here, Slovakia and the Czech Republic are both good deals and I'll occasionally get raves from people who have settled down a while in Georgia (the country) or Ukraine. The latter two are technically in Asia by geography, but the people think of themselves as Europeans. In Georgia you can get permanent residency by buying real estate valued at $35K or more and most nationalities can stay a year on a tourist visa. Tlibisi is one of the cheapest cities to live in around the world and is surrounded by mountains.
Turkey, straddling Europe and Asia, is a bargain now thanks to a dropping currency. But it gets more authoritarian (and half the population gets sadder as a result) each year now. My advice if you're thinking of living there would be to rent, not buy, so you can hightail it out if you rub the regime the wrong way.
Where to Stay 4 Months or More on a Tourist Visa
The Cheapest Places to Live in Asia (Pre-pandemic)
Where is the cheapest place to live in this part of the world? There's no easy answer because often you're hindered by property ownership laws and visa restrictions. Asia is complicated because of its wide variations in prices and the difficulty of getting permanent residency. Thailand is a great place to live if you're of retirement age and can meet the requirement of socking away money in a Thai bank. Otherwise it is, for now, a royal pain to live there legally without a work permit. You end up doing lots of visa runs and after a while that can just plain stop working. Indonesia is only slightly better, with most expats there doing hops to Singapore at least six times per year to renew. Nepal is super cheap but is next to impossible to stay in for a full year without a work permit.
Your Second Home in Malaysia
This country between Singapore and Thailand is much more welcoming to foreigners than most in the region, though as usual you will have a much easier time if you're retired with a chunk of money to invest. Malaysia has a formal program in place with a long history, the "My Second Home" program that gives you residency after a big enough real estate purchase or by putting cash into one of their banks.
A retiree (anyone aged 50+ really) has to have $85,000 in liquid assets or an income/pension of around $2,500 a month to qualify, then must deposit around $37,000 in a Malaysian bank upon approval. After a year you can draw that down by 1/3 and leave the rest. If you're under 50, you have to deposit a lot more. [Update, this amount is changing, though it won't matter until the country is open again.]
This is a good destination to pick if you want to speak English and have reasonably good infrastructure, while still allowing monthly expenses that are half those in a country like the UK, Australia, Canada, or the U.S. Malaysia is one of the both cheapest and safest places to live in the world, a situation you don't find very often. (In general, the safest countries are usually the most expensive.) Also, this is one spot that has actually gotten cheaper for expats since I put out the first edition of my book, thanks to a currency value decline. See more details here on the cost of living in Malaysia.
Cambodia: Still the Cheapest in Southeast Asia

This improving but still poor country is really the best bet in Southeast Asia for overall living expense prices. You have to do more than just be able to fog a mirror to get a business visa now, but it's still much easier to get residency here or extend a tourist visa than it is in Thailand if you're not a retiree.
If you're over 50, they're glad to have you: no set income requirement, property investment, or bank deposit required. (You can't own a house here anyway as a foreigner—just a condo.)
Plenty of foreigners are living well in Cambodia for $1,000 to $1,500 a person. It would be very easy to have a nice life on two social security checks only. In the archives I've got detailed posts on prices in Phnom Penh and Cambodia in general, with info from people who live there.
Come to India, Stay for 10 Years

India relaxed its long-term visa requirements a few years ago and this is now the best "one and done" spot in the world for some nationalities. There's a good chance your passport will expire before your tourist visa does and now when you have to leave every six months, you can turn around and come right back again. This country can be draining, maddening, and frustrating, but there's a vast educated labor pool (especially for tech work you may need) and plenty of people wanting to take care of your domestic chores for what seems to us like a pittance.
Living costs in India are a small fraction of those in the UK, Canada, or the USA unless you try to live like the upper crust in expensive Mumbai. The cities are best avoided anyway unless you've got a location-specific job, but there are plenty of mellow places to live, especially in the northern mountains and the southern beaches. If you're paying more than $400 a month for a three-bedroom apartment you're probably living in a gated community for foreign corporate managers and if you're paying more than $3 for a taxi, you're probably getting ripped off.
Mountain Living in Nepal
Nepal just might be the cheapest country in the world if you put together a basket of goods and services that you'd pay for each month. It's hard to live in Nepal long-term and the electricity is about as reliable as modern day political polls. For a stop of a few months though or as part of a regular back-and-forth routine with somewhere else, this is surely one of the cheapest places on the planet for international living.
The average monthly salary is around $200 if you average in people not living in the two biggest cities. So if you're pulling in more than $2,000 a month as a couple while living here, you'll be part of the elite. Plus you'll have million-dollar mountain views if you pick the right spot.
The Philippines for English Only
I'm warming up to the Philippines after my last visit there, thanks to an improving economy, a deep bench of smiling English-speaking workers, and beer that's often a buck in a bar these days. You've got plenty of islands to choose from, plus look at that water in the photo at the top of this post!
If you want to move abroad to an English-speaking country where you won't have to learn any words of a foreign language, this is your place. There's a good chance that call center worker you're speaking to at night that sounds like an American is actually in the Philippines and when they step on stage to sing, you won't hear an accent—they're that good. You can easily live a half-priced life here and though you can't own real estate, you can find bargain prices on long-term or short-term rentals.
Other Cheap Places to Live in Asia
If you are super-dedicated, you can find a way to live in Bali or elsewhere in Indonesia for an extended period, but it's not easy. Most people living there end up flying out every two months to renew their tourist visa, which can get disruptive and costly. You can't buy real estate as a foreigner either.
Vietnam attracts a lot of foreigners thanks to low prices, easier residency than Thailand or Indonesia, and a deep workforce of tech people to work for startups. Many expats say there's a deeper pool of qualified tech workers here if you're running a business and English proficiency can be good in the south. Da Nang is one of the cheapest cities to live in that you can find in Southeast Asia and Vietnam's visa setup means you don't have to run for the border constantly like you do in Thailand and Indonesia.
Cheap Places to Live in Africa
As I've said every year and in A Better Life for Half the Price, you really have to live like a local in most of Africa to get by on a lot less money than you're spending now. There are too many reasons for that to go into in this post, but it's hard to maintain anything close to the lifestyle you're probably used to without living like one of the elites—or the corporate/NGO execs on salary—and that's more expensive. Here are two exceptions to consider though, one at the bottom and one at the top.
Living in South Africa
In some years, South Africa is no bargain, but the past few years it has been a good deal for people earning euros or dollars and spending them locally. At the beginning of 2013, one U.S. dollar got you 9 rand. Now it gets you between 14 and 15. Lock in a long-term lease if you can. The average local salary is more than $1,200 a month according to Numbeo, so you won't be one of the elites if you're pulling in two social security checks, but $2 beers, $800 house rentals, and $2 beers mean you can still get by for half what you're spending now, factoring in health care averages.
Morocco Expat Living
This has long been the best value in Africa for travelers, with a well-developed infrastructure and plenty to see, but prices that are very attractive for both backpackers and mid-range vacationers. It's also a great deal as a place to live and there are expat communities in multiple cities around Morocco.
In much of the country you can find a three-bedroom apartment for less than $600, a two-mile taxi ride will usually be under $4, and private schooling for your child will likely come in around $300 a month. Oranges and many vegetables go for 50 cents or less per kilo in the market.
Other places to consider in Africa
If you're an adventurous type and don't mind roughing it, there are plenty of bargains on this massive continent. Egypt was once a favored expat hangout and if things stay calm for an extended period, someday it will be again. While there are few countries that attract people who can work from anywhere, the ones that show up most as good values and interesting places to kick back for a while are Togo, Ethiopia, and Malawi. Happy hunting!
Editor's note – If you're looking to move abroad to a country that's actually accepting foreign visitors, see this newer post on the cheapest places to live that are open now. This post was about the cheapest places to live in the world before the pandemic hit.
***
If the idea of moving abroad and having twice as much to spend gets you excited, do it right by checking out the packages at my Cheap Living Abroad site. If you like to hold a real book in your hands, yes there's a paperback available worldwide at Amazon. An audiobook on Audible too.
You may have a fear of change, a sense of complacency, or local roots that go to deep for you to make this kind of move. If you're a good match though, let me save you lots of time and hassle in the planning and doing. After all, what's your time worth?
Or if you're still in the dreaming stage, get on the insider's list and get a free report on where you can stay four months or more on a tourist visa.