What are the best destinations to visit this coming year? Where should you go on vacation? What's the best holiday hotspot, what's the hot place to travel to now?
Well, I'd love to answer that for you because apparently it would get shared a lot if I could put out an authoritative-sounding list. Really though, I'd rather just hire a monkey and have him throw darts at a map. The results would be pretty much the same. Plus I'd get to watch the monkey, and that would be fun.
The Predictable Randomness of Hot Destinations Lists
The funny thing about these "Where to travel in [insert year]" lists is that they have so little in common. Which of these recommendations from a major publications or guidebook publisher are real and which one is a joke?
Ready?
Pakistan, Beirut, Luadra, Ras Al Khaimah, North Macedonia, Myanmar, Milwaukee, Queens, Hoi An, and Macau.
Actually, there are no fakes in there. All of them are on somebody's hot list for next year.
Most of the year the travel magazine covers rotate between Italy, France, Hawaii, and some beaches. But the transition to a new year always brings new hot lists and places you must visit. MUST!
When I first wrote about this subject in 2013, I made the not-so-bold prediction that Brazil was going to be on a lot of lists and that you'd be choking on travel articles about the country. Both things came to pass then, as predicted, the country disappeared after reality set in.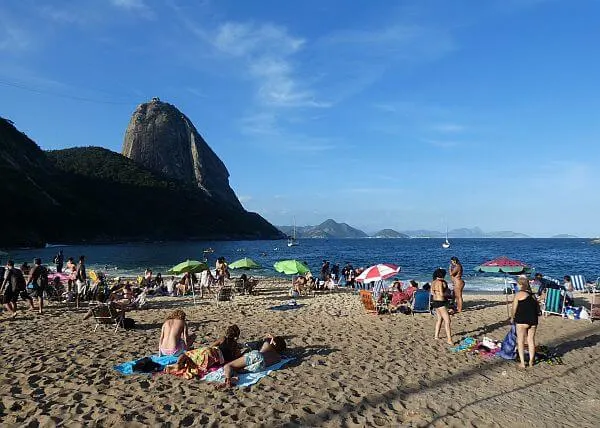 This wasn't hard to predict. Brazilian service is some of the worst in Latin America, there's a reputation of high street crime, and there's not all that much English spoken in the tourism sector. But they had to write about Brazil because it was "trending." They were hosting the Olympics, so because a lot of money was being spent, Rio was "hot."
Sure enough, the media soon turned on the country like a wife who's just found out her husband has a 21-year-old hottie on the side. I can't find the country on even one list so far for 2020, even though Rio is much less expensive now.
Instead, we get National Geographic Traveler, a magazine now on its last print issue, telling us we should go to Tohoku, Japan. Why is this suddenly a hot place? I'll let them explain:
Less than three hours by train from Tokyo, home of the 2020 Summer Olympic Games, Tohoku should get a gold medal for best unknown travel wonderland.
(Please stop reading this blog if I ever write anything that cringe-worthy. It will mean I've lost my soul and should hang it up.)
Back when I covered this subject six years ago, Panama was showing up on a bunch of hot destinations lists, not because of the plenty of good reasons to go there, including important things like cheap booze, but because the canal widening project was finishing up and now container ships will be able to go through.
Really? People were supposed to travel all the way there because of that?
There was also lots of chatter then about Mongolia. Why? Because a new Shangri-La Hotel was opening up there, that's why. As one luxe travel editor said at a conference I attended that year, "There are a lot of destinations we would like to write about more, but there's just no good place to stay there."
"Good" meaning 5-star luxury of course. Otherwise it just can't be "the hot place to go next year."
That alone can't explain the entries though. Otherwise, why would Rough Guides pick Tokyo, Yellowstone, and Beirut? Why would the UK version of Conde Nast Traveller pick Pakistan, Plymouth UK, and Kyrgyzstan?
Editors Love Trends, Events, and New Hotels
When I did this article originally, Robert Reid had just published a great article in Skift.com breaking down the "where to go" and "best destinations" lists from multiple travel media outlets' year-end round-ups. Thankfully it's still available to read, six years later, because it's all pure gold. Here's a sample:
The most popular pick for editors is a place linked to a specific event, anniversary or news-related topic, like the World Cup or the 100th anniversary of WWI (almost half of the total). Next are secondary destinations that appear overdue for a shout-out (over a quarter of the total, including destinations like Nicaragua's Little Corn Island, or Puglia, Italy).

Last is almost destination-agnostic, lists of new hotel sites or tours to plan a trip around (25% of the picks, including all of AFAR's list).

Cost or value only occasionally factors in.
What happens when a new luxury hotel opens somewhere? The magazines all feel a need to cover it, that's what. And hey, if you want to keep getting $100K a month from Hyatt, are you really going to ignore their latest Andaz opening in that crappy place you never covered previously? If Marriott is your biggest advertiser, are you really going to avoid writing about the new St. Regis in that destination that you really should be calling "the hot place to visit" now? No, you are not.
With Travel + Leisure, you just have to follow the money. Australia is their "destination of the year" for 2020, and funny enough there are lots of sponsored articles about Australia on their website. Plus full-page print ads in the magazine. That can't be a coincidence, can it? Well, their business model might be a little compromised, not even counting the American Express ownership. One of the articles on their home page right now is "Travelers Call This Bag the 'Perfect Airplane Carry-on' — and It's $75 on Amazon."
I think I'll skip that and get to the more meaty travel articles they are publishing, such as "Where You Should Travel Solo, Based on Your Zodiac Sign."
Back to That Dart-throwing Monkey
The amazing thing about these best destinations lists is that nobody seems to notice they change so much from year to year. It's amazing that there is so little overlap from one year to the next, like we're talking about fast-changing fashion or TV shows instead of actual places on the globe that are relatively static.
Really, travel trends don't move very fast at all. Venice, Amsterdam, Cancun, Bangkok, and Bali will be popular next year, just as they were 10 years ago, and 10 years before that. People will keep going to major capital cities and beach resorts, bucket list attractions and unique destinations. Moldova is not suddenly going to overtake France like tourism is some dramatic horse race.
But somehow editors need to justify their list with some new development. If they can't, they just make something up. Mostar, in Bosnia and Herzegovina made the list for National Geographic Traveler because it's the 25th anniversary of the Dayton Peace Accords that ended the war. OK, sign me up then! That definitely makes me want to go—who doesn't love a peace treaty anniversary?
It gets worse. NatGeo picked the Guizhou Province of China for this compelling reason:
Historically one of China's most isolated and undiscovered provinces, southwestern Guizhou is gaining global notice as a cloud computing and big-data center. The mountainous region's plentiful water and cool climate are draws for Apple, Huawei, and other tech powerhouses that have established or are building facilities in the provincial capital, Guiyang.
Wow, who wouldn't want to go there for that?
Airbnb at least used some data in their predictions, but an upward trend doesn't necessarily mean more of a reason to visit. Their #3 pick for next year is Buriram, Thailand. But here's why: "Next year, the province is set to host the MotoGP racing event at the Chang International Circuit. Buriram had a 383% rise in interest for 2020 compared to 2019."
Fodor's put out a list and it seems like it was written by Rip Van Winkle. Hoi An, suffering badly from overtourism, just made their list for next year, as did Luang Prabang, which has been on an upward trajectory for more than 20 years now. They pegged Jaisalmer in Rajasthan as a place to go because it's easier to fly there now, like that's a good thing for the future of a city that was already a beloved backpacker destination when I first started traveling the world back in 1994…
A Radical Travel Thought: Find a Deal and Just Go Already
Where should you turn to find advice on where to travel then?
If these hot destinations and places to go are all just a trend-grabbing exercise, should you just rely on what real people say on TripAdvisor? Well sometimes I get e-mails like this that were meant to go to a hotel owner:
If you want my advice on where to travel next year, I'd say go where you can make the most of your budget. I've got a few ideas on the cheapest places to travel, but if you have your heart set on Norway, and you've wanted to go there for 20 years, it doesn't matter if it's "the hot destination next year" or not. Forget the trends and forget the deals and just find a way to make it happen.
Or just go where you're going to go because you have a reason to. I saw Sicily on two of these lists already, but that's not why I'm going there in March. I'm going to a conference taking place there and I'm going to stick around. Not because it's a "hot destination," but because I've never been there and it looks interesting.
To find your own best path, dig deeper. Be skeptical. Honestly understand and answer why you want to go where you want to go.
Here's a reliable shortcut: if some trusted expert you follow or well-traveled friend who really knows what you like recommended the place, just go. You know their advice is legit and they want the best for you. Otherwise trust your gut and visit the place you think will rock your world.
It's a terrible feeling to arrive somewhere and go, "Really, this is it?! This is not what I expected from the photos…"
If you saw too-great-to-believe photos somewhere and that's your sole reason the place got on your radar, at least get a second opinion. You may have been duped. In half the over-processed travel photos I see on blogs and social media these days, everyone is getting duped.
As Flavor Flav would say, don't believe the hype.