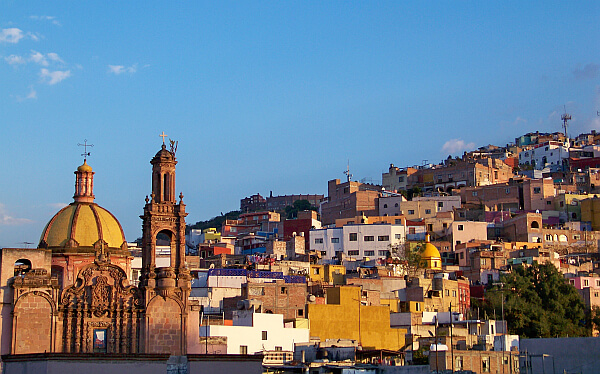 Over the past 25 years, I've had the great experience of living abroad in three different countries. The people, the food, the sounds, and the smells changed a lot. The questions from the people I knew back home did not.
So…why did you decide to move there?
It has become so predictable that I could just make a recording on my phone to play back when people ask. The question is always the same, as is their struggle to ask the simple question instead of what's really on their mind.
Occasionally these days it's a well-traveled person just asking what made Guanajuato speak to me—why that particular place out of so many to choose from in Mexico alone? They're not curious about the move away from my own country of birth, but just wondering how I picked the new resting place.
More often, however, it's a baffled person trying to express a subtext without seeming rude. Why would you leave the USA (or Canada) and move to a less developed country on purpose? And you say you did it with your family? Twice? What were you thinking?!
I patiently go through the script about how inexpensively we live, the lower stress levels, the ability to spend more time with friends and family, the ability to just go out and enjoy life more, the fact that we don't need a car here in a city where most streets are pedestrian-only. I can communicate in Spanish now and my daughter is truly bilingual. Those are just the easy answers. I could get more descriptive or poetic if they really cared.
But they don't.
It's a fruitless exercise. Their eyes have already glazed over by sentence two, like they are saying, "Does…not…compute." Moving somewhere in another country when you're not even retired, without any job or family reason, is just, well, insane! Even if the weather is close to perfect all year and this is the view when I look out my window sometimes after an occasional rain:
Living Abroad is Not for Everyone
It's okay if they think I'm crazy though. I understand.
There may be a few million of us Americans and Canadians living abroad, but that's a tiny fraction of the total population. When we settle down somewhere exotic sounding, we run into dozens, hundreds, maybe thousands of others just like us. We see expat families raising children that turn out just fine. People like me have the same job they had in the USA, just plugging the laptop into a different outlet.
So it starts to feel normal. But reality is that we're a small minority. We may add up to the population of Connecticut, but the population of that state is smaller than the number of yee-haws just in Houston. For now anyway, we're a fringe movement.
I'm quite okay with being on the fringe though. I work for myself and take time off whenever I want. Unless my family is calling, I never have an urgent need to consult my smart phone. I've got no boss to answer to and no time clock to punch. I'm Anti Fragile.
Let those with "normal" lives stress out over their bad boss, infrequent vacations, commutes in traffic, and office politics. I don't have to deal with any of those things, so I get more sleep and am healthier—mentally and physically.
Plus I just like living in a place that surprises me, where I can see something like this every year at the beginning of November.
Moving Abroad is Not All or Nothing
The thing about moving to a different place is, it's not permanent. This is not a big ugly tattoo.
I lived in Turkey for six months. I lived in South Korea for 14 months. I've been in Mexico four years and it's my permanent base now, but this is the third time I've moved here.
I had a daughter in school, which complicated things, so we went back and forth a few times. It's always been great for our finances when we were out of the USA and quite painful when we returned. I always regretted returning to the land of consumerism and 24-hour noise dressed up as news. But it made sense for our daughter's education, especially the last three years of high school, so we sucked it up and moved back to Tampa. On the plus side, I was near some beaches and at least I got to drink a lot of great Tampa Bay craft beer.
Now my daughter is a good bit older than she was in this photo and she's a happy college student. My wife and I said, "See ya!" a year ago though and moved back to Guanajuato.
There are a lot of expatriates in Mexico, at least a million by some estimates. It's hard to count though since many are not here all year. You get close to six months on a tourist visa, so a lot of Americans and Canadians who live in cold places are following the birds and monarch butterflies. They come here when it's freezing where they're from, then go back after the thaw.
Maybe some day they'll come here permanently. Maybe they never will. There's no law saying you have to stay in one place all the time (well, except maybe the Canadian health care law.)
Really though, even if you move some place for a year and then decide it's not for you, so what? Just pack up and go somewhere else. Or even home if you really miss it. This is why you rent instead of buying, by the way. Keep your options open until you know the market well and you're 100% sure you want to stay.
Living Abroad is Actually Easier Now Than Ever
I have a few gripes about my adopted country, just as anyone will, and there are always going to be pros and cons of moving abroad. I have fewer gripes this time around though than last time it seems. The big one is, the internet has gotten a lot faster. Before I was limited to the Telmex monopoly that outright sucked, without the ability to upgrade in my neighborhood no matter how much I paid. Thankfully Megacable strung up fat lines past my house and I've not got 20+mbps internet, cable TV, and a land line for around $30 a month. No more yelling at my daughter to get off of YouTube so I can make a Skype call.
We also had water pressure issues in the past since everything is gravity fed, from a tank on the roof. Then we payed a handyman a trifling amount to install a small electric pump outside that water tank and wham! We've got water pressure out the wazoo.
Things are getting easier all over the world, actually. Broadband internet and faster phone speeds are the norm now more often than not. Plane connections keep getting better. Unlike in the USA, new tunnels and train lines keep getting built. Making business calls and staying connected to relatives is cheaper than it has ever been in history—close to free much of the time.
While it's still going to take time and money to get residency in a lot of countries, more of them are slowly but surely marching toward a stance of welcoming digital nomads and retirees. There's no shortage of nations that will welcome you if you've got steady deposits going into your bank account.
Now that I'm back in Guanajuato, we've got our twice-weekly housekeeper, our $3 taxis across town, our 40-cent bus tickets, our $3 lunches, our $5.50 symphony tickets, our $1.50 beers in a bar, and our $8 monthly electric bill. On top of sunshine, great weather, beautiful pedestrian-only streets, and a population that works to live instead of the opposite. We're living the good life for less.
With all that in the plus column, I don't really care whether my countrymen and women who don't travel much think I'm crazy. Their opinion is way down my list of things I value. After all, just look at who some of them voted for…
If you'd like to learn more about how to cut your expenses in half while having a less stressful life as a byproduct, check out the expat stories from A Better Life for Half the Price.