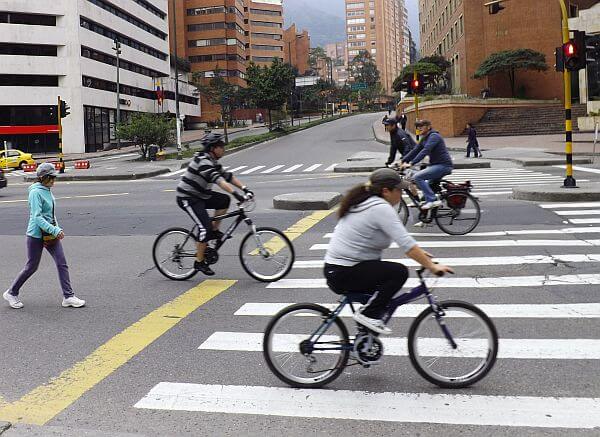 If you're visiting a big city on almost any continent and are looking to stretch your budget, try to time your travels so that you will have all of Sunday there. It's often the best time to bike around or take a walk without dodging cars. It's usually also a good time to catch some free entertainment.
Car Free Sundays on Big City Streets
When I was in Bogota, Colombia last time I found it refreshingly free of traffic the day after I landed. That's because the main thoroughfare through the business district was closed to cars on Sundays. That's not the only one either: they actually close off 76 miles of roadways to traffic for 7 hours. They were the pioneers, starting the program in 1974, which then spread to Cali and Medellin.
They're not the only ones, especially in Latin America. In Quito, the main avenue running through the city from the historic center to what used to be the airport has been blocked off to traffic each Sunday since 2009, opening it up for anyone wanting to ride a bike in safety. The same has been true in Mexico City for close to a decade, with the whole Paseo de la Reforma that leads to Chapultapec Park being closed to traffic for a good part of the day.
All day Sunday in São Paulo, Brazil, an elevated highway that's 3.5 km is full of cyclists, runners, walkers, and Roller Bladers. Rosaria and Buenos Aires in Argentina have car-free Sunday zones. Santiago, Chile closes 32 kms of roads each Sunday so people can enjoy them in a self-propelled manner. Avenida Arequipa in Lima is closed to traffic each Sunday from 7 a.m. to 1 p.m.
Winnipeg in Canada has four routes where cars can't travel more than a block on Sundays, which I assume is so residents can still get home and park their car if they have to go out or work. Each Sunday from late May to early September, the city of Ottawa closes more than 30 miles of scenic parkways to motorists from 9:00 a.m. to 1:00 p.m. Toronto experimented with a few car-free stretches this past summer and will hopefully add more dates next year.
In the USA, there aren't many weekly car-free Sundays, but cities from Miami to El Paso to Portland have ciclovia events a few times a year.
Strangely, progressive Europe seems to be a bit of a laggard on this trend. When Edinburgh closed its old city to traffic twice this year, it made the news because it was apparently so rare in Europe. Not surprisingly, air pollution went down by 80%. London and Brussels did it for one day last month, for "World Car Free Day," but didn't announce plans for a repeat. If you look at the Open Streets Initiative listings, most of the participants are in the USA. (Sundays aside though, Several big cities in Europe have announced ambitious plans to eliminate diesel vehicles soon, all gas-burning ones eventually.)
The best news came out this month, when Paris announced that the first four arrondissements of the city would be reserved for pedestrians one Sunday per month, starting November 3.
The trend hasn't really caught on in Asia yet, despite their traffic woes and pollution, but there are some experiments popping up in the Philippines and Singapore. The latter currently has three car-free Sundays per year. Hopefully more will soon provide more reasons for visiting their big cities on a Sunday.
Sunday Festivals and Free Museums
In many cities, Sunday is the most likely time for free outdoor concerts and cultural events. After all, it's when you're going to have the best chance of getting a crowd since so many are off work and school. It's also a popular day for farmer's markets in many U.S. cities.
Since many weekend visit tourists are gone by the afternoon, you'll be mingling with locals more than foreigners too, which is always interesting.
Free museum days can vary a lot and I know in popular cities like NYC or Paris they will usually be on a certain weekday each month to keep the numbers down, but for many other countries it's politically favorable to make the free day whenever the most families can visit. So when I visited the Gold Museum in Bogota after enjoying the car-free streets, the normal 3,000 peso ($1.75—still a bargain) entrance fee was waived.
In many countries, including my adopted home of Mexico, Sunday is a free museum day—but with a catch. You generally need to be a citizen, a legal resident, or a student with an I.D. to get the free entrance. Some museums are free one designated Sunday per month, like the Pompideau and Louvre art museums in Paris (the latter October to March only) and the Uffizi Gallery in Florence.
Guidebooks will usually tell you what museums are free on Sundays, along with requirements, but double-check it online to be sure. This is a case where the official city tourism site is usually your best bet as it's kept up to date and will link directly to the museum/attraction.
The one downside of visiting big cities on a Sunday and getting something free this is you may find places more crowded than usual. So time it earlier or later than the masses to avoid a crush. The flip side of that is you'll get a real taste of who lives in a place, which can be enlightening.
Have fun!