Do you want to travel on the cheap in South America? Well I've got a few time-tested ideas on that subject since I've been there many times for extended periods.
I once wrote an article for Transitions Abroad simply called "Budget Travel in South America". Most of the advice in there is still accurate, but exchange rate fluctuations, air connectivity, and visa fee changes can all lead to a change in tactics if you're a long-term traveler on a budget.
Traveling on a budget in South America is hard to generalize about because of these regular changes. Argentina is especially unpredictable, going from cheap to expensive to cheap again in the past few years, depending on how their financial crisis of the day is playing out. The current president is doing everything he can to reverse years of mismanagement and one of the first things he did was to get rid of the reciprocal visa fee. Almost overnight, tourism started rising and has been increasing at a healthy clip ever since.
Before, a family of four would have to pay more than $600 in visa fees before even exiting the airport. Now they can spend that on hotels, tours, or meals instead. This year Brazil did the same, so the only country still socking visitors like this now is Bolivia.
In general, South America is a pretty good deal for shoestring travelers, but an excellent deal for mid-range travelers. Even in the capital cities you can get a decent hotel room for $40 or less per night. Most of the middle-class locals are not rich either, so it's easy to find budget places to stay and day tour prices are usually reasonable. Meal time is usually a good value. More on that further down.
Best Places to Visit in South America on a Budget
There are a few countries that have appeared in every edition of my book, The World's Cheapest Destinations. If you spend most of your time in these, adding on the ones where the dollar is currently extra strong, you'll get able to cover a big chunk of South America on a typical backpacker budget of $1200 to $1,800 per month for a single, $2.400 to $3,000 for a couple.
So what are the best places to visit in South America on a budget? If you wanted to backpack through South America for a few months or more? I'd say you should probably fly to Central America first, because you can do it more cheaply with money or miles, then make your way through Panama and either fly or take a boat to Colombia. Or find a flight deal to Cartagena or Bogota—two of the cheapest places to fly to in South America—and start your journey there.
Spend a few weeks in Colombia, taking advantage of a historically weak local currency, Limit your time in Cartagena as it's the most expensive city by far. It's much more reasonable in the Coffee Triangle, Santa Marta, Medellin, and the mountain towns.
Then go overland to Ecuador and watch your money instantly buy even more. (Except imported liquor and wine.) Quito and Cuenca are worth spending time in and are good bases for exploration of other towns and the Andes Mountains. Then you've lots of adventure activity options, beaches at the right time of year, and hot springs areas.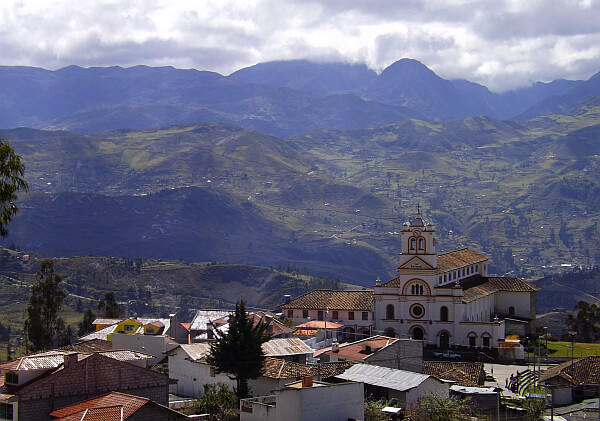 The big draw of South America for many travelers is Peru, which is thankfully quite a bargain after you get past the Machu Picchu costs that are going to break your budget for a few days. Suck it up and go, but then spend some time in cheaper, less crowded areas like Colca Canyon, Arequipa, Amazonas, or even the Sacred Valley towns and mountain villages where nobody else bothers to spend the night. If you get away from the tour bus locations, Peru can be a very cheap place to travel. It's a great value.
After Peru, you can head to Bolivia overland via Lake Titicaca or elsewhere, reaching what is in many respects the cheapest country in South America. Thanks to its hefty visa fee and general lack of promotion, it's also one of the least developed for tourists, which is a good thing for budget backpackers. The only area getting a sizable number of visitors is the Sal de Uyuni salt flats area, the star of many an Instagram feed. It is a trippy, otherworldly place indeed. Try to spend more than a day there, maybe even going overland through the desert to Atacama if you're headed to Chile. (Chile is no bargain though, so I'm not including it on this list.)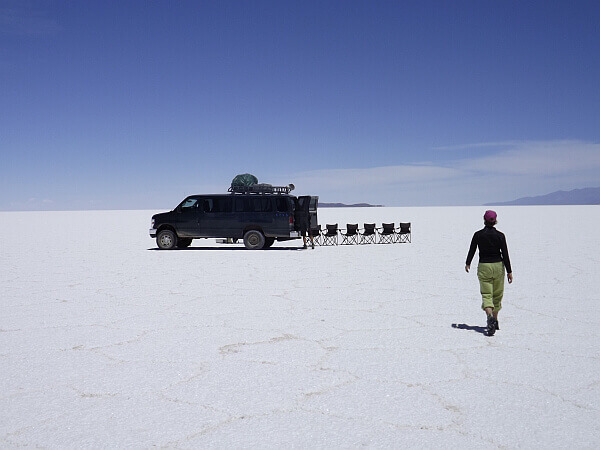 The cheaper option from Bolivia is to head over to northern Argentina, to the dry Salta Province area, a sparsely populated region that looks somewhat like the American Southwest, but with more wineries. See a Salta travel story I wrote here.
Then explore the rest of Argentina as you wish, keeping in mind that the distances are vast and you'll spend a lot of time on overnight bus trips if you don't have splurge money set aside to fly now and then. Also remember there's a high season and a no go season for Patagonia and plan accordingly. Your budget will be higher for Patagonia as well, especially when visiting the Perito Morena Glacier.
If you had your heart set on getting a Chile passport stamp, it would be an easy crossing in the Patagonia region, which is shared by both countries. Or you can cross to Santiago from Mendoza overland to visit wine regions and Valparaiso. Assume your daily budget is going to double as soon as you cross the border though, so you're probably going to want to make the Chile part a quick in and out.
A few years ago I would have said to end it there, but once-expensive Brazil has gotten reasonably priced for the moment if you're coming with U.S. dollars. That's partly because of a currency drop, but also because, as I mentioned earlier, they dropped their expensive and cumbersome visa fee this year. I waltzed in a few days after the change and didn't have to pay anything. I spent all that money on food and fun instead, which means much more benefit for local business owners. See the post I did earlier on travel prices in Rio.
From a logistics standpoint, if you're heading to Rio from Argentina, you can now stop on both sides of Iguazu Falls, seeing them from the Argentina side and the Brazil side. Before the visa change, you had to cough up a lot of money to do this. But recently when I was on an Intrepid Travel tour that went through here, it was quite easy, no extra fees beyond park admissions.
You'll probably want to see more of Brazil, maybe checking out some of the great beaches along the coast. Then head home or onward from where you can find a good flight deal. That's more likely to be from Brazil than Argentina these days, though you may be better off flying from Brazil to another country to the north and then getting a second ticket from there. Scope out the options on Google Flights or Skyscanner.
To recap, the best countries to visit in South America, if you're on a tight budget, are Colombia (for now), Ecuador, Peru, Bolivia, and Argentina (for now). If you stick to those you can get by for quite cheap–though understand that the Galapagos Islands are out out of your budget range. If you do have some splurge money set aside, visit the Galapagos and add Chile or Brazil.
Take Your Time in South America!
Way too many people hurry through Peru and only see the sites thronged with tourists, or they try to cover vast distances in a short time, handing much of their money to transportation companies every day or two. Slow travel is much cheaper travel.
The easiest way to keep your South America travel budget low, besides picking the right destinations, is to spend some time in each place before moving on to the next spot. It can literally cost you twice as much to be on the move every day or two, especially since there are so many long bus rides or more costly flights to deal with to get from A to B. You're often crossing the Andes Mountains or traversing vast desert or pampas regions, so you want to settle in for a while after the journey.
To give you an idea, Chile end-to-end is the distance of the west coast of the U.S. to the east coast. Driving from the top of Argentina to the bottom is the equivalent of driving from Calgary in Canada through the USA and Mexico to Guatemala City. And Brazil much bigger than both of those added together!
These bus trips are so long in South America travel destinations that you sometimes get a sleeping berth. You can cut off a lot of time by flying, but domestic flights are no bargain except for a few routes like La Paz to Sucre. Trying to be a box-checking, bucket-listing, country-counting flashpacker is going to cost you far more money and part of your sanity.
If your time is limited and you want to cover a lot of ground on vacation, I would strongly advise signing up for an organized tour with a company like Intrepid Travel. You'll know in advance what your budget is and they'll take care of all the logistics for you, which is worth a lot. You're usually looking at $80-$150 a day per person with them. A lot for a long-term traveler, but pretty cheap for a vacationer.
Eat a Big Lunch in Latin America
The meal of the day goes by many names on hand-written signs and chalkboards in Latin America, like menu del dia, comida corrida, la comida, or simply almuerzo. Or you may see something different on a sign that shows multiple courses and choices. The way it works is, you usually get a soup or starter; a main course with a few options to pick from; rice, potatoes or pasta; something to drink; and maybe dessert.
That picture to the right is from a lunch just two blocks from the main plaza in Cusco. It was $3 counting the soup I had already devoured, a drink not pictured here, and a tip. See more examples of Cusco travel prices here.
These afternoon meal deals can range from very humble market stall meals that are literally two or three dollars up to fancier ones meant for office workers that are still only $5 or $6. Whether simple or fancy, these are your most economical choices when eating out. So it's often best to get into the habit of eating your largest meal in the middle of the day, then having a lighter dinner. Hey, it's probably better for your weight management too.
Take advantage of street food stalls and local markets as well. Maybe not the first day you arrive, but in general they're safe when places are busy and you can see the food being prepared. They're mostly serving working-class locals, so the price is right.
Learn Some Spanish to Travel South America
If most of your international travel has been in Asia or Europe, you may be under the impression that anyone who works with tourists around the world speaks English. There are some areas where this is still not the case though, like any vast area where millions speak the local language. That applies to South America with Spanish.
Someone could travel from Los Angeles all the way to the tip of Tierra del Fuego without speaking anything but Spanish—as long as they avoid Belize, Brazil, and the Guyanas. In Mexico I got cable TV with my internet service and I have 200 channels that are Spanish only. It's the same when I travel in Peru, Argentina, or Ecuador. Since these countries get so many tourists from neighboring countries, it's not essential for them to have a strong command of English to survive.
Then when you get outside the main South America travel spots that are big tourist destinations, it gets worse. Bring a phrasebook or good app, load up Google Translate, and try to learn a bit of Spanish before you leave with a self-study system like Rosetta Stone, Pimsleur, or Duolingo.
Maybe stay in one place for a week or two and take some lessons. Guatemala, Colombia, and Ecuador are known for speaking relatively pure Latin American Spanish. As in they don't drop letters at the end of words, they don't speak with an Italian accent, and they don't use an abundance of slang and idioms in regular speech. So they're good places to learn and prices are reasonable. Backpacking South America becomes much easier and cheaper once you can communicate at a basic level at least.
Work on Your Patience
In much of the USA, Canada, and Europe, efficiency and convenience are prized attributes. No wasted time, get to the point, don't be late. Things work differently in Latin America. Nobody ever seems to be in a hurry, business is done at what seems like a glacial pace to us, and relationships trump logic every time. Things usually get done eventually, but probably not as fast as you were hoping or expecting. Get used to waiting around, accepting some Spanish form of "later" as an answer, and going with the flow.
On the plus side, most people in South America are gracious, patient, and not all that bothered about you butchering their language. Once you slow down and lower your expectations, it's kind of nice to let go. Hey, what's the rush?
For a country-by-country breakdown of these destinations and others around the globe, pick up a copy of the new 5th edition of The World's Cheapest Destinations. This post contains affiliate links, though you will never pay more by using them than you would if you went direct to the site. I just make a small referral commission that helps keep the site running.