Which countries have the cheapest international flights? Well that depends on a lot of factors, including competition and which airlines are coming in and out. But the data is out there for someone who wants to take the time to crunch it.
In the olden days when I first started backpacking around the world, we had limited information on who had the cheapest flights. The only people who really had that data were the ones doing bookings every day—the travel agents that booked those round-the-world tickets we bought to game the system.
Now that we have real data, we can figure out if it's better to buy from home or from Bangkok. We can see if a Canadian is better off crossing the border to the USA or flying out of Canada. If we're already going to be in Mexico, should we just buy the flight to South America there?
This Aviation Price Index from Kiwi.com is the best report I've ever seen on average flight prices around the world. It's done with an easy measuring stick: the price per 100kms of flight distance. They analyzed more than a million flights to get these figures. (Just understand this data is from prior to the pandemic though, so it's going to change according to whether borders are open or not.)
I looked at flight prices from the USA in another post, but for going country to country around the world, here's who comes out on top for full-service airlines, along with the average price per 100 kilometers. The first year Kiwi did this report they included budget airlines, but this time they didn't, so these are for full-service airlines.
Countries With the Cheapest International Flights:
Malaysia – $4.18
Bulgaria – $4.65
India – $4.96
Turkey – $6.28
Romania – $6.46
Indonesia – $6.49
Portugal – $6.50
Thailand – $6.74
Sweden – $6.96
Spain – $7.08
South Africa – $7.25
Moldova – $7.37
Japan – $7.57
Russia – $7.60
Poland – $7.75
Some of these probably aren't going to help you very much: who is flying in or out of Moldova? But obviously you'll find a cheaper flight to Bulgaria than you will to, say, Chile ($53.53 per 100 kms). Note that about half these are in some of the cheapest destinations in the world, so you'll benefit twice if you go there.
To put those numbers in a form that makes sense, a flight from New York to Stockholm (6300 kms) would be $438 each way, which is no great bargain. Assume that shorter hops within Europe probably bring the average down. The really long-haul routes are going to cost more.
Note that India is high on this list and not too far down on the budget airlines one below. That's important because a flight can literally cut a day or two off your travel time. If you're doing a tour of Ladakh, for instance, flying up there from Delhi won't cost you a lot and will save you a lot of time and hassle compared to the overland option.
Who comes out on the bottom in this part of the world? Canada does, though it got slightly better one year to the next. In a list of 75 countries, in 2016, they were #75 with a whopping cost per 100 kms of $94.66, which is 10 times the average in Spain or Germany. This time they climbed up to #65, with a cost of $23.90 per 100 kms. So yes, you probably would be better off crossing to Detroit from Toronto or Seattle from Vancouver. The United States was not a bargain at #30 ($11.50 per 100 kms), but that's still half of Canada's monopoly airline average. And yes, flying out of Mexico is cheaper still: they were #25 on the list at $10.78.
What About Flight Prices From Budget Airlines?
The above data is skewed though because it only refers to legacy airlines, the big ones that are part of frequent flier alliances and in theory offer more services. Many of us cheapskates are willing to suck it up and go on whatever airline will get us to our destination for less though and in some cases (like Volaris between Mexico and the USA), they can be more comfortable too.
Unfortunately, we only have the first report data from Kiwi for this. They probably found it too difficult to compile again. But looking at their first report, The outcome does change significantly when you're comparing Norwegian Air, Air Asia, Volaris, and the like instead of the legacy carriers.
Budget airlines prices per 100 kms
China – $1.22
Romania – $1.69
Malaysia- $2.11
Tunisia- $2.78
Portugal – $2.80
Sweden- $2.81
Bulgaria – $2.81
Azerbaijan – $2.91
Greece – $3.08
Russia – $3.18
Norway – $3.19
Latvia – $3.37
India – $3.54
Italy – $3.65
Spain – $3.68
For this list, a 10,000 kilometer flight from Bejing to Los Angeles would in theory average $122 if bought in China. Again, it's likely the short-haul flights within Asia end up bringing down the average, so the real bargains are probably from Bejing to Bankok or Seoul. For the $3.54 rate per 100 for India, that would make a Delhi to New York route (12,000 kms) $425, or $850 for a round trip. I have seen deals from the USA at that price or even less.
Who comes out on the bottom? Canada again actually. In a list of 75 countries, they were #75 with a cost per 100 kms of $43.70. Moving south makes you better off: the U.S. is several times cheaper and Mexico is even less.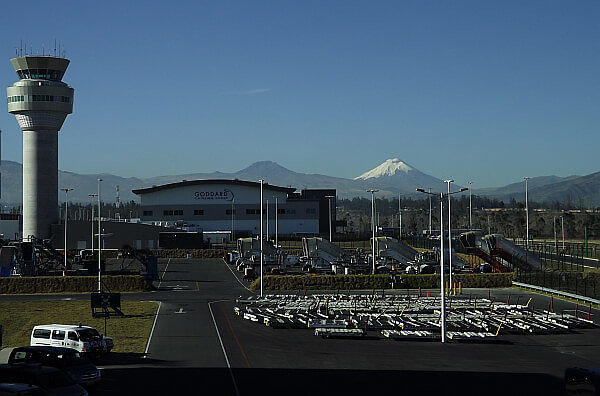 There are other huge disparities on this list. Sweden and Norway are far cheaper than nearby Denmark or Finland. The differences within other parts of Europe are huge: Romania and Bulgaria flights are less than 1/4 those from France. Keep this in mind when you're planning that trip to Europe. In Asia, the Malaysia average is around 15% of the cost average of Taiwan or Japan.
Anyone who has tried to get a bargain flight to Argentina will not find it surprising that that country is one of the high-priced ones in South America, along with Bolivia and Chile. You'll find better much deals to Colombia, Ecuador, and Peru.
European Airports With Cheap Fares
Some airports are more competitive than others and they run a lot more sales and promotions. Scott's Cheap Flights recently did a report on the best and worst airports in Europe for cheap international flights. As you would probably expect, the airports with the most competition–especially from budget carriers–run the most promotional flight deals. "The best airports for deals are concentrated in Western Europe, with three in the UK, two in Italy, two in Spain, and one each in Germany, the Netherlands, and France."
Heathrow in London came in at #1, despite the hefty fees you often see showing up in your fare to that airport. The others in the UK were Birmingham and Manchester.
Getting around Charles de Gaulle Airport in Paris can be an exasperating experience, but they apparently have a lot of flight deals going on, coming in at #2 on the list. One deal they highlighted was Paris to Tokyo for €273 return.
Milan came in at #3, with around 100 airlines going in and out of this Italian city regularly. Rome has flights from 113 airlines and came in at #5. One example deal was Rome to Johannesburg for €298 round trip. I recently was digging around looking at future trips for me and found Rome to Sao Paulo for less than $300 one way.
Madrid and Barcelona both showed up in the top-10, with sales going on every week. How about Barcelona to Mexico City for €334 return?
The others rounding out the top-10 were Amsterdam and Franfurt, both crazy busy with a wide variety of airlines.
Using This Cheapest Flight Prices Information
The best way to make use of this data is to refer to it to see what your options are when traveling abroad. If you're doing a six-month trip through Asia and Malaysia is on the list, you're probably best off starting there. If you're spending the summer in Europe, look at the price to multiple airports and plan accordingly. Google Flights is a great resource for seeing prices to everywhere from your home airport (or another close by). Skyscanner gives similar info. I've found Skyscanner and Kayak to be the best of the online travel sites for sorting out multi-airline deals, though be advised you usually have to go direct for the budget ones.
Do keep the budget airlines in mind. Norwegian Air, for example, is a good long-haul option from the USA and if you can suck it up on a sucky airline for a while, Spirit Air offers some of the best prices to Latin America. You can get great deals on Mexican airlines Volaris and Viva Aerobus. Sometimes those airlines don't share their price data with others though, so you have to go directly to their website. If it'll save you $300 though, that could easily be worth another 15 minutes of search time, right?
Where have you found the cheapest international flights?