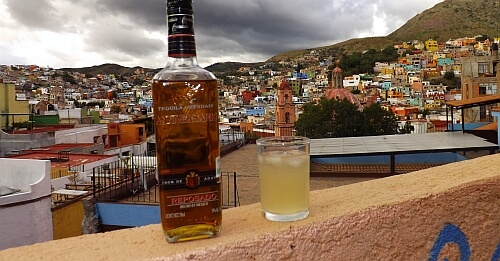 What's the best tequila to buy in Mexico? You might be wondering that when you look at a supermarket shelf filled with 40 brands or more. "The best tequila" is a subjective term though and often a $15 bottle will taste as good as a $150 one. For the latter it's all about the packaging. So let's go find some deals on the liquor shelf.
My advice is always to look for the local bargains wherever you go in the world. In Mexico that includes good tequila for a good price. For a whole lot of brands, you can expect to pay half what you would in the USA. Sometimes less.
I promoted Mexico from an "honorable mention" to a full-blown chapter in the 5th edition of The World's Cheapest Destinations book because the country is actually cheaper now for many goods and services than when I first started visiting in the early 2000s. This is purely because the U.S. dollar has gotten stronger against the peso though, not because the country is worse off. Despite what you may hear on Fox News, most of the people in Mexico are living a pretty good life and have no intention of trying to cross the border to live in the USA. There's a huge middle class and a lot of very rich people in the cities. So prices are good, but some items are not as cheap as in poorer countries like Guatemala, Nicaragua, or Bolivia, for instance.
Nobody beats the Mexican prices for tequila though. For around the $12 mark, you've got plenty to choose from in the tequila section at your local Mega, Soriana, Aurrera, La Comer, or Walmart. And believe me, it's a big section, with a lot more brands than you'll see in most U.S. liquor stores. The expensive tequila brands that most Mexicans drink on special occasions or give as a gift are often locked up in a cabinet and you have to ask for help from a store clerk. The others are out there for the grabbing and sometimes supermarkets run a 3-for-2 sale that makes it worth stocking up.
There are no fears here that you'll have to drink crap if you're on a budget though. For $10 to $15 in Mexico, you can turn up your nose at the horrid Jose Cuervo Gold (one of the greatest marketing campaigns of all time to win over the gullible) and drink 100% pure blue agave tequila that's good enough for sipping. Or order it in a bar for a few dollars.
That "100% blue agave" designation is key. Even the worst brand with that on the label will be better than any more expensive "mixto" tequila that has who knows what mixed in with it. So just use the follow list as a starting point. If you see a bargain of your own, snag it! Competition is stiff here and agave plants take 8-10 years to grow: distillers are not going to waste that fruit on something crappy like vodka and gin producers can. Especially for cocktails, you can be sure any 100% blue agave tequila is going to be worth buying.
Most Mexicans go to aged reposado for sipping, unaged blanco for mixing in cocktails, and longer-aged añejo is mostly something the upper crust pulls out as an after-dinner drink.
Orendain Anniversario Reposado
I'm not sure why this tequila is so cheap or if it will remain that way, but it's a bargain for sure. This is the same distillery that makes the expensive Don Eduardo tequila that retails for $40 a bottle in the U.S.
100 Años Tequila

You can consistently find the both the blanco and reposado versions of this "100 years" tequila for around 150 pesos, which is well under the $10 mark. It's a great one for mixing in cocktails and is readily available almost everywhere, including at convenience stores. Just be sure to get the 100% agave one as the labels aren't much different.
Real Hacienda
This has been my go-to tequila a lot of years in Mexico. It's consistently for sale at a good price and even has a nice agave plant relief built into the bottle. Classy!
It adds the right kind of character to cocktails, with strong agave notes but no off flavors that shouldn't be there. This is a well-rounded tequila that's good enough to sip neat, but is almost always $10-$13 on the shelf.
Jimador Tequila

Occasionally you'll find a bottle of Jimador reposado tequila on sale for 190 pesos ($10) or less. If so, snag it. This is the most popular tequila in Mexico, so if you grab something to bring to a party, you can't go wrong with this brand. (If you're spending $25 or more for a really good friend though, go with Don Julio.) It's kind of the Budweiser of tequilas though, nothing to get excited about but always available.
You can pretty much always find the blanco version for 200 pesos or less though, even in a convenience store, so it's a good default buy if you're looking for something to make margaritas or palomas with. It's a bit harsh to drink straight, like most blanco brands since there's no aging, but it's good for mixing. If you want to sound smart as you're pouring drinks, a Jimador is the guy who cuts the spiky leaves off the agave plant and loads the big fruit into the truck.
El Amo Tequila
This brand is not as easy to find as it was when I first moved here, so it's clearly not the most popular tequila in Mexico by any standard, but if you see it on the shelf it is a dependable choice for under 10 bucks. It has a nice wooden cap that gives it a little extra cachet and what's inside is not bad at all for the price.
This brand may not win any points from your Mexican friends if there are ten other bottles on the table, but if yours is the only one, don't worry. They'll be quite happy to see you once they take their first sip.
Mayorazgo
I have picked up Mayorazgo tequila on several occasions and for just a shade over 10 bucks in a Mexican supermarket, you really can't go wrong. It has a pretty glass bottle, a nice wooden cap, and would fare well in a blind taste test against better-known brands costing twice as much.
Cazadores Reposado
This is my favorite reasonably priced tequila and the one I'm buying the most these days. Cazadores used to routinely be closer to 20 bucks in Mexico, but thanks to a peso devaluation I've found it multiple times now for under $15. Sometimes in a nice gift box even!
This is a complex "Los Altos" highland tequila that's triple-distilled and smooth. Sip it neat with friends and you'll wonder how your bottle got empty so fast. Rather than going eeny meeny miney moe when overwhelmed with choices, this is the one to pick that's available almost anywhere for under $15.
Azul Tequila
As with Cazadores, this easy-to-find brand has steadily come down in price since I first moved to Guanajuato. You can consistently find it in any Oxxo convenience store, so it's an easy default choice to grab and go. Azul Tequila is also widely available in the USA, so you can try it there first to see if you like it, then get it for half price or less when you land in Mexico.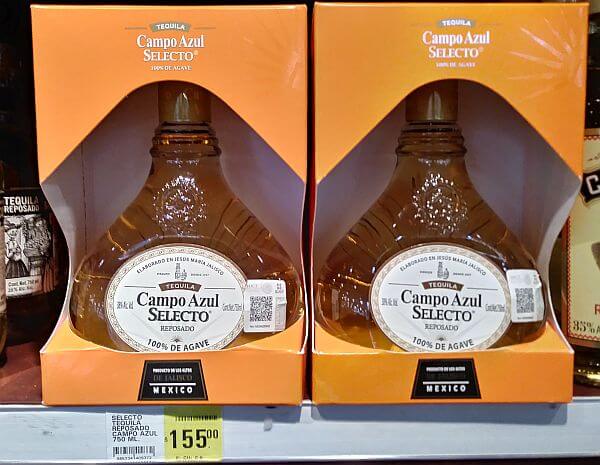 Campo Azul Selecto
Have you ever seen such a nice bottle of liquor for just $8? That's how much you'll spend on this pretty custom bottle from Campo Azul and what's inside it is quite good. Bring this one to someone's house (or back from a Mexican vacation) and they'll probably think you spent much more than you did.
What's worth the splurge?
I don't drink only cheap tequila, of course, especially when I'm writing about some all-inclusive resort and it's an open bar. If you want to know my favorites if money is no object, those would be Don Julio 1942 and Clase Azul in the nice porcelain bottle. The 99,000 Horas from my home state of Guanajuato is quite good too and is a terrific value. Cuervo's Reserva de la Familia makes a great gift because the artistic box changes each year and it is consistently good, but I personally would have trouble parting with a hundred bucks to purchase it myself.
Despite what the marketers want you to believe, there is very little correlation between price and quality. This is very clear every time you see the winners from spirits competitions where there was a blind taste test. If you see a bottle at the duty-free shop that's $250, you can bet that $200 of that is usually going to marketing and packaging. Those bottles seldom rank the highest in judging competitions. You can often do just as well by spending far less.
How about you? Have you found any happy cheap tequila surprises on the shelf or at the bar in Mexico?