The cost of living in Ecuador is quite low for expats and the country continually shows up as one of the cheapest places to retire in the world. As Ecuador resident and author Susan Schenck says, "I knew I could not live in the USA on my pension–not if I wanted to have a roof, or food, or a car!"
You don't have to be old to take advantage of the great prices though. And you don't have to live in Cuenca to get the cost benefits. It's just that if you're retirement age, you get lots of extra perks and benefits that lower your costs even more.
I have been to Quito four times now. Every time I visit I'm amazed by how cheap some things are, partly because the prices have barely budged since I first started taking notes in 2009. Even in the capital, the average local salary is well under $1,000 per month, so if you have an income of twice that much when moving to Ecuador, you're one of the wealthy ones.
John Potts moved to Quito from London and now runs the Happy Gringo tour company. "I spend approximately $1,000 per month to live comfortably. This does not include rent as I bought an apartment, but it includes all other living costs: food, transport, bills, and eating out at decent restaurants once or twice each week. In the UK I guess I was spending more like $3,500 per month many years ago, including rent. I would say that my standard of living is considerably higher in Quito though."
They use the U.S. dollar in Ecuador, so there are no mental calculations to do and no currency fluctuations. When the government made that rash decision at the beginning of the 00s, it was done to tame inflation. Mission accomplished on that front.
Sure, some things go up. As I've mentioned before, alcohol is the main item where prices are way out of whack. But that's from massive sin taxes, not inflation. Fuel prices have ticked up eventually since subsidies get rolled back a few years ago. Still, gas is only around $2 a gallon and you can get a taxi ride for $2.50-$8 apart from the long trip to the airport in Quito, so the impact has been minimal.
Apart from the cost of living in Ecuador, you can also move here without jumping through too many hoops. There are a variety of residency visas on offer to foreigners and applying is relatively straightforward. You can get residency as an investor (in real estate), business (owning your own business), retiree (if you have a certain level of monthly income from abroad), student, work visa, or professional visa with proof of higher education.
The Cost of Living in Quito
Last time I was in Quito, I arrived around lunchtime and was starving, so I popped into the first meal of the day place I came across. I got a bowl of soup with rice, veggies, and beef. Next was a big plate with chicken, rice, potatoes, and a salad. A glass of juice and a banana came with it. The bill was $2.35.
Later I stopped in a place that had a microbrew on draft—a real novelty in most of Latin America still—and met a couple from Florida who owned an apartment nearby. They don't live here all year, but they come down regularly. "We bought it on a lark really. It was around $30,000, so we figured there wasn't much downside to that deal. We put about $20K into it over four years getting it ready. Now it's quite nice." They're walking distance to where I was, which was about two blocks from the Plaza Grande.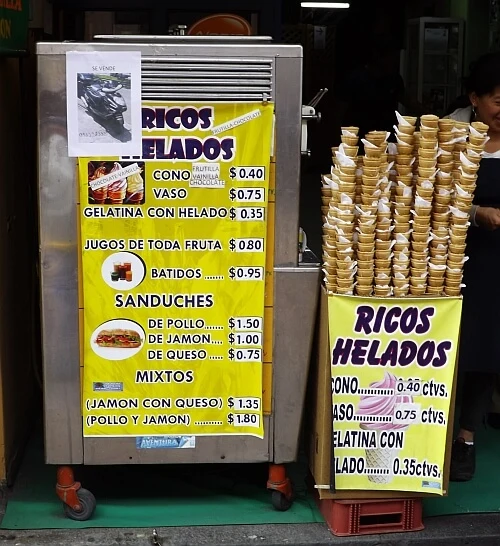 Quito is a city where you still see apartments (or even whole houses) for sale for less than $50K and decent places to rent for $350 to $700 per month.
Oddly enough, Cuenca costs more than the capital these days for the non-exclusive places because the average income is higher—not just because of the 5-10K gringos, but because a lot of wealthy Ecuadorans have moved back from abroad and settled there for a more mellow life.
So don't avoid Quito because of the assumption that the biggest city is going to be a lot more expensive. If you live there you can fly direct to many spots on the globe as well–a big advantage. If you're a retiree, you even get discounts on flights!
There are more international white-collar workers in Quito though, so you can pay a fortune if you want. "To give you an idea of typical rents in Quito it ranges from $500 up to $2,000 a month," says John, "from a regular place up to luxury living, in a nice part of town. My apartment I bought 8 years back for $140k, for 140 sq meters (more than 1,500 square feet) with a terrace and an incredible view in a luxury part of the city."
Living in Cuenca as an Expatriate
Tina and Keith Paul of Retire Early and Travel stopped working a decade earlier than they had originally thought they could after seeing how cheaply they could live in Cuenca.
We find great value in food, housing, and utilities. (We pay less than $100 per month for internet, electric, gas, and water together, another $20 a month for a cell phone plan.) What's not a value is most things imported. So if they don't make it in Ecuador, your most likely going to pay more. Take wine; for example; you pay about twice the price for a bottle that you would buy in the U.S. Another example would be electronics. You not only pay more, but you get two-year-old technology.

We chose Cuenca because it has spring weather year round. It was an easy country to bring our dogs along with us. The people of Cuenca are friendly, and there is a good size expat community here. It is a city of over 600,000 people, and there are lots of things to do.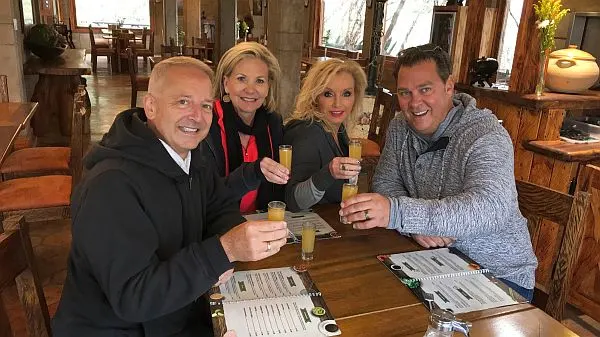 Susan Schenck also lives in Cuenca and as a food writer, is especially thrilled with what she gets when she goes grocery shopping. "I can get 100% organic produce, grass-fed beef, truly free-range chicken, with bright orange egg yolks…for $200-300 a month total!"
Most of the people she knows spend between $300 and $600 a month on apartment rent. The latter will get you a sizeable place in the historic center, she says. Tina says you can pay $1,000 or more for the most desirable apartments, but that is the very high end for multiple bedrooms, a whole house or in a building with a pool and doorman.
The above screenshot is for apartments listed in English, of course. If you go to the Spanish listings or just start poking around in person after relocating to Ecuador, you can find better deals than those, whether renting or buying.
Getting around won't cost you much: a local bus is 25 cents and you can hire a taxi driver for $10 an hour. See more in this post on travel prices in Ecuador.
She agrees on the electronics though: poor quality and most stores won't accept returns. "Someone who works in quality inspection told me that of 74 levels, the lowest (74) goes to Ecuador! Stock up when you visit the US."
Health Care Costs in Ecuador
One major reason retirees find the cost of living in Ecuador so attractive is the drastic reduction in the cost of staying healthy. Compared to the broken, for-profit U.S. mess, Ecuador's health care system is a dream.
"Health care is very inexpensive compared to the U.S.," says Tina Paul. "Probably about a quarter of the cost."
Some people live without health insurance and just pay out of pocket. A typical doctor visit is $25, and that would include any follow-up visits. Prescription drugs are way less expensive here. The insulin our dog is on is over ten times higher in the US for the exact same insulin. A friend of ours uses a drug where the co-pays are $850 a year in the USA. He bought a year's worth here in Cuenca of the meds for $78 cash.
Lynne Klippel once paid $2,500 for two days in the hospital with surgery after breaking her leg hiking. Otherwise though, her medical costs have been minimal.
Dental check ups/cleanings are $30 dollars, office visits for physicians are $30- 45. My physical therapy appointments after surgery were $20 each. When I turn 60, I will purchase health insurance from the government plan at $70 a month.
John pays $3,000 per year to Cigna for international healthcare, saying "This is important for me because I travel a lot. Last year I broke my wrist and had an operation with 2 nights in a private hospital room all for $7k. This was with one of the best surgeons in the country, in a top hospital, and was covered on my insurance. Otherwise, local health care is very cheap in Quito: doctor appointments costs $40-50 with a US-trained doctor, and medicines rarely set me back more than $20."
Where Else Do Expats Live in Ecuador?
While Cuenca and Quito get the bulk of the expats in Ecuador and are the easiest places to get by without being fluent in Spanish, there are plenty of other options if you get to a functional level of communicating. To change climates, you only need to change your altitude.
If you want the rural life when relocating to Ecuador, prices can be especially cheap. You can move to the countryside and really get a lot of real estate bang for your buck. Lynne was working herself to death in St. Louis, then found out her day job was going to be eliminated.
I cashed out my 401K to purchase land and build a home high in the mountains about an hour away from Cuenca. My ghostwriting and publishing support me well here. I've been able to pay off all my debt and love being debt-free for the first time in my adult life. I've got a great life here- beautiful home, kind neighbors, access to a wonderful community of other expats and Ecuadorians, and the ability to work from home with clients in the US, Canada, and Europe. I love to travel and am able to afford trips to the US and other locations each year.

No rent since I own my house outright. I pay $120 per month for a handyman/gardener who comes one day each week, My property taxes are $12 annually.
Living expenses can be even lower than the big city prices though without going rural all the way. You could settle in Riobamba, Vilcabamba, Cotacachi, or some chilled-out town in the Andes you find and decide to unpack for a while. Ecuador is one of the best countries for expats, so you'll find plenty of them around if you want to mix with people from your home country.
There are plenty of beaches you could kick back on for not a lot of money, though understand they're generally not all-year destinations. Despite Ecuador being named for the Equator, Pacific tides coming up from Antarctica mean the water is not warm every month.
There are a lot more details on the cost of living in Ecuador in my book, A Better Life for Half the Price. Get on the list for updates here. The magazine International Living has info on Ecuador regularly and ranks it as one of the best values in the world. You also might want to pick up Susan's book of local tips: Expats in Cuenca, The Magic & The Madness.
Everyone I talked to for this moving to Ecuador post and in my book interviews earlier gave one key piece of advice: learn to adapt. The country isn't going to change to please you. As Lynne said, "An open mind is essential and the willingness to adjust is essential. People who are rigid or compare everything to the way it was 'back home' may not adjust well to living in Ecuador.
Update – As of 2023, the minimum income level to apply for residency is 3X the $450 minimum wage, so $1,350, plus another $250 for each dependent. The calculation on an investor visa went up as well, but with a minimum of just $42K for that, many expats can easily get residency just by buying real estate for cash with retirement fund proceeds or the sale of even a very modest house in their home country.
Do you live in this South American country yourself? If you have anything to share on the cost of living in Ecuador, please leave a comment!