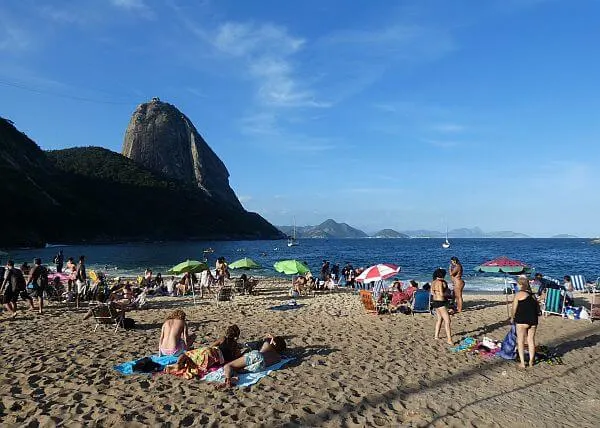 Have you had Rio de Janeiro on your "someday" travel list but heard it was more expensive than the rest of South America? Well, thanks to a currency slide and the elimination of a visa fee, travel prices in Rio and the rest of Brazil are now looking quite reasonable.
While all the talk about Brazil the past decade has been centered on politics, crime, and football, the currency has been quietly losing ground against the U.S. dollar. For the first time since I started writing about travel bargains more than a decade and a half ago on this Cheapest Destinations Blog, I can honestly say this is a great time to visit Rio. As I mentioned in this post a while back, Brazil feels like it's on sale this year. (This was pre-Covid. Once it's safe again, the deals will be even more dramatic.)
I have avoided traveling to Brazil for a long time. Historically it's been overpriced and a poor value, plus the hefty visa fee and red tape made it seem like the country didn't really want tourists from other countries. Their tourism board has done very little outreach and not made much of a case for visiting outside of carnaval and sporting events. The hotel infrastructure in Rio has long lagged behind that of its neighbors—even when they were hosting the World Cup and Olympics.
After spending some time in Rio de Janeiro though, I'm happy to report that travel prices have come down to Earth in Brazil and it's actually quite affordable to eat, drink, and be merry on Copacabana or Ipanema Beach. There's a lot of merry to be made there and if you like to drink, you'll be very happy. It's hard to walk more than a block without finding a bar or just a guy selling beers or cocktails from a sidewalk stand. This place will also make you happy if your favorite outfit is a swimsuit and flip-flops. This is not a place where anyone is into layering—or superfluous clothing of any kind. They dress like it's going to be hot, which it usually is.
There's plenty to see beyond the beaches too. I did a Rio bike tour that went along the coast and through downtown, plus I spent a few hours exploring Santa Teresa via the tram and on foot. Sure, there's too much graffiti, too much bureaucracy keeping abandoned buildings empty, and too many people living in favelas or on the streets. The government can never seem to get around to cleaning up the polluted Guanabara Bay. But something tells me Rio is never going to be gentrified and shiny throughout, even if they get the most competent government ever elected. Enjoy the music, the smiles, and the sun. And for now, good traveler prices too.
All Rio travel prices below are calculated at 3.7 reals to the U.S. dollar. Check the current rate because of course things change.
Rio Hotel Prices and Apartment Rentals
Brazil in general has always seemed to have a shortage of good hotels but the problem has been most acute in Rio de Janeiro. This is a city where more than half the athletes and spectators had to be housed on cruise ships for the Olympic Games. The hotels that do exist have traditionally not had to try very hard to get business. They had high occupancy no matter what.
Thanks to the proliferation of Airbnb though, there are finally viable alternatives and some real competition. That shot above is my view of Copacabana Beach from the balcony of my rental apartment, which was less than $50 a night after all fees. There were at least 20 to pick from in that range near the beach and as low as $18 if you are willing to be near a metro stop instead or in another neighborhood.
The hotel my Intrepid Travel group stayed in at the end of our South America tour goes for $57 a night and it was your typical 3-star tourist hotel: comfortable bed, air-conditioned, good hot shower, 24-hour front desk, breakfast included.
Hostels in Rio – $8 to $19 each for a dorm bed, check prices here
Cheap hotels in Rio – $16 to $35 double, check prices here
3-star hotels – $35 to $100
For true luxury hotels in Rio, you could end up paying the kind of rates you see in New York or San Francisco. This is not because they are so fabulous (though Copacabana Palace is). It's because there just aren't many of them. You can count them on one hand.
Food and Drink Prices in Rio
Travel prices in Rio de Janeiro are the best these days when it's time to eat or drink. I paid $3 for a basic meal of the day lunch and more than $20 for one of those crazy Brazilian barbecue experiences where they serve you more meat than you would normally eat in a week. On top of the buffet…
Rio won't ever be mistaken for a foodie city, especially around Copacabana and Ipanema beaches, but these days you can eat pretty well without spending much. You don't have to go very far either. Like the ease of finding a beer (they even sell them at the newsstands), there are street snack stalls seemingly everywhere. Every block has several competing juice and food places where you can get a fresh-squeezed juice, a couple empanadas, a full-blown meal, or yes, a beer. For some meals the price will top $12, but most of the time you can find a meal with three or four items for half that. Here's what I got when I splurged $8 at a real restaurant: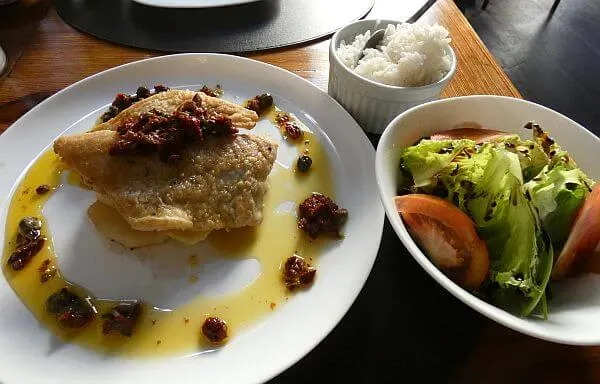 Street food snacks – 30 cents to $1.50
Burgers/hot dogs – 75 cents to $2
Basic meal of the day – $3 to $7
Executive meal – $4 to $10
Buffet meal – $6 to $22
Cold coconut water on the beach – $1.20 to $1.50
500ml beer in store – 60 cents to $1
500ml beer on the street – $1.50 to $2.25
600ml beer in bar – $1.50 to $3
600ml craft beer store/bar – $2 to $8
cocktail on the street – $2 to $5
cocktail in a bar – $2 to $8
good coffee in a shop – $1.25 to $3
fresh juice – $1.50 to $3
For some reason, pizza was the most expensive item I saw: roughly the same price as the USA. International chain fast food is about the same too.
I didn't see much of a wine selection on menus, though I wasn't eating at the high-end air-conditioned places except an Italian place in Iguazu Falls. There was an excellent selection there, with by-the-glass prices around $4 and bottle prices mostly $7 to $20. You can get most any international brand of liquor for (these days) an affordable price. The local firewater of choice though is cachaça. It's unaged sugar cane liquor. So rum without the molasses tones and without any smoothing out from being in a barrel. You don't want to drink it straight.
Rio Transportation and Getting Around
It was much easier to travel around Rio de Janeiro than I had expected. Probably thanks in part to the Olympics and World Cup in previous years, stations and instructions are in English for many methods. There are a lot of options too, besides your feet. There were more bike paths than I was expecting and the metro is quite nice. The downtown tram system only dates back to the Olympics and is very modern. The Santa Teresa trolley is expensive, but consider it a donation to preservation.
Taxis are more expensive than Uber and you can't assume that any driver is going to speak English (or Spanish), so at least with Uber you know they are looking at the same map as you. It's legal and accepted here, including from the airport.
City share bikes – $1.35 a day for rides less than an hour. ($1.35 each additional hour if not changing bikes)
City bus ticket – $1.10 one way
Metro ticket – $1.30 one way
Santa Teresa trolley car – $5.40 round trip
Taxi ride – $1.30 to start and 45 cents per kilometer (higher at night)
Uber ride – 1/2 to 2/3 that without surge pricing
Uber to airport from Copacabana – $16
The drivers here didn't seem nearly as insane to me here than they do in most Latin American countries and you could do quite a road trip in Brazil if you rented a car. Be advised there's an allowed level of practically zero for alcohol though: drink even one beer (or enough cough medicine) and you could face hefty fines.
Prices for Attractions in Rio de Janeiro
Travel prices in Rio are pretty good until it's time to get in line for a big attraction. Most tourists who come to Brazil's most popular city all do the same things, including the Brazilians. So the main attractions are crowded and no bargain. I didn't take a favela tour, first because it seems kind of strange the way it's normally marketed, but also because I was coming off a tour with Intrepid and our guide said they don't offer them any more. They were seeing guns in the neighborhoods sometimes and were feeling uneasy about it. Check the situation before you go or on the ground before booking.
Thankfully, the best things to do in Rio won't cost you much: the beaches, the sunsets, the strolls, and (if your timing is right), the music. There may be samba shows going on, there will probably be outdoor concerts, and if you ask around you'll surely find something cheap and fun that's happening.
Sugarloaf Mountain ticket/cable car – $27 in advance, $30 on site
Christ the Redeemer statue visit – $16.50 to $31 (latter is to skip the lines)
Botanical Gardens ticket – $2
Museum of Tomorrow ticket – $5.40 to $9 (combo), free on Tuesdays
Guided hike or bike tour – under $50
Football/soccer game at main stadium with transportation – under $50
Shopping in Rio
I'm normally the last guy to ask about shopping anywhere, but I had some local currency left at the end and went flip-flops shopping. This is the land of Havianas, so the selection is great and prices seemed good to me.
Rio is also possibly the best place in the world to buy a bikini. That's what I heard anyway, though I can't comment on the competitiveness of the prices. Going by how much the Brazilians buy when they go abroad though—coming to Miami and Orlando with empty suitcases to fill—I'm guessing the regular clothing prices are not anything to get excited about. If you want to check out the options, there are a couple malls not far from the beaches.
There are plenty of tourist souvenirs to buy, though most of them are pretty junky unless you're really into soccer.
That's my rundown on travel prices in Rio de Janeiro. Have you been to Rio lately? What kind of bargains did you find?
Looking for cheap flights to Rio? They're not easy to find, so poke around on Skyscanner and be flexible with your dates.