Who has the cheapest beer around the world? Which are the cheapest beer destinations if you want to travel to a place where you can put back some pints on a low budget?
For many travelers this is a key consideration, especially if they're coming from a country like Norway or the UAE where the price of a single beer can top ten bucks. A product that has very similar ingredients no matter where it is made can have drastically different costs. Sin taxes, transportation issues, layers of distribution, local brewery wages, or monopolies can all impact the price of a pint where you're going on vacation. When a pint can be $1.20 or $12, the price of beer on that partying trip can be a budget buster or a non-factor.
The local price of beer can be a moving target over time thanks to changing tax climates and current exchange rates. Thankfully the ones that are a bargain usually stay that way over time. Based on my travel experience, crowdsourced numbers, and various lists published by news outlet, here are 12 of the standouts that are also worthwhile destinations to visit.
Cheap Beer in Vietnam
Asia is not known for great beer or great beer prices overall. Having a cold one in Thailand or Indonesia can double the cost of your meal and in Malaysia or Singapore it's even worse. There are a few exceptions, however. Vietnam is the most noteworthy country where you can drink up a storm without hitting the budget very hard. This is especially true if you can find a bia hoi stand. This is usually a simple sidewalk place where the keg beer flows until it runs out. It can be less than a dollar a liter if you're not in a tourist zone. It's not the strongest or most complex lager you'll ever drink, but at these prices who cares!
A 12-ounce bottle will often be a buck or less in a restaurant, with multiple brands to choose from. The 333 one is the most fun to order: "Ba ba ba!" If you're willing to spend a bit more, you'll find that this supposedly communist nation actually has a thriving craft beer climate, at prices that won't make you think you somehow teleported back home again.
Beer in Laos
You might as well say, "Generic beer please" when you order one in Laos because the main beer brand is…Beerlao. It's better than you'd expect with a name like that—certainly better than the main brands in Thailand—and the price is right. You can pick up a 500ml bottle or draft for a buck in many parts of the country, or $1.50 if you're in a nicer restaurant. Sometimes in the stores you'll find some cheaper options: Chinese brands you've never heard of that have come down from the north.
Angkor or Anchor Beer in Cambodia
Dollar beers are actually a high mark in Cambodia, where you'll frequently find them for half that at happy hour. And sometimes in Siem Reap you'll see bars that say "Happy Hour 24 Hours" so, well, assume you'll often pay less than a dollar. Have fun ordering though since two of the beers practically have the same name. There's a beer called Angkor, named after the famous temple complex, and one called Anchor that has two crossed ship anchors on the can.
Is this some kind of a joke? A bar bet gone bad? I have no idea, but I can tell you they don't taste much different anyway, so just order a beer and take what you get. If you get Cambodia beer, well, that's going to get you ready for Laos.
Dollar Beers in the Philippines
Even on Boracay Island you can routinely find dollar beers in the bars, sometimes less at happy hour. The Filipinos drink a lot of beer and their San Miguel brand is a staple throughout Asia. It's not great, but it's not terrible either, especially on a hot day with your toes in the sand. They have some 90% of the suds market in the Philippines, so it's usually what you're going to end up with unless you get a more expensive import.
Kyrgyzstan Brews
This is the real wildcard on the list. I wasn't expecting to find bargain beer in Central Asia, where Kyrgyzstan is a Muslim country (though a low-key one). It was a moot point too when I was off the grid hiking in the mountains. Once we came down from the hills though, we drank local brews at cheap prices and even found a few good Russian microbrews in Karakol.
You can buy beer like you would buy soda for the family here, in giant 1.5-liter bottles, for as little as 70 cents at the supermarket or $1 to $1.50 for a half liter in a bar or restaurant.
The Other Georgia on My Mind
The country of Georgia is better known for its wine than its suds, but it was making beer of some sort thousands of years ago and they're going strong today. There are multiple long-running brands to pick from, plus a few microbrews you can pick up in multiple places in the big cities. The beer in Georgia is often a bit more sour than the norm–apparently the locals like it that way—but you can't beat the price: 75 cents to $1.25 in most bars. Georgians will argue that they're in Europe and map makers will argue they're in Asia, but either way they're one of the cheapest destinations for beer on either continent.
Original Pilsner in the Czech Republic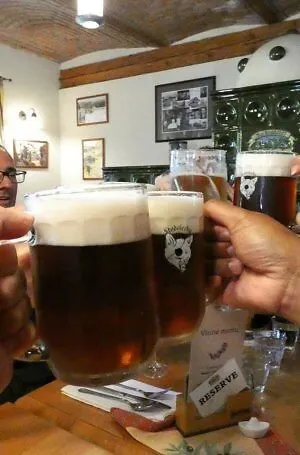 The Czech Republic doesn't have the absolute cheapest beer in the world, but it does have the cheapest great beer on the planet. It's hard to go wrong anywhere if you just walk into a bar and say "Pivo!" Whatever they hand you will probably be delicious, though you do often have the choice of pilsner or "half dark" in most bars, the latter usually resembling a marzen/Oktoberfest in body and taste. I'm salivating just thinking about it.
Like most travel costs in the Czech Republic, beer prices greatly depend on where you are, most notably whether you are in a tourist trap in central Prague or drinking where it's mostly locals instead. In the latter places, expect to pay an average of $1.50 for a pint.
For what it's worth, you'll pay about the same amount in the other former Iron Curtain countries of Bulgaria, Romania, Slovakia, and Hungary. Sometimes the beer will also be quite good. It's just not as consistently great as in the original home of Pilsner.
Cheapest Beer Destinations in the Balkans of Europe
I'm lumping Albania, Bosnia, and Serbia together as one because beer prices are a consistent bargain in all of them. You can expect to routinely find a beer for around $1.50 in a bar or simple restaurant in any of these countries and occasionally it can get down close to a buck at happy hour. With some kebabs and warm bread, you'll be a happy camper. Most are going to be basic lagers, but I had a very good wheat beer in Tirana for $1.75.
In Montenegro the beer prices are slightly higher than in the other countries, more like $2 to $3 in a bar unless it's happy hour or you're way out in the countryside. On the plus side, they have a good black bock here called Niksicko Tamno (with a handful of accents over some letters) that's easy to find. Montenegro is one of the cheapest wine drinking countries in the world though, so you're better off switching to the fruit of the vine here, where everything is priced in euros.
Mexico Now in the Cheapest Destinations for Beer Rankings
I'm back living in Mexico again and with the exchange rate hovering between 19 and 20 to the dollar, Mexico has gotten down to the dollar beer range again in the cheapest bars. You'll more commonly spend $1.50 for a 12-ounce bottle or a pint draft, but that will usually get you a lager that's drinkable or occasionally a darker Indio or Dos Equis Amber. You usually have to pay a tad more for superior Negra Modela or Bohemia and craft brews are double the price.
See that sign to the left? That's $7.90 for 6 beers on ice plus guacamole or chorizo with cheese and chips. And that's an anytime deal at a nice restaurant, not happy hour at a dive bar.
You can get a 32-ounce bottle of some brands in a store for around $1.50, so if you bring the party home it's not going to cost you much. Be advised that most of these beers are 4.5% alcohol, or even 4% for Victoria, so unless you're a lightweight, you'll probably want to switch to mezcal or tequila if you're intending to tie one on.
Dollar Beers in Nicaragua
"Dollar beers my friend, that's what made me perk up my ears." That was the answer when I asked an oil worker taking a break from North Dakota how he ended up vacationing in Nicaragua. He seemed to be quite happy with his decision while he sipped a Toña on the ferry between the Corn Islands. He wanted a sunny beach place that was one of the cheapest destinations for beer. The rest was secondary.
Yeah I know, Nicaragua has been a no-go zone for most travelers over the past year as the dictatorship has crushed protests in the street. Assuming things get resolved at some point—or you are an intrepid traveler—this is a place where you can drink beers on the beach for a buck. 'Nuff said.
The Duty Free Country of Panama
I did a whole post on why Panama is a great country for drinkers and yes, that includes beer. The government here has been refreshingly against sin taxes…or any taxes on imported goods for that matter. The result is a true market economy where things cost what they should cost, without any fingers on the scales. I found dollar beers at an outdoor festival in Panama City, which was certainly a pleasant surprise, and saw beers for $1.50 or less at many restaurants and bars outside the capital when I traveled around the country.
Most of the expense is going to come from rent, not the product itself, so a beer at a dive bar in a small town could be 50 cents, while at a nice place in the capital it could be $2.50. Naturally the craft brews will cost you more, but still about half what you'd pay in the USA.
Party People of Colombia
Almost anyone who has spent time in Colombia will tell you the population likes to party. While you'll find a dozen different beer brands on offer as you travel through Colombia, there's not a lot of variety in the actual taste: most are pale lagers without much heft to them. Since you can often find them for a buck or less in a basic bar though, quit yer bitchin' and drink up. That's for a 12-ounce bottle or 500ml draft. Many of the national brands are less than $4 a six-pack in a store.
There are a few microbrews starting to pop up, plus there are some well-marketed foreign brands like Heineken and Corona if you want some variety, but they'll cost you more.
How about you? Where have you found bar pints for $1.50 or less?