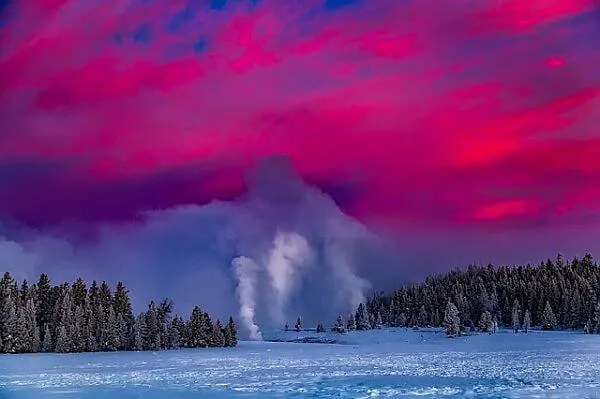 If you could travel anywhere in Wyoming, where would you go?
As I close out one year and look forward to the next, I'm getting excited about a few places I know I'll be going: a few countries in Europe and the western USA.
My one big regret now that my daughter is off to college is that we never made a long trip out west to hit the wide-open spaces of states like Wyoming. Sure, we carted her off to lots of exotic destinations around the world, but we never hit the major state parks of the Great American West.
I'm planning to make up for that in the coming year. I've got somewhere to be in Montana in September, so I think we empty nesters with no school schedules to deal with now are going to take the whole month to explore that state and Wyoming.
If it were winter I'd want to go skiing, but I'm thinking September might still be a good time to stay and take hikes from any of the cabins in Jackson Hole. My wife's not much of a camper, but a nice cabin with a porch view she can live with. The National Elk Reserve is near here too.
I know the the stunning natural beauty of Wyoming is the main draw, so we'll probably do some lake kayaking, some biking on lonely roads, and just enjoying some quiet time in nature. Here's what's on the tentative list of places to visit in Wyoming to work the rest around.
Devil's Tower National Monument
The Devil's Tower National Monument was the first declared national monument in the United States. This ominously named monument has a summit is almost a mile above sea level. There are a lot of legends and strange theories that try to explain its creation, so naturally it was the setting for the classic sci-fi movie Close Encounters of the Third Kind. I've been wanting to go here ever since I saw that film in theaters 40 years ago.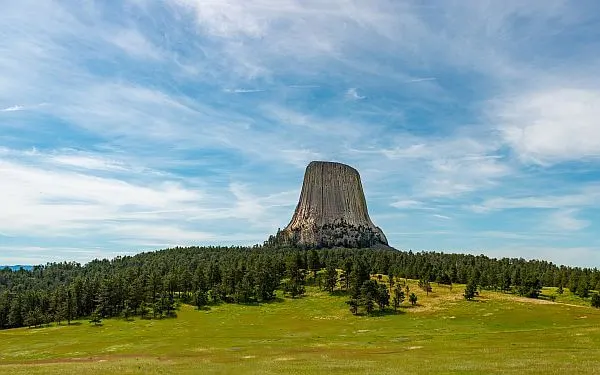 Its shape makes it look like an entrance to the underworld, thus the Devil's Tower name that stuck. In reality though the origin is more prosaic: it was formed by volcanic activity in the area and then erosion.
I think we'll be able to shoot some photos from different angles since there are eight miles of trails here that span the rock and the surrounding meadows. It would be especially stunning toward the end of the day in September, when the autumn sun turns it red. It looks like the nearby Belle Fourche River is a good place for kayaking or rafting too.
Yellowstone National Park
It's kind of embarrassing that my schoolteacher sister has been to Yellowstone National Park but her travel writer brother has not. This is the world's oldest national park, after all, designated in 1872. It spans 3,468 square miles (8,983 square km), so it's not hard to get away from the car and RV crowds. "Just go a couple miles in on any trail," someone who lived near there told me once, "and you may not see another soul."
Most people just visit the Old Faithful Geyser (erupting every 92 minutes) and hot Prismatic Springs near the parking lots, but in this vast area there are lots of trails through forests and meadows where animals roam. Plus there are grand mountains next to postcard-perfect lakes, so I'm looking forward to roaming the area for a while with my camera.
Update – I fixed this! I made it to Yellowstone National Park for three days in September of 2019. It blew me away and was like nothing else I have ever experienced. Just try to go when it's not peak season though. It gets quite crowded in the summer.
Grand Teton National Park
There are 200 miles of trails in Wyoming's Grand Teton National Park, so I'm looking forward to some good hikes around these majestic mountains. I don't think I'll be doing any backcountry camping with my wife along, so I won't have to worry about the $45 fee. Or this: "Backpackers are required to carry approved bear-resistant canisters except where food storage boxes are provided."
It's $35 per vehicle to get into the park, but I think we'll spring for the annual America the Beautiful pass, which gets you into every national park and federal site (2,000 of them) for just $80. That covers everyone in your car, so we'll both be set. If you're active military or are a fourth-grade child, it's free. If you're a senior citizen, it's $80 now, but that covers you for life.
There are also log cabins for rent by one of the lakes but despite how rustic they are, they're pricey. I don't think we'll be staying at the Jackson Lake Lodge either since a room with a view is $449 a night, even in late September.
Thermopolis
After a few days of hiking, we'll be ready to hit the hot springs of Thermopolis. You don't really think of Wyoming as a land of volcanoes since there are no active cones sticking up, but volcanic activity is the force behind the bubbling mud and geysers of Yellowstone. It's also why you get hot springs in the aptly-named Thermopolis town.
Their website bills the place as the "world's largest mineral hot springs," so I guess they'll have room for two more in September. And hey, the Hot Springs State Park Bath House is free! There's also a swinging bridge and the Wyoming Dinosaur Center, plus herds of bison are roaming around, so I should get some good photos from there.
One of the Dude Ranches
We're not sure where yet, but we'll probably end up at a dude ranch for a few days at least. It seems like one of the natural things to do in Wyoming to see the landscape on horseback instead of through the windows of a car. I know from previous experience that I suck at milking cows though, so I think I'll skip that part.
Update – From a travel writing prize I won, we got to stay at The Ranch at U Cross outside of Sheridan. No milking or chores, just horse riding and hiking.
We'll have to make a second trip to get to the great national parks to the south we haven't been to yet, though we did make it to Bryce Canyon and Zion in Utah on an earlier trip.
Have you been to this state or do you live there? Chime in with suggestions for places to visit in Wyoming in the comments!