There are plenty of places around the world where you can buy cheap-tasting beer for cheap, but if you want to drink well without spending lots of dollars or euros, head straight to the Czech Republic. There you'll be in sudsy nirvana.
Czech beers are uniformly tasty, without all the shortcuts mass breweries have sunk to in most parts of the world. So even if you walk into a pub and they only have one brand of pivo, it's probably going to be good. That'll usually be a pilsner, but in most cases they'll have something else on offer too, like a dark beer or an amber.
You can buy a round of beers for yourself and three friends here and probably not spend what you would on a single 12-ounce craft beer in a U.S. or British city. Prices can get out of whack in touristy Prague, but in most parts of the country you can feel secure ordering what the pub or restaurant is serving customers without looking at the price. Beer is cheaper than soda, coffee, or often even bottled water. A 500 ml large beer will usually be somewhere between 25 and 39 Czech koruna, or in U.S. dollars, $1.10 to $1.70. This is some of the cheapest beer in the world, but also some of the best.
That chalkboard pub sign here is from a small town called Krasna Lipa, the gateway to the Bohemian Switzerland National Park that I profiled earlier. As I write this, the exchange rate is US$1 = 22 Czech koruna. Those are "village prices," not the prices you'll find in Prague. So you'll have to venture outside the big cities, how many places in the world can you find a half-liter/pint of beer you're going to really enjoy for $1? If you're European, you'll frequently find one-euro pints.
Where Mass Market Beer Is Drinkable
The big name brands of beer in the Czech Republic are known in European countries, in the case of Pilsner Urquell, known around the world. This is the original home of pilsner, after all, with a heritage going back centuries and a town called Pilzen, so they've had plenty of time to work on their craft. Unlike the poor substitute with the same name across the Atlantic, the original Budweiser here (Budejovicky Budvar) actually tastes like beer.
I did my best to sample all of the major Czech brands while I was in the country this time and was rarely disappointed. In my opinion the heavily marketed Staropramen is the least interesting of the bunch, but you can tour their brewery in Prague, so that's worth doing if you've got the time. Their maltier red beer Velvet is better and looks good in the glass.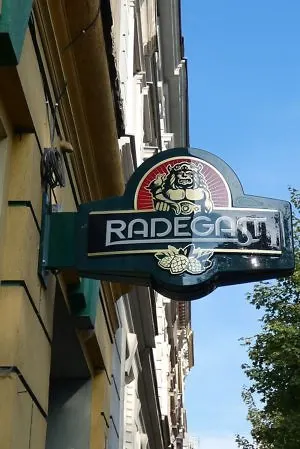 Pilsner Urquell you've probably had before and it's reliable, but locally their Gambrinus brand might be more popular. Try the unfiltered lager if you get the chance.
They also own Radegast, which is very popular in the southern part of the country. I probably drank this one the most and never got tired of it.
Their Kozel brand is a reliable choice if you like full-flavored beers. The lager style pale one is good, the amber-colored dark and malty one is fantastic. I ordered one in a Czech neighborhood in Prague with dinner and ended up getting two more when I found out they were $1.60 a pint. (Surprisingly though, it's only 3.8% alcohol.) This brewery has been operating for 144 years, but these are the only two styles they make. Hey, sometimes you just stick with what's working.
Breznak pilsen is widely available since it's now owned by Heineken. Czechs have been pouring it since 1753 though, so they've been doing something right.
If you can find a Bernard beer, which is unpasteurized, don't pass up the chance to try it. This brewery doesn't have the long heritage of the others, but it has a partnership with a sizable Dutch brewery and is expanding distribution.
There are also some smaller local, but big-volume brands brewed in different regions. like Ostravar from Ostrava.
What's with Those Degree Numbers?
Sometimes you'll see alcohol percentage listed on a can of beer you buy in a store in the Czech Republic, but more often you'll see a beer designated as 10°, 12°, etc. No, that's not the temperature of the bar's cooler, it's another way to designate the alcohol percentage. So the lower the number, the less alcohol it has.
So if you get a 10 degree Czech beer, it will be 4% alcohol, 11 is 4.5%, 12 is 5%. They don't normally go higher than 14 degrees here (6%) unless you're at a microbrewery.
Czech Microbrews are Coming on Strong
When I first visited the Czech Republic on a biking trip more than a decade ago, there were very few small breweries in the country making small batches. In a way it's understandable. since the mass-market beer here is so good, but now it's possible to get even better beer from brewers who are experimenting.
The Prague Tourism office distributes a free brewery guide you can use to find spots in the city with a good selection. Some are part of a restaurant serving traditional food, others seem to be modeled after U.S. brewpubs, with the same kinds of football game pub grub. I checked out a few different ones in the capital, generally paying a lot more for the beer, but still far less than I pay at home: $2.50 to $3.50 for a pint. It seemed kind of silly to order something like an IPA, though you can get that, so I tried a lot of really good malty beers and a wheat beer.
In that village where I snapped the $1 beers sign, there's also a terrific microbrewery called Pivovar Falkenstejn. You can even stumble a few steps to your bed after spending hours there if you want: there's a hotel above the tanks and restaurant. I tried everything they make—including a pale ale—and was really impressed. While U.S. breweries tend to be making 20 things at once a lot of times, the Czechs seem to concentrate on a few great beers until they get them right. Falkenstejn does do a couple seasonal beers and one custom one for a local restaurant, but their four flagship ones are all great. My favorite was the "half dark" option. Be prepared to become a day drinker here though: they close the register at 10:00 p.m. on the dot and won't even sell you their big plastic bottles of beer to go after that, even if there are still customers and you have cash! (Czechs are not known for their customer service skills.)
As I noted, you should expect to pay more for a microbrew than you will for a commercial brand with wide distribution, but rarely more than double. So if prices in the local pub are running $1.60 for 500 ml, the microbrew will often be $3 (66 krona) or less. Often a lot less.
How much is a beer in Prague? Well that depends a whole lot on what neighborhood you are in. The price of beer in Prague depends on how close you are to tourist-packed Old Town. In that area, tourists get charged a lot more money than anywhere else in the country. If you're going to have to overpay, you might as well pick a table facing a plaza so you can soak up the atmosphere while you're getting soaked on the price. Otherwise move a mile in any direction and you'll see prices start to drop to a more normal Czech level. (That's true for bargain hotels in the city too, by the way.)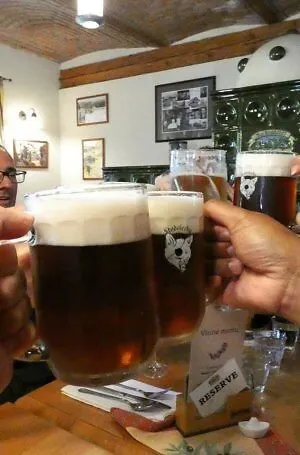 Really though, the best bet is to get out of the capital city so you can avoid Prague prices. Some 80% of visitors never do, so the economics are in your favor once you leave the tourist cocoon of the capital city. Almost anywhere else you'll pay Czech beer prices, which will likely be $1 to $2.20 for a pint in a bar, less than that for 300 ml, and often 40 cents to 80 cents in a supermarket for a 500 ml can.
Czechs are suspicious of bar pours without a lot of foam, so you'll always have a big head on your beer. (Don't worry, the liquid part will still hit the line on the glass!) If you're with a crowd, you'll toast each other while it's going down, looking people in the eye as you touch glasses and say "Na zdraví!"
Then drink up. If you can't finish your beer, get someone else to chug it. Leaving a half-empty glass on the table is considered an insult to the pub or restaurant owner.