I'm posting this guest article on Labor Day, a day it seems fitting for me to take a break from writing new posts on this blog, which I've been doing since 2003. I'm giving the floor to a friend I've known almost that long: John DiScala, better known as Johnny Jet. Take it away Johnny!
I grew up in a small town in Connecticut. I was always fascinated by travel but flying was expensive and I come from a large family so we didn't travel often. Aside from one road trip up to Canada one time, we never intentionally set out to travel.
In high school, my sisters moved to Australia around the same time the movie Crocodile Dundee was released. I quickly became obsessed with Down Under. I spent months talking my mom into going on our first real international trip so we could visit them. Our dream trip for my senior year spring break consisted of stops in San Francisco, Hawaii, Sydney, Perth, Fiji, and Los Angeles.
Before setting out on this trip that I finally got permission to go on, my mom brought me to my asthma doctor. That's when my life was suddenly turned upside down. The doctor put the fear of God in me when she said, "You're going to Australia?! You know that's a really long flight. Planes are pressurized, so you might have a difficult time breathing in the sky." Needless to say, when we arrived at New York's JFK airport a few days later, I had a full-on anxiety attack and refused to get on the plane. It was one of the worst days of my life.
For the next three years, I was not only afraid to fly; at times, I was even afraid to leave the house. Then something miraculous happened. I slowly got over my fears. One of the key players was a homeopathic doctor who told me I was suffering from anxiety because I was on too much asthma medication. He cut the dosage of my heavy-duty pills. Feeling more confident, I ended up moving to Los Angeles to go to college.
There, I met a girl whose parents lived all over the world. I was quickly bitten by the travel bug and became addicted to my miles and learning tricks for flying at a low cost. When I graduated college, I took a job at Marymount College (now Marymount California University) as an admissions officer. The job required me to travel — a lot. I had a 26-state territory along with a tight travel budget. I started learning ways of traveling lavishly for very little money, especially with the help of airline miles and travel credit cards.
I've now been to nearly 100 countries and have been sharing my travel tips since 1995. I created my website, JohnnyJet.com, in 2000 to help other people travel the world. My site and my travel tips have since expanded. In fact, it's grown so much that Forbes named me a top-10 travel influencer in their most recent review.
Here are 5 ways travel has changed my life:
1. It helped me get over many of my fears.
Although I still fear things like heights and snakes, travel has allowed me to get over my most hindering fear of getting out of the house and seeing the world. I have researched and read about different stats that have proven that flying is much safer than driving. Learning and pushing myself to face my fears have put me more at ease while up in the air. I now feel safer flying than in a car on a highway!
2. I realized the world isn't as dangerous as I'd thought.
One of my fears about traveling was getting robbed, injured, or worse, while outside of the United States. But after traveling the world, I realized that the world isn't as dangerous as people make it out to be. I actually felt safer in most of the places I visited than at home in my beloved America.
3. Travel cured me of asthma.
A Chinese doctor in Malaysia cured me of asthma. It was nothing less than miraculous since there was a time when I wouldn't even go to the mailbox without my inhaler, which I used multiple times a day. Now, I don't even carry it. My U.S. doctor couldn't believe it when I returned home.
4. It reinforced the notion that travel is fatal to prejudice.
Fortunately, I grew up in a household where I was taught to treat everyone equally with respect and kindness. Travel has taught me that people all over the world are the same, with the same hopes and dreams. It has shown me how we are all connected as humans.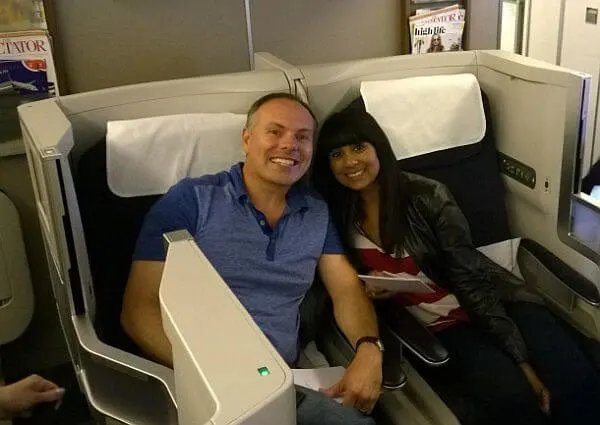 5. I met my wife thanks to travel.
Thanks to travel, I met the most amazing woman. I met Natalie (you can follow her on social media at @NatalieDiScala) on a work trip in Florida. She was visiting from Toronto, Canada and I was coming in from California. We immediately hit it off and together, we have traveled the world. We got married and now have the sweetest little boy who is allowing me to see the world all over again through his eyes.
Johnny Jet has traveled over 100,000 miles a year and has visited close to 100 countries since starting his newsletter in 1995. On his website, he writes about how to maximize credit card points, find travel deals, score cheap flights, and how to benefit from insightful travel tips. He has hosted a television special on The Travel Channel and was recently named one of Forbes' Top 10 Travel Influencers for 2017. He now appears every Saturday on Leo Laporte's The Tech Guy Show talking about travel and technology. Johnny travels the world with his wife Natalie DiScala, who writes the travel + style blog Oh! Travelissima, and their son Jack. Be sure to sign up for his free newsletter at JohnnyJet.com.
All photos courtesy of John DiScala.