She looked like she was about to cry as she scraped her shiny four-wheel suitcase over the broken pavement and up another set of stairs. Since there was nobody else around and I was going to have to walk past her, I offered to help and started carrying it up off the ground. "Do you know how much further it is to this hostel?" she asked, holding out the name on her phone.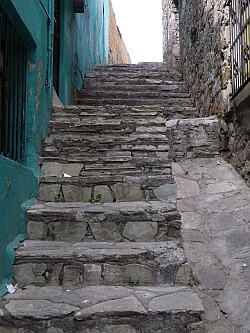 "About five more minutes up these stairs," I told her, trying not to sound like a martyr.
Then I had to ask, "Is there some certain reason you're traveling on a backpacker budget, but not using a backpack?"
"I thought it would be easier than this," she said sadly. "Nobody told me these places don't have real sidewalks."
This was colonial Mexico, in Guanajuato, where there are exactly two streets in the historic center that a taxi can drop you off on. After that, it's pedestrian-only to wherever you are going. And most of the "streets" in this hilly city look like the ones pictured to the right.
So I'm telling you now: in developing countries or centuries-old cities, you probably won't find wide, smooth sidewalks for your fancy suitcase with wheels.
Rolling Suitcases are Great…for Airports and Hotels With Elevators
I love my wheelie suitcases and I use them on a lot of trips. If I know most of my time will be spent in wealthy countries, hustling through airports and hotel lobbies, I don't hesitate to throw everything into a suitcase with wheels. If I'm going somewhere cheap though where I'll be on the move a lot, I wouldn't dream of taking that kind of bag.
In other words, if I'm traveling like a backpacker, I know I need a backpack.
You see, most sidewalks in much of Asia and Latin America should not even have the "walk" part in them. Those bits of (sometimes) flat concrete or flagstone beside the street are viewed as spaces meant to be filled. They're places to park a car or motorbike. Or cook food to sell and eat. Or store boxes. Or run a business. Or for the delivery truck driver to pull over. Why keep them open for such a non-productive use as walking?
If they are open to pedestrians, as they sometimes are (especially beside a wide, French-built boulevard), a consistent lack of maintenance means what's okay for careful feet is not okay for small spinner suitcase wheels. Said wheels will get swallowed, broken, and spit out in no time unless they're the heavy-duty Rollerblade kind.
Here's what Intrepid Travel has on many of their tour descriptions for Europe:
As there are potholes and cobblestones in many European cities, it's recommended that you leave any wheelie bags or cases at home and bring a backpack instead.
For Bad Sidewalks and Country Roads, Ditch the Wheeled Suitcase
Last month I laughed my way around Kathmandu watching tourists struggle trying to even get to their taxi with a wheeled suitcase. Often between the hotel door and where the car was parked, the sidewalk had just plain disappeared. Many had been that way since the earthquake three years ago. Others before that. Someday someone will fix them, but there are bigger problems to deal with first.
Meanwhile, those carrying a backpack in the Thamel section of Kathmandu were walking along merrily, gesticulating with their hands and laughing with their friends. They sidestepped quickly when an errant motorcycle almost clipped them and bounded up the stairs of their cheap hotel without having to lift up anything.
A few years back I traveled around Southeast Asia with my family and my daughter was annoyed when we told her she was going to be traveling with a backpack. Once we had to walk through the streets of old Hanoi and stow our bags on a small luggage rack on a train though, she got it.
I pointed out to her the flashpackers who were sweating and toiling with their hard-shell spinner suitcases every time we saw one on a dirt path in Siem Reap or in the middle of the street in Vietnam. Often they ended up having to carry it much of the time, the wheels made useless. These travelers seemed continually perplexed by the surfaces they were having to navigate and all the obstacles they were struggling to wheel around.
Then I watched them struggle again the two times we got on a plane. The hard shell cases were too large for the overhead storage compartment and the wrong shape. They were too thick to fit under the berth in a sleeping car and couldn't be compressed. So each became an awkward (and very dirty) footstool.
Meanwhile, the backpackers in Hanoi cruised right past the others on the street, the pack never being wider than the person carrying it. They could weave in and out of the motorbikes along the supposed sidewalk like this one below, the pack being an extension of their body.
A Backpack Weighs Less and Holds More.
One last pair of considerations: wheels add weight and wheels (plus the handle) add bulk. So if you have to pick up that suitcase with wheels and carry it, the bag will automatically weigh three to seven pounds more than a backpack without wheels. Also, a backpack that meets the airline's carry-on limits will have more capacity than a suitcase that has to allow enough space for the wheel assembly and the telescoping handlebar.
For example, this Osprey Fairview women's backpack with a lifetime guarantee holds 40 liters, is within most carry-on size restrictions, and weighs three pounds. It's not easy finding a wheeled suitcase with a lifetime guarantee, but this typical spinner suitcase from Briggs & Riley has one. It weighs a whole lot more though, at nearly nine pounds. While all backpacks list the capacity, very few suitcase specs do because they know it won't look positive. Going by Consumer Reports tests though, you can expect your wheelie suitcase to hold 1/3 less what a backpack with similar total linear inches does, on average.
So okay, if you'll be spending all of your time in rich countries where sidewalks are really for walking, go ahead and use a wheelie suitcase. Or if your budget allows you to take taxis and VIP buses everywhere you're going, with bellmen in uniforms greeting you at the hotel door, then use a suitcase with wheels. You've got nothing to worry about because you're not really a backpacker. And that's okay.
Otherwise, if you're going to have to carry your suitcase half the time because there's no surface for wheeling it, just put it on your back instead and be mobile.
Related post: The Best Backpacks for Long-term Travel
Where can you find the best deals on luggage or backpacks? Follow these links and look for sales on last season's model: eBags, REI, Sierra Trading Post, or Backcountry.