Nepal is one of the world's greatest whitewater rafting destinations. It has steep mountain rivers you can ride for days, at a variety of skill levels. The problem for a casual traveler, however, is that all but the Trishuli River take a while to get to and require a real time commitment. The whitewater trips involve getting somewhere far from one of the two main cities, then camping on the banks at night, a crew setting up tents and cooking meals.
If you just want a day of rafting fun from Kathmandu, or between Kathmandu and Pokhara, then the Trishuli River adventure is the one to book. There are more scenic routes where you won't ever hear loud truck air horns from a road, but you can't beat the accessibility of the Trishuli trip.
I've been on this adventure tour twice now and as you can see from the video I shot on my most recent trip, it's a lot of fun.
The way this works is, you book a trip with one of a zillion local companies in Kathmandu or Pokhara that does one of three things.
1) Drives you hours along a winding, busy road from Kathmandu or Pokhara to the put-in point and then brings you back hours along that same winding road, arriving back in the city you left the same night. This would be exhausting, but you don't have to pack up your hotel room.
2) Drives you to the put-in point, then has you stay at a camp or lodge beside the river that night, returning the next day—sometimes with another few hours of rafting in the morning. This is more fun and less tiring. We did this on my last trip and stayed at the lovely Summit River Lodge pictured below before coming back. I was wishing I had another few days there.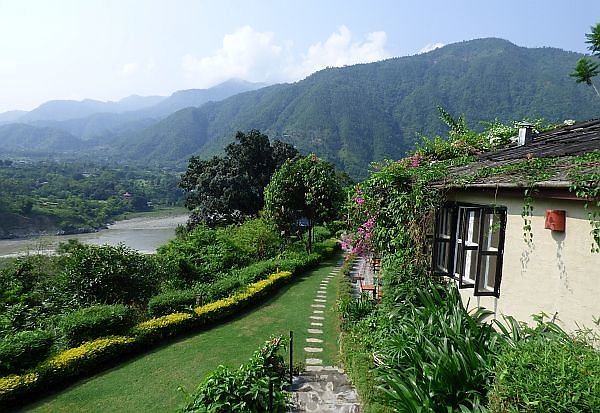 3) Drives you to the put-in point from Kathmandu, then picks you up at the end of the rafting fun and takes you onward to Pokhara, where you check into your hotel there. This is what I did on my previous trip and it was a long day. If you're going to have to endure that awful bus trip to Pokhara anyway though, on the winding two-lane "highway" between the two cities, you might as well have something to look forward to along the journey.
Getting there is definitely not half the fun in this case, but unfortunately that's just the way it is in Nepal. It's a country with limited resources and frequently dysfunctional government, so to say they're behind the demand on infrastructure projects is a major understatement. Travel in Nepal is seldom quick or easy unless you're on a plane. This is another reason to spend weeks there rather than being in a hurry.
What to Expect on the Trishuli River
If you've been whitewater rafting before, much of the year the Trishuli River is not too intimidating. Most of the rapids are class 2 and 3, lots of fun but nothing that's likely to toss you out of the raft. It had been raining for days when we set out though, so at one point we had to walk around one set of rapids, trekking along the bank in our water shoes, because the guide felt one spot was approaching Class 5 level and didn't want to risk it.
There are plenty of calm stretches where you can rest your arms, readjust your butt, and admire the scenery. Despite the road on one side, the scenery is quite nice along this route. You get cliffs and mountains, foot bridges and cable contraptions to move goods overhead. There are flat spots where the crew can pull over for water or a snack.
If you're looking for a pristine stretch of clear water with no negative influences from mankind, however, the Trishuli River is not the one for you. Head high into the mountains for that, above the population centers. Here you don't want to think about what's in the water. There are fish that are doing fine, but you probably want to keep your mouth closed when you hit the rapids.
Booking a Trishuli River Rafting Trip
There is no shortage of companies ready to sell you a rafting trip and since this one is so accessible, many Kathmandu merchants view it as the equivalent of selling a fake North Face jacket or a phone SIM card. Some would be glad to set you up with all three. Find a reputable company that is a member of the the Nepal Association of Rafting Agencies, preferably one that is actually running the trip instead of an agency that will just hand you off. This last trip I was with long-running Adrift Adventures and would definitely recommend them.
The price can vary a lot depending on transportation, quality of the guide, and whether/where you will spend the night. This is a case where grabbing the very cheapest local option is almost always a bad idea. Then again, sometimes an out-of-whack high price just means a high commission, so ask around. Prices start at $20, but plan on spending $30 to $60 for a good day of rafting, transportation, and lunch only, more for a trip that has multiple meals and a place to stay at night built in.
If you want to book this before you leave or just want the peace of mind that someone else is doing the vetting, you can book this excursion with Viator starting at $35 per person. (Beware, one option is $120, which is simply insane for a one-day rafting trip in Nepal.)
If you have more time and are a hard-core adrenaline junkie, I would recommend going for the much tougher Bhote Kosi River trip instead, which you can also get to in 3-4 hours from Kathmandu. If you have more time, you can set up trips for 4, 5, 8 or more days, just like a trekking tour, especially from Pokhara.
To get in a whitewater rafting excursion that's not a major commitment, however, the Trishuli River rafting trip is a fun way to get onto the water in Nepal.