"There are only three essential things you need for an international trip: a passport, money, and time."
I've seen this quote attributed to a lot of people over several decades and have no idea who really said it first.
It was clearly devised before the smart phone age though since the feeling that you forgot your passport only slightly exceeds the fear that you've lost your phone. We're going to leave that addictive device aside right now though, because really the only reason you need to have that phone on vacation is if you have travel tickets/confirmation numbers on there. Otherwise it's just the device that ties you to home. Sure, you use it to look up local info, find directions on a map, or take a photo, but you can do all those things in other ways, like everyone did in the old days. You might have to actually talk to people, but you'll probably find that enhances your experience. You may have to stop checking in with work, like people used to do, but you'll probably feel more relaxed as a result. And more productive when you return.
So no, a smart phone is not one of the four things you need for international travel. But we'll get to that one in a moment.
Clearly you need a passport or you're not getting out of the country. You may even need an onward ticket, but there are ways around that, even on the spot. They just require a credit card or money.
Money vs. Time for Travelers
What's the main difference between a traveler and a tourist? Smug backpackers will spout off for quite a while if you ask them this, whereas the average tourist will just shrug. Really it's a silly question because we're often doing similar things and want the same kinds of memories and experiences from our trip. It's just that the budget travelers have more time than money, while the tourists have more money than time.
Almost any problem you come across in your travels can be solved by one or the other. If you miss your train, you wait until the next one because you've got plenty of time. Or you scramble and find a flight out because you're on a tight schedule but have plenty of money.
If it's going to take three days of walking with a pack to get out of that remote village after the road washes out, no problem if you've got no pressing schedule. If you are in a hurry, you pay a porter and hire a horse to get there faster. Traveling through Argentina takes forever on a budget, with bus rides that can be 24 hours long or more. Or you just pay for overpriced flights instead and cover all of Argentina's major attractions in a week.
What if things go badly though? What if the unthinkable happens? You lose all your luggage, the flight gets permanently cancelled, the ship sinks, you're in a terrible traffic accident… What then?
You could possibly solve most such problems with unlimited funds and/or unlimited time, but there's a better way if you don't have either.
Dissolve Worry With an Annual Travel Insurance Plan
As I've gotten older and wiser, I've stopped thinking I'm invincible and have realized that sometimes things go off the rails for no good reason. I've been relatively lucky in my travels over the years, but I know one day my number will come up and I'll have some kind of travel disaster to deal with. So now I have an annual travel insurance policy from Allianz.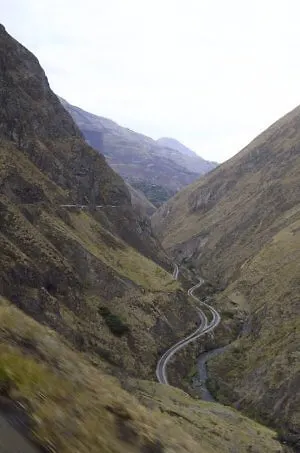 There have been way too many close calls, times when a few seconds of a bus driver's reflexes not going the right way could have sent us into another vehicle or down a mountain. Volcanoes I was just hiking a month before have erupted. Trains I rode recently have derailed. I've gotten out on flights that were then grounded for a week starting the next day. I've seen people take a wrong step and end up with a gash in their leg that needed stitches. My luggage has been lost for 24 hours then suddenly appeared.
With this policy in place, I no longer have to add "buy travel insurance" to my to-do list before a vacation. When I book a trip with an adventure company and they say, "travel insurance required," I know I'm set.
Maybe I'm just going on more adventures, but travel insurance seems to be a more common requirement now. Tour companies don't want to be worried about what happens to you if you get sick or injured through no fault of their own. It can cost $30,000 for an evacuation helicopter in some spots, for instance, so they want to be sure you've got some company to call. They don't want to be answering an ambulance medic's questions about who is going to pay.
I envision a day when countries start making this an entrance requirement as well to give you a visa. We're already seeing that with Ecuador: starting August 6 of 2018, all visitors to the country will be required to have travel insurance, per federal law. So if you're saving up for a bucket list trip to the Galapagos, add a bit to your budget to meet the entrance requirements.
Yes you need money, time, and a passport, but if you're smart you will add a fourth element to that list: an annual travel insurance policy. Check the rates here and you'll find that peace of mind is probably a lot cheaper than you expected. Especially if you live in the USA and you compare it to what you're paying for your health or car insurance.
This post on the four things you need for international travel is sponsored by Allianz Global Assistance (AGA Service Company) and I have received financial compensation through a comprehensive advertising campaign. I have been a paid policy customer for years and all opinions are my own.