Wouldn't it be nice if you bought a travel gear item for your adventures and no matter how hard you tried, you couldn't wear it out?
Well, that photo above is from a trip to Oaxaca in 2014 and I still pack all those items–including the Casio watch and the Serengeti sunglasses. I've got travel pants and shirts I hiked the Inca Trail with more than a decade ago and they still make it into my suitcase. They still look great too. This is the travel gear I couldn't kill.
Three years ago I sold the Practical Travel Gear site I had been running since 2009. so I no longer have a UPS man showing up at my door every few days with something to try out and review. That means the gear items I'm using are getting regular wear, my favorites packed over and over again, with an international trip every month or so. A few items have crashed and burned, but a lot of them are like a pristine car with 150,000 miles on it.
If you buy name brand travel gear, there aren't a lot of clunkers around anymore. Competition is just too stiff. So if you buy a quality backpack, suitcase, jacket, or pair of hiking shoes or pants, what you spent your hard-earned money on is probably going to last at least a few seasons. That's good for all of us because the used clothing market is not what it used to be.
Some items go way beyond that though, living on like The Terminator, unable to be killed. Here are some travel gear brands I've used so much they should have fallen apart years ago. They're still around though, still coming with me on a plane. Pay attention to the brands more than the specific items. For the ones I've recommended, I haven't just used one or two things that have held up well. Usually it's in the double digits.
Eagle Creek Suitcases and Osprey Backpacks
If you're going to buy a wheelie backpack (not my recommendation, but if you must…) or a suitcase for vacation/biz travel, skip the bargain aisle at Costco or Burlington Coat Factory and buy something good from Eagle Creek. Yes, it's going to cost you a bit, but you'll still be using it a decade from now and if by chance something goes wrong because of a defect or maybe even a nasty baggage handler, they'll replace it for you. I've only had to take advantage of this warranty once and this has been one of my favorite travel gear brands since I was a backpacker in the mid-90s.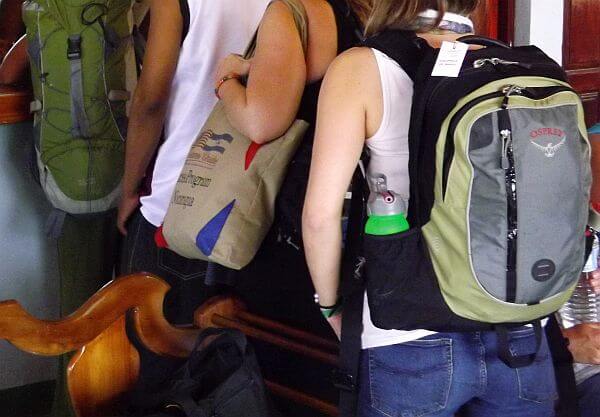 Ditto for Osprey, which also has a terrific lifetime guarantee on their suitcases and backpacks. Eagle Creek has sometimes backed off their backpack business to focus on luggage and packing cubes, but Osprey Packs never did. You'll see plenty of their packs as you make your way around the world. I have never had to take advantage of their warranty. I keep abusing their luggage and packs, they keep on taking it.
Kelty Backpacks
If you're on a budget and the prices for Eagle Creek and Osprey are scaring you off, go for a Kelty pack and you'll probably be just fine. Ounce for ounce and feature for feature, these are the best values in the store. I'm still using this one I rode across Missouri with years ago and my family has several daypacks from them we use regularly for travel and also mundane things like going to the market for fresh produce.
The Redwing one pictured to the left goes for around $125 for the 50-liter version or 44-liter women's version.
ExOfficio Shirts, Pants, and Underwear
I've had many a traveler tell me it's not worth it to buy travel clothing because you can just replace things as you go along. So okay, if a disposable wardrobe is how you like to roll, never mind the quality. If you would like to return from a round-the-world trip thought with pants and shirts you can still pack for the next trip, then shop for ExOfficio. I have shirts of theirs I have tried my best to wear out but they still look pretty much like they did when I took them out of the package.
I've got pants of theirs I've packed for at least 20 countries and they're still in peak condition. It's uncanny. Oh, and they dry in a flash when you sink wash them, which any light packer knows is the key to carrying less. I also like that they'll discount last year's items on their own site so they can find a good home.
Plus if you pack their quick-dry travel underwear, you can get by with just a few pairs by doing some sink washing along the way. Again, I've got pairs I've been packing for years now that still look new.
Craghoppers Shirts and Pants
Take everything I said above and substitute Craghoppers for ExOfficio. This company is basically the European version, also producing rugged travel clothing meant to last. Some complain they're subbing fashion for ruggedness now, but if you pick the right items you can still find shirts and pants where they use thin strips of fabric to hold buttons to the clothing instead of thread, so you're never going to have to replace a button. I've got some items of theirs I've been wearing for more than five years, though be advised they're sized for Europeans: go up a size if you're not super-fit or you're a male gym rat with lots of muscles.
In the USA, you'll find a good selection of Craghoppers apparel at Moosejaw.
Pacsafe Daypacks
How worried are you about security? If that's high on your list when you're traveling, you only need to know two brand names: Clothing Arts (makers of Pickpocket Proof Pants) and Pacsafe. These guys are incredibly dedicated to keeping your valuables safe and each year they're innovating to find better ways to do so. The big benefit introduced a few years ago is zippers that you can't jam open with a knife or pen like most of them out there. Their products have an exo-skeleton built in to be slash-proof and lots of cool features that make it next to impossible to get inside your bag. You can find most Pacsafe items at REI.
Ecco, Wolverine, and Oboz Shoes
I think at this point I've tried out at least 50 pairs of travel shoes because for whatever reason, footwear companies are very aggressive about getting the word out on their new styles. Either they're savvier about online media or they just enjoy some really fat profit margins. Maybe both. So when I ran Practical Travel Gear there were times when I had more shoes in my closet than my wife.
This brand list is not definitive because I really like Sanuk, New Balance, and Lowa. And I think Hi-Tec shoes are a good value if your budget is tight. But the three brands in the subhead there have proved to me time and time again that they're built to last. I've got some Ecco Biom Grip shoes that I said were pricey when I reviewed them, but four years and who knows how many trips with lots of walking later, I still pack them a lot. I've got one pair of Oboz shoes I've been wearing since 2011.
Most of the time I have good luck with Keen shoes, but their reputation took a hit with me when a pair of their hiking boots literally fell apart on a 5-day trek I was doing in Nepal. I had to use super glue to keep them together until I finished.
Tilley Hats
I've been challenged in the hair department for a long time and a travel hat is essential when I'm outside in the sun. I've been through a lot of hats over the years, but 90% of the time I'm wearing one from Tilley. Again, they're pricey, but they come with a lifetime guarantee. If you manage to wear it out, they'll replace it. They'll probably ask for your story to go along with it. Just be advised that people will automatically think you're a Canuck when you have one on. In addition to a maple leaf backpack patch and a Roots clothing item, this is one of the essential items a Canadian must pack before going abroad. If you live in Canada, they have a clothing line you can buy in retail stores as well.
Eagle Creek Travel Wallets
This is a small thing, but if you don't want to be worried about pickpockets, a travel wallet that goes under your clothing is cheap insurance. I could be wrong because I have a few of these, but I'm pretty sure one of the Eagle Creek Travel Pouch wallets I loop around my belt is the same one that I was using on my third round-the-world trip in the late 1990s. You only have to cough up $13.50 to keep your valuables safe. No mugger is going to tell you to take off your pants…
SteriPen
I talk up the SteriPen so much I should be getting paid as a brand ambassador. I've used three different versions of a SteriPen and only wore out one that they have since taken off the market. I think it suffered from battery issues. These things easily pay for themselves in money you're not spending on bottled water and you're keeping plastic out of the rivers and oceans. I've never gotten sick from the water when using one of these purifiers—anywhere. Neither has my daughter or my wife. I'm talking two dozen countries probably at this point. You don't travel with one of these because…?
That's my list of the travel gear I couldn't kill. Any gear or clothing you've been using for a decade or more and haven't managed to wear out?