If you're thinking of investing in a house or condo in a foreign country, understand that what you see on TV about buying real estate is often fiction scripted for entertainment.
In looking through old posts on this blog I need to either delete or update, I found one from 2007 talking about a relatively new HGTV spin-off show called House Hunters International. While I wasn't thrilled with the format and the false urgency, I did like the idea that it was giving credibility to the idea of purchasing a home outside of your home base and comfort zone. The people making the leap to living abroad—or buying a second snowbird home—were surprisingly varied in background and income level. Plus it gave us a peek into what prices were like in foreign lands.
Here we are 11 years later and it has come out over and over again that House Hunters International is mostly fake. A friend of mine who was on it had already lived there for six years and they filmed a tearful goodbye with his family back home. His "real estate agent" was a visiting friend who could speak English well enough to be on camera.
It has come out over the years that the producers are usually hiring participants based on whether they have already purchased a house or not—so the producers don't waste money filming if a deal doesn't happen. But of course that means everything the people say on screen is fake and they're weighing the options of three different properties when they have really already bought one. There have been some reported cases of the furniture being switched out and the walls painted over and painted back so there can be a dramatic "before and after" reveal. Sometimes the houses for sale are really friend's houses that aren't. An HGTV spokesperson confirmed for Entertainment Weekly that lots of, ahem, liberties are taken:
We're making a television show, so we manage certain production and time constraints, while honoring the home buying process. To maximize production time, we seek out families who are pretty far along in the process.
Participants are forced to retake scenes several times if there's not enough drama or conflict and they are asked to use certain phrases like "outdoor living space" instead of "yard." One house hunter said they told him to say he really wanted a house with crown molding—even though he wasn't even sure what that was—so the couple would have something to disagree about.
To their credit though, they don't usually fake the prices (if the place is actually for sale that is), so the show is still worth watching for that reason. Assuming you recorded it and can fast-forward through all the redundant parts.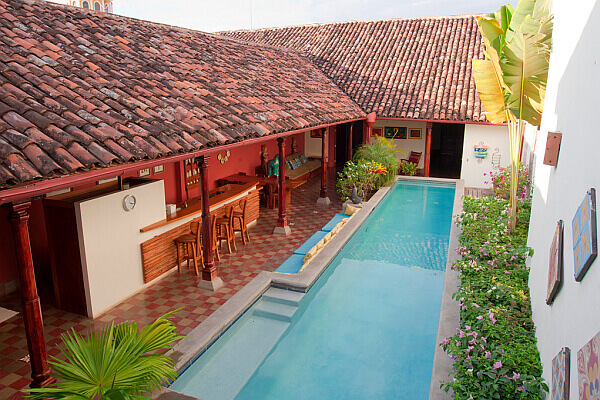 How to Properly House Hunt Internationally
Really though, looking at three places to buy in one or two days and making a fast decision on that alone would be downright stupid. Here's what to do instead:
1) If possible, rent there first.
Ideally you know the place where you're buying really well before you commit your hard-earned money. If you have lived there already for a year or more, you know which neighborhoods are best. You have a decent feel for what other people paid. You know what the rental potential is when you're not there. You know all the ins and outs of transportation, schools, and local shopping.
2) Ask a lot of locals
Your sense of worth is probably warped by living in a wealthy country, especially if you're coming from a place like San Francisco, New York City, Vancouver, or London. What may seem like a screaming bargain to you may be an outright rip-off locally.
A guide in Panama once told me a story of how a woman was going to buy a house in Boquete for a certain price from a real estate agent. The guide knew the owner and said, "He's asking half that much. Let's go talk to him directly." Turns out the shady real estate agent was listing it for an inflated price, hoping a clueless gringo would buy it. He was going to pay the owner what he was expecting and pocket the rest. (After, she remember the guide complaining about his old phone. She took the guide to a cell phone store and said, "Pick out any phone. I'm buying.")
3) Do your research
In most developing countries there's nothing like a local multiple listing service and there are no comps to check out to see what people have paid. You have to view a lot of places for sale and ask around about what places have sold for. If you don't have at least a general sense of the market, it's hard to know what is a good deal. There also may be extra quirks and charges, like a land trust fee if you live near the coast—or in Guatemala on a lake even. You also have to look at as many properties as you can. Probably more than three!
When we walked into our Guanajuato House, we had enough knowledge to know it was a steal. It had four bedrooms, two baths, a great layout, a big sun room with a view, roof expansion space, and an easy walk to the center. For about $95K. We ended up buying it. It didn't need much work, but we redid the kitchen:
4) Have a heap of cash
I can't remember them ever mentioning this on TV shows, but you normally need to pay in full when you buy property in developing countries. If there's a mortgage available, it will have a short balloon period and high interest. Plus that's often only available to you as a foreigner if you're buying through a condo developer on a new build. That's often a risky proposition because the development is still under construction when you start paying for it. So most buyers are either taking the proceeds from a sale back home, taking out a home equity loan on their other house, or using savings of some kind. You can set up an IRA to enable you to buy real estate. Get an accountant who does this regularly to help.
Having said that, I bought my first property in Mexico pictured above for $35,000, then put another $10,000 into it for renovations. Unfortunately we sold this little beach house for just $55K eight years later, so it wasn't exactly a slam dunk investment. We used it a good bit and rented it out a good bit to vacationers though, so we knew there wasn't much downside to investing such a small amount.
I don't plan on selling the second place I bought in Guanajuato, but it's already worth a good bit more than we paid if I wanted to. I actually lived there for a year before going house hunting…see #1.
Interested in living abroad for less? See what kind of dramatic difference in monthly living costs these expats found at CheapLivingAbroad.com.