When I went on my Nepal trek last year, there was a lot of travel gear carnage on the trail. Someone's backpack strap broke. My hiking boots literally fell apart and had to be super-glued to make it through until the end. Many of us had supposedly waterproof jackets that didn't turn out to be anything close after walking for hours in the rain.
So when I find a gear brand that consistently hold up well, item after item, I like to spread the word and send them more business. You can tell by the name of this blog that I'm a cheapskate sometimes, but when it comes to travel gear, the best name brands do give you some assurance of quality. Some even have lifetime guarantees. If you can buy your gear at the right time, you can get around paying list price for it too, so don't automatically think you can't afford the good stuff.
It has been 2.5 years since I sold my Practical Travel Gear site, so it has been a while since the UPS man was knocking on my door every day with new clothing and bags to try out. At this point I'm mostly packing things I've had for 3, 5, even 10 years now. Here's who keeps delivering.
Craghoppers
I've written about this brand on here before and have been wearing some of their shirts for around a decade now—the same shirts! Some travelers who have been doing the same complain that the old super-rugged items this company made have faded to the back of the line as they have become more fashionable, but they had to make the transition to get beyond the core base. Now they've got an alliance with National Geographic instead of Bear Grylls, so they're for all travelers instead of just the adventurers.
So, every button isn't secured with a strip of fabric anymore, but I've still found their clothing to have good staying power and nice features, like a glass cleaner secured by a cord in the pocket. I've got short-sleeve summer things and lightweight travel pants that are on the tropics trip I'm on right now, but the packable CompressLite II jacket I'm wearing in this photo served me well in Virginia when it got snowy in December. Their Bardsey Corduroy Pants are good for winter travel too, with some zippered security pockets.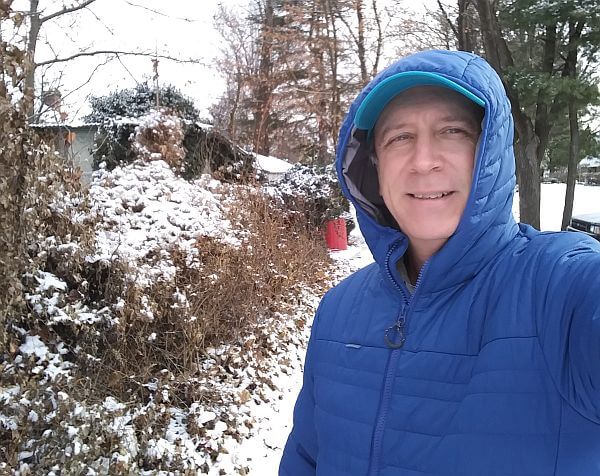 ExOfficio
I'm a bit worried about what will happen to this brand since they're been swallowed up by the giant Newell/Rubbermaid/Jarden conglomerate. They closed their Seattle office and moved everyone to corporate HQ in California last year. This brand is such a small fish compared to the likes of Sharpie, Coleman, and Mr. Coffee that they're not even listed on the corporation's brand page.
Hopefully they'll hang in their until they're spun off in a future deal because most of the ExOfficio clothing I've had for five years or more still looks like new. And that's after I've packed the shirts and pants dozens of times and abused them in 15 different countries. Still what I reach for first in my closet when I'm going on a trip. And I never travel without their underwear. See the current offerings on their site here.
Tilley
There'
s a detailed post on this blog from a couple years back on Tilley and thankfully I don't need to update it. Their hats don't need improvements so the old models are still around. This company makes great hats that will really hold up over the long term. They offer a lifetime guarantee and really stand by it.
Tilley travel hats often have a cool feature or two as well, like your sun hat will float and it will have a little pocket inside where you can store cash or a credit card. The Airflo ones have some nice ventilation. See the whole selection on the Tilley Site.
Eagle Creek
This has long been my luggage brand of choice, going all the way back to when I first set out on a round-the-world backpacking trip, before anyone had e-mail. Yes, Eagle Creek has been making backpacks, luggage, and travel accessories for quite a while. Last night my wife hung up her toiletry kit in the bathroom in a Panama hotel and said, "You know, I've had this toiletry kit since we were backpackers more than 20 years ago." It still looks great, still works fine. The only difference with the newer ones is, they're lighter now.
I have a few other items of theirs I've used just as long, like those little money pouches you can hook to a belt and stuff into your pants. Inexpensive and very handy. They also make those packing cubes that help you keep your clothes organized as you move from place to place. Good stuff, and the top luggage has a lifetime guarantee. I've never had a wheel blow out on one of their rolling suitcases and only once has a zipper failed. (They replaced the bag.) See a range of their gear at the REI online store.
Osprey
This is my second-favorite suitcase company, but I usually use Osprey backpacks when I'm going places where wheels aren't going to cut it. As with the company above, they make well-designed bags meant to last forever and they stand behind them with a lifetime guarantee.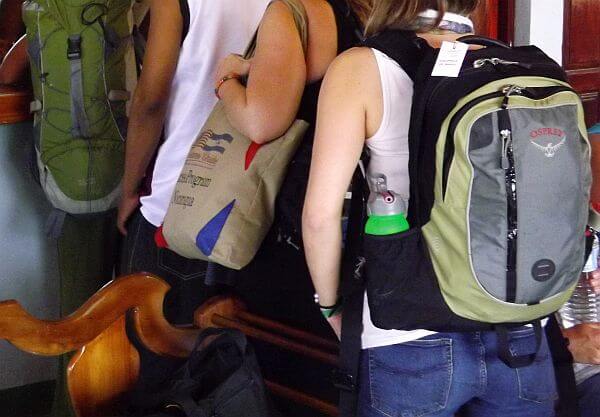 Osprey makes a wide range of backpacks, from super lightweight backcountry packs to urban messenger bags and round-the-world trip packs that hold 80 liters. With the latter there are set-ups where there's a big pack and a zip-off daypack. You can find a good selection of them at REI.
Kelty
If you want Sierra Designs quality but don't want to pay hundreds of dollars for a daypack, look for sister brand Kelty instead. I used one of their packs on this Katy Trail biking trip back in 2010 and that pack is still going strong. I also gave a daypack of theirs to my sister a year later and when I saw her last week she was still using it. No rips, good zips, nothing broken.
A lot of their items retails for $99 or less, but they're not cheaply made. An easy step up from the no-name packs that are going to let you down six months from now. Moosejaw has a great selection of Kelty gear.
Oboz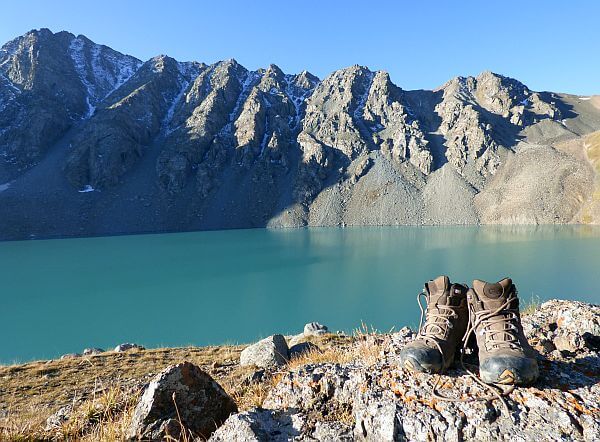 I profiled Oboz in detail earlier as one of my favorite travel gear brands and I became an even bigger fan after getting through the toughest hike of my life in Kyrgyzstan without any blisters or other problems. I've tried a range of models from them and all have performed well. They made wide sizes on some models too, which you'd think would be a normal thing (we don't all have the same width feet), but it's not. You'll find the widest range of Oboz shoes at Zappos.
Columbia Sportswear
Columbia is probably the most popular outdoor apparel brand in the world by volume, but that doesn't mean they will let the quality slide. They are just really good at putting out gear that does what it says it will for a price that's not pretentious. That means you don't get the eco-cred of a company like Patagonia, but it means you're often paying about half as much too. So go with your conscience if you can afford it, but buy Columbia gear if not.
Like Kelty mentioned earlier, this is the brand to look for if you want the best value for your purchase in the name brand arena. I especially like their winter items and waterproof ones since they have really good home-grown technology to keep you warm and dry. They also break with the industry norm and run deep discounts on their own website to clear out old inventory from past seasons.
Pacsafe
I've been using Pacsafe products for more than a decade and my wife is a big fan of the Metrosafe small bag she can carry around for the day when sightseeing. If you want luggage or a daypack that really keeps the pickpockets and slashers at bay, this is the brand to get. A normal zipper can be popped open with a pen, but not the zippers on Pacsafe suitcases. Most bags can be cut open with a knife, but not these because they have metal mesh built in. There are all kinds of little tricks and deterrents that will cause those trying to get your valuables to move on to another target. And the bags look good too. You can find nearly all the Pacsafe products at Amazon.
Clothing Arts
If you're going to make clothing advertised as "pickpocket proof," it had better be tough, right? As with Pacsafe's luggage and travel purses, you can assume that anything meant to thwart thieves is going to be designed and made more carefully than items just meant to look good and cover the basics. I connected with these guys back in 2012 and the same pants I wore on a trip to Nicaragua then are still a wardrobe staple for me today.
Since then they have released several styles of pants, shorts, shirts, and now a jacket. Every time their clothing thwarts a pickpocket, they post the story on their website and as I write this they're up to 73!
Tough Travel Gear Honorable Mentions
These brands are not quite at the durability level of the ones profiled above, but most of their items have held up well for years and I'm still packing them sometimes.
Mountain Hardwear, Marmot, Mountain Khakis, and Sierra Designs for apparel. The latter I'm putting in this section just because they don't make a lot of clothing—they are better known for camping gear. But my absolute favorite pair of travel and hiking pant I pack almost every trip is their Dricanvas model. Not cheap at an $85 list price, but it's on sale right now at Moosejaw, so maybe I should pick up a spare…
Ecco, Lowa, and Treksta for shoes. For pure comfort, I also like Oofos and the two pairs I've been wearing around for years haven't gotten any less squishy. Speaking of squishy, I usually pack a pair of Sanuk shoes on a trip for just hanging out.
Sea to Summit, Sierra Designs, and GSI Outdoors are all great for camping and backcountry hiking gear.
The sunglasses I've had that have performed and held up the best—and keep in mind I live in Florida and Mexico when not traveling—have been from Costa, Native Eyewear, and Tifosi.
How about you? What travel gear has held up year after year and is still looking good?
Disclosures: some of these items I got for free at some point because I wrote or still write about gear. Some I purchased. Some were gifts. Many of the links in this post are affiliate links, meaning I get a small commission if you buy anything from that site. You'll always pay the same price you would if you just went directly to the URL yourself, but it helps keep the virtual lights on. But everything highlighted in this post is here because it deserves to be. Good products deserve good praise.