Do you have what it takes to go trekking in Kyrgyzstan? The rewards you get in terms of scenery, solitude, and physical strength building are huge, but hiking there takes some preparation and attitude adjustment.
If you search online for information about hiking in Kyrgyzstan, you're liable to feel more confused two hours after you started than you were before. Unlike in dozens of other mountainous countries around the world, at this point Kyrgyzstan doesn't have any well-known named hikes that attract a steady stream of travelers. Routes are often named for the valleys where they start and finish, so you may get "Jyrgalan to Boz Ulchuk" or "Teleti Valley to Karakol Valley." The only route where you're likely to see more than one group of other hikers in a day is between the Karakol Valley and the guesthouses/hot springs of Altyn Arashan.
You're lucky to find a trail marker on many of the routes, much less permanent guesthouses or places to stock up on groceries. Bathrooms are of the "go find a big rock or a shrub" variety and you (or your horses/porters) will need to carry everything needed for days.
So why travel to cental Asia and go hiking here? Because it's one of the wildest, most unspoiled parts of the world. This lack of tourists has ensured that pasture animals are the main inhabitants of the mountains and the views are never spoiled by cities or smog. You can literally go for days without seeing another trekking party on some routes and the million stars overhead have no competition from light pollution. Here's an article on my six-day hiking trip in Kyrgyzstan.
The Inka Trail in Peru gets some 66,000 hikers a year (plus 1.5 times that number of local support staff) and the most popular treks in Nepal host about the same number. Double or triple that for the Camino de Santiago in France and Spain.
If the thought of sharing the trail with that many people makes you feel there's nothing "wild" about these well-worn paths, Kyrgyzstan is waiting for you with open arms. The hikes here aren't easy, they're not comfortable, and you will sometimes wonder how anyone could possibly make it up that "trail" you're seeing from the bottom. You get a special kind of satisfaction from finishing a route in a truly wild place like this though.
Are You Ready for This?
Picture a place that's the end of a 10K race from where you live—about 6.2 miles. Now imagine going there and back in a single day of walking. Then imagine that in between those points someone has stuck a very steep mountain in front of you that you must cross. There will be at least 1,000 meters in elevation to climb and descend.
That's a typical hiking day.
How many times have you walked 12 miles in a day? Have you done it days in a row? If so, you're ready to roll. If not, better start getting that fitness regimen going. In this photo below, the far ridge at the top is where we came from…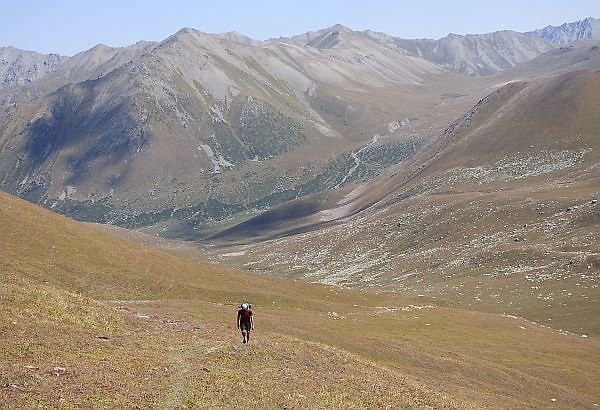 Keep in mind too you will be camping on this trip, with very rudimentary bathroom facilities in rare cases, none at all in most. Back to nature and sleeping in tents. You can't pack a light sleeping bag either because even in July and August, it dips below freezing at the campsites at this elevation.
You will sit on the ground for all meals, no chairs or benches. So work on that flexibility so you can sit cross-legged several times a day.
How to Set Up a Hike in Kyrgyzstan
The planner in you may want to set things up months in advance, but put on your patience hat and sort it all out after arrival. It doesn't make sense to be in a hurry anyway after traveling to such a remote area as Central Asia, so chill out and take it slow. In the adventure jumping-off point of Karakol, you can hire a guide and sort out a budget by going by the tourism office. That guide will then hire the porters or horses (depending on the route) to carry camping gear, food, and your belongings if desired.
Alternately, you can do it all on your own with a map and some navigation gear, but you'll need to be well-equipped for cooking, camping, and purifying water. You'll also need days of food: this is no tea house trek. If you do this your costs are limited to the supplies you purchase, but I wouldn't advise it. Hiking here is tough enough without also carrying days' worth of food, cooking equipment, and camping gear.
This country is not yet ready for prime time when it comes to big adventure companies offering trips here. There are few toilets, even fewer showers, and the terrain is quite challenging. Trails here aren't built or maintained by anyone and they're not used for village-to-village travel as they are in India and Nepal (or were in Inca times in Peru). No stone steps or carved out paths here.
The upside of all that is you won't be competing with retiree "soft adventure" travelers who are finally getting out and about in the world. These trails are for the physically fit and the intrepid. Even if you splash out and rent camping gear, get an English-speaking guide, and have a gaggle of porters, you probably won't spend more than $100 a day per person, including all cooked meals. If you carry your own pack and there's just a guide and a horse carrying food, it'll be far less.
Gear Packing for a Trek in Kyrgyzstan
I did my six-day hiking circuit in August, which sounds hot until you start factoring in the altitude. We were frequently sleeping at 2,700 to 3,500 meters, as in higher than the peak of most North American ski mountains. In the heat of the day it could hit t-shirt weather, but at night it could be teeth-chattering cold outside the sleeping bag meant for sub-freezing temperatures. It's important to pack lots of layers that can cover 50-degree Fahrenheit temperature swings and to have gloves and a warm hat for the night.
My main jacket was a Craghoppers breatheable waterproof shell with a hood. That kept me warm enough most of the time on top of other layers and it pulled through like a champ when we ended up hiking in the pouring rain for hours one day.
I also packed lightweight Craghoppers pants, including the new Pro Lite Stretch ones, with long underwear added at night underneath. These pants dried quickly, which came in handy. I had a couple merino wool base layers from Icebreaker and Ibex, which I usually left on all day because I didn't feel like adding more sunscreen to my already dirty arms. I ended up using T-shirts and my Kiwi Trek Hiking shirt more for around-town time in Jyrgalan and Karakol.
I was extremely glad I packed good hiking socks—don't underestimate the importance of this! It's stupid to buy $150 shoes and then put cheap socks inside them. Spring for a few good pairs. You can usually find last season's versions on sale at Sierra Trading Post or Moosejaw's sale rack. They're socks, so who cares if they're the latest version?
I'm also glad I wore hiking boots instead of just shoes. The stress on our ankles going up, down, and sideways steep slopes on shale and dirt was tough and sometimes we were just following cow paths in the grass and bogs. Bring waterproof ones with ankle support. I was trying out a new pair of Oboz hiking boots and came away without one blister or bruise. My feet stayed dry too, even after hours in a rain storm.
Last, you need a water purifier. There's plenty of water on all these routes, but you don't often come upon a pristine spring bubbling from the ground. There are not many humans around, but there are a lot of animals. We had several SteriPEN wands with us and all came through with no issues. You could also use purification tablets or a pump filter, but both take longer and are more hassle.
For more information, see the Discover Kyrgyzstan website.
This trip was made possible by the support of the American people through the United States Agency for International Development (USAID). The contents are the sole responsibility of the author and do not necessarily reflect the views of USAID or the United States Government.