I've been to a lot of capital cities around the world in my decades of travel, but none of them have been anything like Bishkek, Kyrgyzstan.
A lot of the elements you expect to find in a big city just aren't here: there's no heavy traffic, no skyscrapers, no sidewalks so crowded it's hard to move. Cars actually stop when you cross the street and there aren't many occasions when you're forced to inhale a lungful of bus smoke. Compared to most Asian cities, Bishkek is a leafy, relaxing park.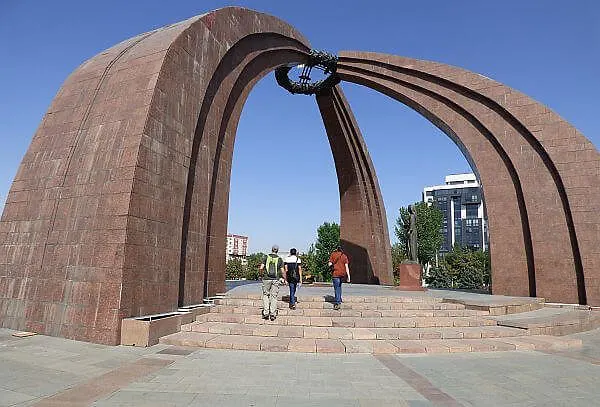 If you take a city tour here, though, you're going to see lots of monuments. More monuments than you thought any one city could have probably. This was part of the mighty Soviet Union at its peak, and that empire loved their blocky monuments and austere buildings. In many former Iron Curtain countries they've torn these things down or moved them to a park on the edge of town somewhere. In Bishkek though, they still learn Russian in school and and are part of a free-trade economic pact with Russia, so the monuments are not just endured, but revered.
This makes a walk around town feel a bit strange for western visitors since it feels like stepping back into the 1970s or '80s. Some of these monuments are colossal, like the 1985 Victory Square Memorial pictured above. It was built to commemorate the 40th anniversary of the end of WWII, but has a nod to the locals since the spans are supposed to symbolize a yurt.
To the right is a statue of Urkuya Salieva and as you can see from the person walking by, it's also massive. This is one of many monuments to the Bolshevik Revolution, which also took place in southern Kyrgyzstan during a fight for a transition to communism. She was a major activist who eventually got killed by wealthy farmers who weren't exactly fond of the idea of collectivism.
The other main theme, having nothing to do with the Soviets, is glorifying Manas, the hero of epic verses passed down for centuries before being written down in the 1700s. This hero is supposedly buried in the country and is considered an ancestral hero of the Kyrgyz people.
Having a monument on nearly every central street means there are a lot of parks in this city. At one point there were three times as many trees as people and there's still a healthy ratio here. You'll find a lot of green space and few crowds since there are no 40-story buildings for people to spill out of. The local "White House" home and office complex of the president is one of the tallest buildings around.
Meat, Bread, and Dumplings on the Menu
I've only started to explore the cuisine of Kyrgyzstan, but there seems to be a good variety to try and it's been tasty. This would be a tough place to be a vegetarian though and if you're a vegan, you'd better plan to do some cooking. If you're gluten free or lactose intolerant on top of either of those, um, good luck. You'll need to go market foraging.
They love their meat here and almost everything not a salad or bread is going to at least be flavored with it. Plus it's often fatty meat from unknown parts of the animal. A guide showing us around said fatty meat commands a premium in the market over lean meat—they like the flavor. There's cheese and yogurt in all kinds of forms, including a milky drink sold at sidewalk stands and dried yogurt balls that are one of the most popular snacks.
If you like dumplings, you'll be in heaven here. The manty come in many forms, from the big fat ones filled with meat or pumpkin you see here to little ones the side of tortellini that can be filled with a variety of things.
Prices are quite reasonable, to the point this country might make the next edition of The World's Cheapest Destinations. Stay tuned for more on that after I return.