This post on the best cheap hotel chains in the USA gets a lot of traffic, so I've left the original up and just updated it every couple years. This latest version has updated info from the 2019 J.D. Power and Associates hotel brand satisfaction survey in the USA.
People love ratings and satisfaction surveys, especially when it comes to services that are going to potentially cost them hundreds of dollars. It's understandable that people want some kind of shortcut when choosing between hotels/motels that all seem very similar in what they offer. Plus we've all stayed at some terrible, dirty place that was a "name brand" but independently owned and poorly run. These are the kinds of places you see the host trying to fix on Hotel Impossible.
There's never a sure thing, so if you're booking a cheap hotel, this is when you should invest 10 minutes to look at the online reviews. You can go to TripAdvisor of course, but also the hotel booking services themselves have been nagging customers to death to review the places they've stayed. Enough of them have done that now that you can often see right on the booking site which places are lousy.
When I was doing this post a few years ago I booked a city airport hotel on Booking.com where the $65 place 4 miles from the airport had a review score of 5.5. The $59 place 8 miles from the airport had a review score of 9.8. Easy decision; I didn't even need to read the individual reviews to know it was worth a longer taxi ride.
Trivago gives you a meta score based on the aggregate reviews of the different booking sites they're pulling data from. If you're headed to Asia, you can probably just book with Agoda and be assured you have the best selection and review depth. In the USA it's not so cut-and-dry, so Trivago or Kayak may send you to Priceline, Expedia, Hotels.com, or the property's own site.
When you get there, Almost all of them will have some kind of user ratings and they'll probably be from actual guests. With Tripadvisor you never know.
Cheap Chain Hotels With a Good Reputation
Consumer Reports, who I pulled data from the first time I did this post on the best cheapest hotels in the USA, hasn't done one of these hotel surveys for quite a while. When they last did, in 2016, they had this in the intro after saying the average hotel price was $111: "Upscale and moderate hotels give a lot of bang for the buck, but most budget hotels earned low scores for value, comfort, service, and upkeep." Ouch.
They also noted this oddity, which makes many self-employed business owners take their business down a notch out of principle. "Oddly, luxury hotels are most likely to nickel-and-dime guests on such basics as Internet access (usually $10 to $20 per day)." Or they fold it into an annoying "resort fee," whether they're really a resort or not.
JD Power & Associates releases the results of their travel industry studies each year though. So we'll use that one for this update on hotel brands at the lower end of the scale.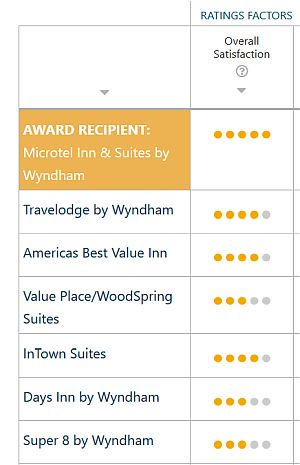 I'll skip the luxury and upscale categories since those are predictable and if you're reading this blog, you're probably not a frequent guest of the Ritz-Carlton anyway. Here's who came out on top in the Economy category, where the cheap hotel chains compete:
Microtel has come out on top before now and then in these consumer surveys, but they've gotten more consistent after Wyndham bought them out. You'll see Wyndham's name on here a lot actually, as they've been on an acquisition spree, so it's probably worth joining up with their loyalty program, also highly rated. More on that in a minute.
Be advised that the "micro" part of their name is there for a reason. In my experience, these rooms are about half the size of a say, Holiday Inn Express. You get what you pay for. But when people just want a cheap place to crash, they're happy with the value for money.
The other ones at the top, as you can see in the J.D. Power chart to the right, were Travelodge, America's Best Value Inn (a former #1), Value Place/Woodspring Suites, In-Town Suites, Days Inn, and Super 8. I cut it off there, but Knights Inn pulled up the rear. There are far more categories than I show in that chart: the overall score comes from the booking process, check-in, the room, price, and other factors.
When we go up to the Midscale category, the same brand has come in at #1 for several years now: Wingate by Wyndham. When I last updated this post a few years ago, the four after that were Best Western, AmericaInn, La Quinta, and Baymont. Ramada was at the bottom.
This time the next ones, as you can see in the chart to the left, were Candlewood Suites, La Quinta, Sleep Inn, Best Western, and AmericaInn by Wyndham. So Best Western and AmericaInn both dropped. Cut off and at the bottom were Quality Inn and Ramada.
I can't promise picking the best chain will help you find cheap hotels near Central Park in New York or in the heart of San Francisco, but you'll know which ones are less likely to disappoint.
If you ask me what the worst chain hotel I stayed in this decade was, I would have vividly bad memories of a Quality Inn motel in Virginia that was the opposite of quality. I'm not surprised they're scraping the bottom of these categories, along with Ramada, Rodeway Inn, and Knights Inn. (Something heard never: "That Knights Inn we stayed in was really nice!")
I have stayed in a couple Candlewood Suites hotels though and they were consistently good. Some of the Best Westerns were, like this Copper Canyons one in Creel. That was actually a Best Western Plus though, a higher category, and they showed up in the middle of the pack in the "Upper Midscale" category here. The top ones there were Drury Hotels, Hampton Inn, Home2 Suites, Fairfield Inn, TownePlace, and Holiday Inn Express.
While that category has Hilton, Marriott, and IHG, you'll notice that Wyndham properties have the #1 spots in the two budget categories, which leads us to the next section. Which loyalty program earns you something back the easiest?
The Best Hotel Loyalty Programs
Most people get a little thrill out of getting something for free. If you show some loyalty with a specific hotel chain, you can earn points that will get you a free hotel room and/or extra perks. (I have to say that Bonwi pays you back faster than any of these branded ones, but this survey is not about booking sites.)
I've personally had a tough time earning much with Hyatt, have gotten a few nights with Hilton Honors, and have scored over and over again with the IHG group. More than a dozen times I have gotten nights at an IHG property (Holiday Inn, Holiday Inn Express, or Candlewood Suites usually) for 5K to 20K points a night—quite a bargain.
Looking at this data-driven report from Wallethub put out a year ago, Wyndham Rewards snagged the #1 spot overall again and they were the winner in a lot of individual categories too. So I think it's safe to say if you can stay at Wyndham brand hotels a lot, you'll probably be on your way to freebies faster than with any other chain.
Who was next on this list? Fortunately for you, mostly not the not the most expensive brands. Best Western came in and #2 and their points never expire. Choice Privileges dropped down to #5 and my main beef with them is the short expiration time on points–maybe others are getting annoyed with that too. The others in the top-5 were Radisson and Marriott—though note that Radisson's brands rarely show up anywhere near the top in the USA. Their international Radisson Blu ones are better.
This U.S. News and World Report round-up put Marriott's program at the top, so if you travel a lot for your job that might be the best choice. They have more hotels and brands around the world than anyone after swallowing up Starwood, so that probably gave them an edge. Wyndham Rewards did come in at #2 there though and the main criticism was that they don't have a lot of high-end properties.
With all of them, the way to really rack up points in a hurry is to get their credit card. That changes the whole equation on who is "best" because you get a big sign-up bonus and then points earned depend on your spending. IHG also gives you a free night at any property each year when you renew—which means paying an annual fee can pay you back 3X or more. For the past two years, I've paid $49 a year for the fee, but gotten $469 in value back from the two included hotel stays.
Yes, You Can Bargain on Hotel Rates
Don't forget that you have the power to bargain, especially if you're staying multiple nights or it's outside of high season. Here's what Consumer Reports had to say on that subject:
Only 28 percent of survey respondents tried bargaining, yet 78 percent of those who did won an upgrade or a lower rate. (Success rates were higher for people who haggled over the phone than for those who did in person.) When we challenged 16 students at the Columbia University Graduate School of Journalism to get hotel rates reduced, all succeeded, scoring discounts of 5 to 32 percent.
Hotels aren't allowed to publish rates that are lower than they offer on the booking sites like Expedia, but they have ways around that. First of all, they are not "publishing" a rate when they discount it on Hotwire. That's because you don't see the exact hotel until you book it. They can also offer a lower rate to their loyalty members. So sign up and maybe get their credit card for good measure.
But in the "It doesn't hurt to ask" category, calling up a hotel to get a better deal can often pay off. This is especially true of franchises or independently owned hotels. Even if it says Marriott, for example, it's probably not really owned by Marriott—just managed by them. The actual owner wants to fill every room. You may not get an actual cash discount, but you'll almost surely get something else if you ask enough: a bigger room, a suite maybe, some kind of extra perk or no charge for something that usually has a fee.
How about you? Any great experiences at a cheap chain hotel in the USA?