I schedule the narrative travel stories in Perceptive Travel according to what writers have turned in as the year goes by, but sometimes we end up with themes emerging in an issue without even trying. In this one we've got three stories from Asia. Two of the three inolve primates.
One article involves an actual hunt for them, orangutans in this case, in one of the creatures' depressingly few remaining wild  habitats. It can be trouble though when you use the voice of an alpha male to get close to them. See Orangutan Warfare in Borneo.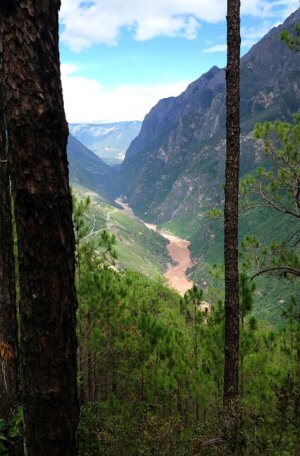 Things get weird enough when a writer seeks out Laotian moonshine distiller in the jungle and sees how the snake whiskey is made and bottled. But then "Mr. Tojo" shows up, ready to issue a challenge. See Moonshine With a Monkey on the Mekong.
The third Asia story is devoid of hairy beasts. Instead it looks at the human complexities of traveling the world to find solitude but finding deep companionship instead. See Walkabout Love in China by newcomer Dustin Grinnell.
We head over to Europe and land in Rome, where men "touch iron" upon seeing a nun on the street to keep from getting cursed. Susan Van Allen instead dives into her 60s-inspired nun obsession and books a stay at a convent. See Get Me to a Nunnery in Rome.
Susan Griffith reviews three new travel books. Two dive  into the dark side of tourism and travel, with stories that often hit what doesn't make it into the glossy "everything is wonderful" magazines. The third is from female survivalist Megan Hine. See the August travel book reviews.
A New Travel Bag That Thieves Will Hate
Each issue Perceptive Travel partners up with a gear company to give away a prize to one of our readers. In most months, most people don't enter, so those who do stand pretty good odds. Our latest champ is Jerry H. of Oregon. He's got a new Transit 40 convertible backpack from Deuter coming his way for the next adventure.
In August we're giving away a different kind of travel bag. You get your choice of city bag or daypack from the Active line at Travelon Bags. These look stylish and are quite functional too, but there's a secret weapon built in: lots of anti-theft features.
There are two ways to enter. The best is to get on the travelers newsletter list so you'll get details landing in your inbox once per month. The back-up, but less reliable way is to follow Perceptive Travel on Facebook and hope that the "we know what's good for you" social media network actually lets the contest notifications into your feed. (Hint: if you choose "most recent" for your feed when you open Facebook, then you get to choose what to read instead of leaving it to them.)
That's it for now. Enjoy!