We walked along the spine of a ridge single file, the path barely wide enough for one person, with a steep drop on each side. A tossed stone would have tumbled down a very long way before coming to a stop so we chose our steps carefully. It was hard to keep looking down though with the clear, panoramic views we had on each side of us. Here above the treeline, there was nothing obscuring the vistas. It was hard to believe we were just an hour from Sarajevo, in Bosnia-Herzegovina.
I had read some articles about the Via Dinarica Trail that extends from Slovenia down through the Balkans and the photos looked gorgeous. I wasn't going to have time for a full-blown adventure with camping—one that would take three and half months if I did the whole stretch, but I wanted to at least get a taste of the highlands. So I connected with Highlander Adventures in Sarajevo to do a day trip from there into the mountains.
Highlander is run by a young hiker Kenan who worked as a guide for a local company before setting out on his own. He runs local city tours as well, but is much happier in the mountains and was excited to show off his favorite area. After a quick stop at the mountain where the Winter Olympics of 1984 had their ski competitions, our group parked at a small village in the Tušila River valley.
Like most area villages in the area, it got razed by the Serbian Army during the Bosnian war of the mid-1990s. Now the houses are reconstructed, but in modern style. (If you want to see what they looked like originally, book a tour to Lukomir village, which you can combine with hiking or mountain biking.)
We walked through a forest and fields, through wildflowers and sheep meadows. After a while it was just the four of us and a shepherd watching his flock munch on grass. Then after a gradual ascent, we had to climb a steep mountain to get up to the ridge. Kenen it turns out is Muslim and I was there during Ramadan. So while we were gulping down water, he was toughing it out as part of his daily fast.
After getting to the top, we descended back down the other side for a bit to intersect with a spring and fill up the water bottles. This was the view nearby:
After scrambling back up, our hike along the ridge line got going, with mountains on both sides of us and far into the distance. There's still one mountain that's off limits because the land mines haven't been cleared, but even there, Kenan says, what's still in the ground is probably too old and rusted to pose a danger.
The views were breathtaking as we hiked along and got to the top of Vito Peak. We stopped eventually at a flat part to really enjoy the panorama and have a picnic lunch. Some local burek, figs, and cherries gave us another round of energy. Here we could look out at Rakitnica Canyon and see Lukomir village in the far distance.
We spent the next couple hours hiking along the spines of ridges, each view seemingly more dramatic than the next. The hills were covered with wildflowers, meaning butterflies were constantly flitting around and the main sound beside the wind was the buzzing of bees. Sometimes we would walk beside a sheer rock wall and other times we would see strange stone formations in the ground.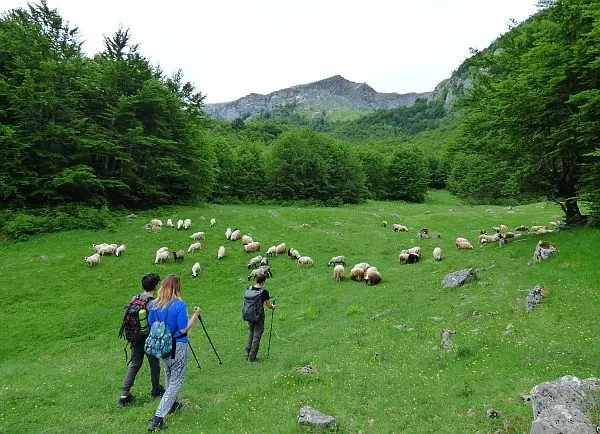 We took a break at another spot where the guide chatted with another local shepherd. "This is a stress-free life," he said, "but it gets pretty boring sometimes."
Eventually we started to descend, walking down a steep hill and having the mountains rise up around us again like the walls of an amphitheater. We welcomed the shade when we finally hit a forest before coming out near the car at the end of our loop, just as drops of rain started coming down.
The Ridges of Visocica Tour is €50 per person, including pick-up and drop-off at your hotel and a picnic lunch. For hotels in Sarajevo, I found the best selection by far was at Booking.com.