Unless you're spending a fortune (and sometimes even then), traveling around India can be extremely trying. It has been many years since I experienced the madness first-hand, so I'm planning a trip back there in the second half of this year. Meanwhile, today's guest post is brought to you by Karl Rock, author of the India Survival Guide (Quick-Start Safety Guide)
India is an incredible and unforgettable country to travel. But there's no doubt that the initial thought of visiting India raises some questions even in the most seasoned traveler's head. For others who've never been to Asia, it's a little more daunting. But it needn't be!
A little bit of preparation before you visit India goes a long way. I was lucky; I got to learn the easy way. I had a good Indian friend meet me at the New Delhi Airport and teach me the ropes. Five years later and I'm now living in India, and every day I still learn something new. Most travelers don't have that luxury though, so I'm going to share some tips to make your trip to India smoother.
The biggest hassle in India is scammers. People who are trying to rip you off, mislead you, and make as much money out of you as they can. It's a constant hassle to have to filter out and deal with such people every day while traveling. Scammers come in a few common forms: street touts, taxi or rickshaw drivers, or a friendly stranger trying to "help" you (an undercover tout). The following tips will help you avoid them.
Accommodation in India
Most visitors arrive first in Delhi. Delhi, in my opinion, is the most amazing city in India and offers the most to see and do. However, around 85% of Delhi accommodation is in the worst part of the city. Paharganj and the surrounding areas are a scam artist's paradise. Rather find one of the few hostels based somewhere in South Delhi. South Delhi has an entirely different vibe. It's beautiful, full of parks, cleaner, and void of scammers (they focus on Paharganj).
This goes for the other large cities too. Find accommodation away from the tourist areas. Stay in the outer suburbs where you'll find peace and middle-class Indian families living. This way you'll limit your exposure to scammers to times when you're visiting tourist attractions only.
When you first arrive in India, you'll realize finding an address is an art form that involves asking multiple people once you arrive somewhere near the location. Avoid this hassle and airport touts by opting for your hotel's airport pickup service. It's the easiest way to get to your accommodation safely and start the trip off well.
(Editor's tip: don't believe anyone who tells you your hotel is "closed," "burned down," or "it must have changed names.")
Transport in India
The cheapest and most hassle-free way to travel in Delhi is by Metro. I see few foreigners on it though! The Metro system covers all the locations you could want to go in Delhi. It's similar to the London Underground except it costs cents per trip. It's a good option for women too; the first coach is reserved for women.
Other cities such as Mumbai and Kolkata have Metros too, but they're not quite as connected as Delhi's yet. In the major cities, you also have local trains which cut across the city. They're similar in price to the metro and much cheaper than taxis or rickshaws.
Using the local Metros and trains avoids the hassles of taxi and rickshaw drivers trying their lines on you. Standard lines you'll hear are "I'll take you to my friend's shop", "Your hotel is in a dangerous area; I'll take you to a better one," and "I'll help you book train/bus/aeroplane tickets." The one exception is Uber: it's even cheaper than rickshaws due to a price war, and I've not once had a driver try to scam me.
Traveling Around India
To ease yourself into India, join other travelers and a guide on cheap day trips by bus. I recommend doing this for the first day or two until you get used to India. Learn from other travelers about the hassles and scammers they've come across. You can ask the guide all the questions you have in those first few days too.
Once you're more confident and have dealt with a few scam artists, you can begin taking the highly connected intercity buses and trains and venturing out on your own. Trying to rush right into it will ultimately cost you more.
5 More General Tips to Avoid Scammers
1. Dress: buy local clothes to blend in better. It'll be harder for scammers to spot you and follow you. It is particularly important for female travelers as Indian clothes will cover you well and afford you more respect and less hassle from men.
2. Shopping: Don't take up offers from "friendly strangers" to visit their "friend's store."
3. Shopping: Avoid bargaining by shopping at fixed priced stores – or at least visit them first to get a sense of prices.
4. Beggars: Avoid them and do not give to them. Often around the tourist areas, it's an organized begging scam. Instead, donate to charities in India.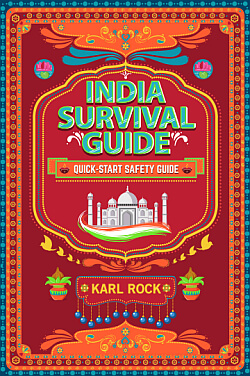 5. Trust: Do not trust anyone, that includes women too. If you've made a local friend take their phone number and continue chatting and verify their identity before spending time with them. Scammers or more dangerous people won't have the patience for this.
Avoiding Scammers takes practice. You'll no doubt let your guard down at some point and trust the wrong person. When that happens, you can take yourself out the situation by just saying "no, thank-you" and walking away or leaving whatever shop they've taken you to. Traveling India becomes easy and hassle-free after a little experience.
Written by Karl Rock, the author of the India Survival Guide (Quick-Start Safety Guide). Follow that link to get info on buying it for $5 at Amazon, Kobo, or the Apple Store.