Flying on Allegiant Air Without Baggage Fees, Take 2
I just took a flight for a long weekend on Allegiant Air and managed to do it without paying any baggage fees.
Anyone who has flown this bare-bones airline knows that is not an easy task. The only luggage you can bring along without paying luggage fees is a bag measuring a maximum of 15 inches by 14 inches by 7 inches. When I wrote about pulling this off five years ago, the only thing I could find in my luggage-filled house that would work was a schwag bag freebie from a trade show.
This time I found another solution: a convertible bike pannier bag from A company called The Property Of. Usually it's on the back of my bike, but when I pulled out a tape measure and found it fit, out came the shoulder strap and I was off.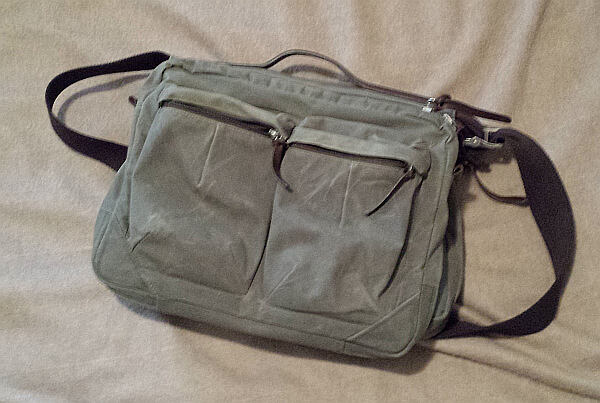 Now granted it's easier to pack this light if you're a married man not going out on the town in your place of arrival. A woman who needs 6 outfits for three days and 12 kinds of goop would have a much tougher time. I packed one additional pair of pants, 2 t-shirts, 2 regular shirts, underwear, socks, my laptop, and all the needed cords. Toiletries were all trial sized items. I wore a few layers including another secret weapon: my ExOfficio Storm Logic jacket. Besides being cozy, it's loaded with pockets on the inside, pockets that held my Kindle, earbuds, sunglasses, and some cords.
Odd-sized Bags Only on Allegiant Air
How many bags out there are actually 15 inches by 14 inches by 7 inches? Not many since your average laptop bag is wider than 15 inches and few bags are only 7 inches wide. On my flight leg, someone in front of me glided on with a Ciao Luggage under-seat bag with wheels. It seemed a little too fat to me so I looked it up and indeed, it's 8.5 inches wide instead of 7. This Delsey under-seat bag is in the same situation—two inches wider than the very stingy 7. It's soft though, so if you didn't pack it tight you could probably make it fit in the sizer.Any of them will easily fit under the seat of course.
People are getting away with these bags that come close because the gate agents rightfully don't love being bad cops all day. I'd imagine they don't subject their customers to stuffing things in the sizer very often. (It hasn't happened any on my last few flights.)
But that's if you're in the ballpark—you can't bring something that really won't fit under the seat and try to breeze through without getting noticed. Even with these Ciao and Delsey ones though, if you got someone in a bad mood one day it could be risky If they didn't want to cut you any slack, you could be stuck for more than the cost of the bag in baggage fees. I'd recommend finding a small gym bag or scouring your local thrift shops with a tape measure in hand—old bowling ball bags are about right.
Waiting to Commit Will Cost You
These Allegiant baggage fees are lowest when you book your ticket, then they really sock it to you if you want until arriving at the airport to decide you actually need luggage for your vacation. The carry-on fee is $15-$20 per leg up front depending on how far you're going, then spikes to an outrageous $50 each way at the airport. Checking a bag runs $20-$30 per segment at the time of booking rises to $45 pre-departure, then $50 at the airport. For just one bag. They say they can charge "up to $75" for a gate-checked bag.
You'll pay more if  your checked bag is more than 40 pounds (most U.S. airlines allow up to 50) and you'll pay extra if it has dimensions that are over the ones listed on the Allegiant site.
The reason people put up with this—and all the other Allegiant fees—is that the base fares are so low. You could actually pay less for your ticket than you do in fees, even if all you do is check a bag the day of because you bought some things you need to bring home. My flight between Clearwater/St. Pete, FL to Greenville, SC was $125 when paying with my credit card. I'm about to buy one for my mom to come visit from Virginia and that's about the same. Bringing her in on United would cost more than $500, there's a plane change, and she would still get dinged for baggage if she checked on. Ouch!
This is just one fee on Allegiant Air though: you'll pay to pick a seat, to board first, to get a drink of water, get a boarding pass at the counter, or pay with a credit card (3.2% up to $8). I paid the credit card one, but ducked all the others. With no seat selection (which can be "up to $80") I got a dreaded middle seat on the way there, but a window seat back. It's only an hour and a half to where my father lives, so I didn't mind taking the chance. Here's the whole fee rundown, which requires some scrolling.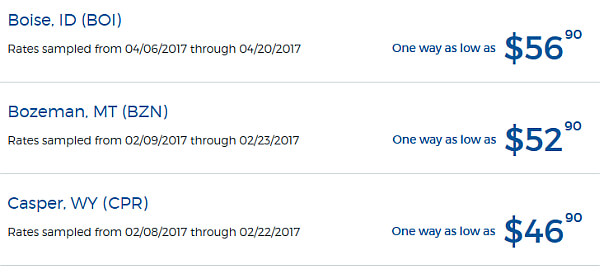 I've done this before though and I'll do it again. I can fly to 55 cities from where I live on this airline. Since the big 3 suck so badly anyway and are generally downright unpleasant to fly, there's not much advantage anymore to being on deceptive legacy airlines American, Delta, or United. Yes, you can earn miles, but not as many anymore since those miles are based on dollars spent rather than miles flown. You're better off just churning their credit cards.
If the flight is going to suck anyway and the big airlines are all racing to the bottom to be more like Spirit and Allegiant, you might as well take the direct flight with the lower fare—even if you do end up paying luggage fees.
Have you tried a way to avoid Allegiant Air baggage fees? Tell us your story in the comments!