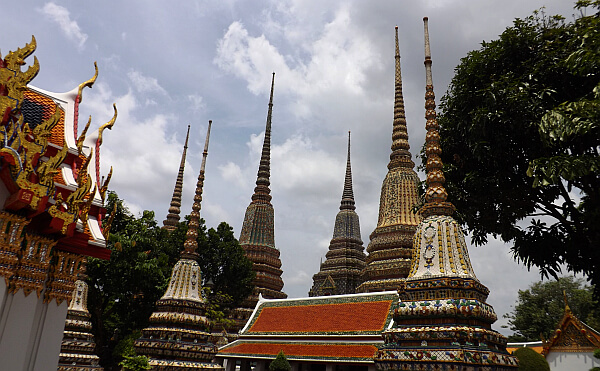 As a destination for expatriates looking to live abroad for less, Thailand has a lot going for it. There's just been one major obstacle: it's tough to legally live in Thailand on a long-term basis.
That obstacle has been a big one. It hasn't kept the digital nomads away—Chiang Mai is one of the most popular spots for location independent workers—but it's been a reason that more people stick around for a few months than a few years.
Two developments have made this less of an issue, however, and I did a Skype call with local resident (and blog reader) Robert Holloway to get the scoop. Here's the current situation, with two options that don't require border runs or workarounds.
Six-Month Thai Visa Arranged at Home
The reason so many people get locked into a series of border runs and an uncertain future in Thailand is that they don't decide to live there until they get there. Robert says it's easy to avoid all this hassle by just applying before you go.
"You just go to your local Thai embassy in the USA, apply with your passport, and you get a six-month visa where you don't have to leave the country. I paid $80 and it was ready the next day. For the first couple months you don't have to report to immigration, but then you have to check in every month. There's no further paperwork."
He says he did not have to show any financial information to get this. It was just a matter of filling out the paperwork.
This 6-month multiple entry visa option debuted in late 2015 and took a while to work its way through the bureaucracy, so it has not been widely publicized yet. But I know it's available for Americans ($140), UK residents (125 pounds), Canadians, Australians, and some other nationalities. Just be advised there are income requirements that may may not be enforced when you apply. Wear nice clothes and take out all the piercings!
Robert now lives in a nice 3BR/2 bath house he has rented long-term for around $500 a month and he's got no worries about how long he can stay. He says the times he's visited Thai immigration it's been very straightforward and has taken 20 minutes or less. Lately you can even meet the routine "visit immigration" requirements online. As someone who has lived in Chile and Costa Rica in recent years as well, he has plenty of experiences to compare it to as well.
"Most locals get by on the equivalent of $300 per month, which is how much I spend just on food and eating out. I can still get a local meal for less than $3 with something to drink and a nice restaurant will be under $10, with a glass of wine even. You can spend $1,000 a month just for rent if you want a condo on the beach, but I spend around $2,000 a month total. I pay all my health care expenses out of pocket."
He's of retirement age though, so he's now on the scheme where you get a year-long visa at a time. Soon that's going to be extended for a much longer period.
Long-term Visa for Those 50 and Older
It's long been much easier to live in Thailand as a retiree, provided you had some money to put in a Thai bank account. You still have to have a chunk of cash and be able to support yourself, but now you can have the peace of mind that you're set for years once you get locked in.
You don't have to be all that old to qualify as it's for those 50 and above. You do have to meet some income requirements though and check in with immigration on a scheduled basis every 90 days.
This is best for people looking to cut down their expenses in their later years, not retirees who are dead broke and desperate. There was some confusion over the terms for a while, but here's how the rules settled out.
Eligible foreigners must have earnings of 65,000 baht per month (about $2,000) or savings of 800,000 baht ($25,000) deposited in a Thai bank account. Officially this amount must be maintained for at least one year after receiving the visa.
For most retirees, this is going to mean cashing out part of a retirement plan or using the proceeds from a real estate sale in their previous home. It's a hurdle, but not a real unreasonable one. This is similar to current requirements, which tens of thousands of foreigners have acted on.
There is also a medical insurance requirement that applies to everyone, but it's a minimal amount of coverage you need to have.
The great news is, this is a five-year visa that can be extended for another five, giving you a decade of being legal in an inexpensive and fun tropical country.
Like most good, sustainable deals, this is beneficial to both parties. Thailand is trying to promote the country as a wellness and medical tourism destination and they like the fact that foreigners bring in capital that they're willing to spend. Having all those deposits sitting in Thai banks is a big help to the domestic banking system as well of course. The interesting part of this is that Asian countries are starting to compete for this business, which created a big rush of expats when Latin American ones started doing then more than a decade ago.
"If you do your research and stay within the boundaries of the law, you're not going to run into any trouble," Robert says. "If you're 50 or over, it's really easy. You get six months by applying at home, then you extend it after you get here and you're set. You just fill out the paperwork, show income, show you have a place to stay, and you're done. It's actually easier to live in Thailand than many other places I've lived. In most countries though, if you find out what the real laws are and you follow them, you will be fine."
Readers who have bought into the Committed or All In packages of A Better Life for Half the Price have access to the audio interview I did with Thai resident Robert Holloway, along with other expat interviews from multiple countries. See more on the living abroad packages page.
Editor's Update – 2018
This post went up in late 2016, but now some of the announced policies are in place. Robert got back to me with how things have been playing out for living in Thailand since we talked and I'm pasting in his message below.
Since we talked, things are getting easier for us in Thailand for our visas and for working in Thailand as well.

The government is now releasing a list of several professions that cannot be easily filled here in Thailand and are now offering work visas more easily for those professions that will be listed.

Second issue is that our retirement extensions are becoming easier to renew and our 90 days visas can now be verified online, on a government website, at our local 7-11 corner stores or at our local immigration offices. My last two visits there have taken about 10-15 minutes here in Hua Hin, and they even opened up a new office in our Blue Port Shopping Mall for even more convenience. IT seems immigration is getting more straightforward and easing the qualifications with a new 10 year "super visa" for investors and some other categories now. There should be some new regulations that are verifiable coming out soon.

The coup government has announced the return of democratic voting will take place this year, but then came back and said it will be delayed 90 days more, so it probably will happen early 2019 if not sooner. Freedom folks are challenging this decision so who knows how it will settle out…

I just rented a new 3 BR 2 bath furnished house in an exclusive housing group for $825 per month. It's really a lavish place, with beautiful pool and is a well-maintained, 24 hours development.
Yes, Thailand is still one of the best values in the world for living abroad. Plus now the big visa hurdle is out of the way for some people, so it's much easier to live in Thailand long-term.