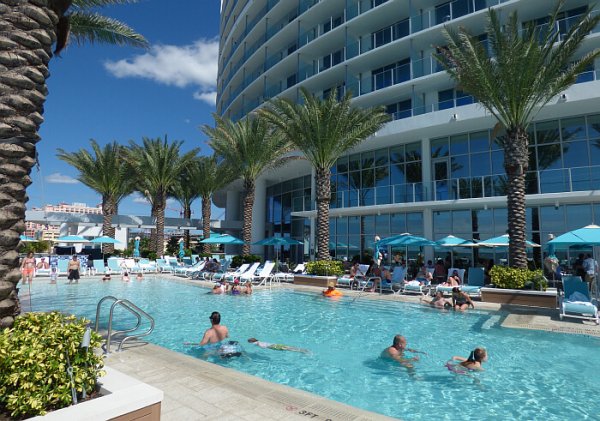 I'm all for renting an apartment when I'll be in one place for a while, but there are many times you're just passing through and a hotel room is the best choice. Or when you want a beach break.
If you're got more money than you know what to do with or your company is paying, you don't have to be very sensitive about what you pay for your hotel rooms when you travel. When it's coming out of your own limited budget though, the right strategic moves can mean cheaper hotel deals. That translates to more money to spend on other aspects of your vacation.
Here are a few methods I use to get a cheaper hotel room than most nearly every time I travel.
1) Use an Aggregator Service
Now that Trivago has inundated us with TV commercials for years, people seem to be catching on to the fact that room prices are not uniform across all booking sites like Expedia, Priceline, and the official hotel sites. No matter how many times you hear some company say you'll always get the best price from them, don't believe it.
When you're searching though, many of the "choices" are really just divisions of the same company. You need to see all of them to compare.
I routinely see differences of 10-20% when doing searches on Trivago or HotelsCombined and sometimes it's more dramatic than that. I recently booked one in Mexico where the Booking.com price was literally half what the price was on Hotels.com. Another time though, this could go in the opposite direction. You always have to shop around and these sites make it easier to do so. Don't forget to check Hotwire too if you don't have your heart set on a specific hotel and just want a deal.
There is some recourse though if you're dealing with a major hotel conglomerate. Intercontinental Hotels Group, Marriott, and the like will supposedly match the price you find elsewhere if theirs is higher. You have to go fill out a form like this though to get the difference. Sometimes an independent hotel will honor cheaper prices elsewhere too, but you have to take the time to track down a front desk manager or reservations person and argue with them.
2) Track Down Coupons for Cheaper Hotel Deals
Because I run some other websites that feature hotel reviews, I belong to a lot of affiliate programs where I get a commission from someone booking through me. (It doesn't cost you the customer any more though.) Because of this, I get e-mails every week from most of them with limited time coupons and special deals. It's more than I can keep track of, but assume there's always a deal going on with somebody that's probably relevant to your trip.
3) Book at the Last Minute (Or Not at All)
When online travel first got started, Priceline's "name your own price" service and Hotwire's blind booking turned the idea of unused inventory on its head. All these years later, you can still book that way, with those sites, HotelTonight, and the last-minute sections of the major booking sites. If you're looking for a 4-star business hotel near the airport for one night, does it really matter which one you're in?
Then there's what you can accomplish without any online booking at all. When I went traveling around the world for years as a young backpacker, we almost never booked a room in advance. That's because before the internet came along, we couldn't unless we made a phone call or used a travel agent. We just showed up, looked at rooms, and found a place we liked.
Now because we can book a whole year of rooms online if we want, people think that's the smart thing to do. Really though, the independent hotels are often paying 25% or more to that site you're booking through, whether it's Expedia, Preferred Hotels, or Hostelbookers. If you can work out a deal directly, that's more money in their pocket and more in yours. You've just cut out the middleman.
So I still just show up now and then and ask the front desk manager for a deal. Other times I'll e-mail direct and ask for a multi-day discount. I know hard-core backpackers who will spend a whole day finding an ideal room and working out a deal because they're going to stay there two weeks or more. They get a room for half what was listed online. Or get a big suite for the price of a standard.
Understand though, this works best for regional chains or independent hotels. It's easiest in the cheap vacation spots where bargaining is an accepted practice. The big conglomerates are too locked into complicated contracts. The best you can do in those cases is ask for a free upgrade, which the front desk does have the authority to grant—especially if there's a nice tip involved.
4) Get Your Hotel Rooms for Free
Cheaper hotel deals or nice, but how about not paying anything at all? This Wednesday it's a night before a major holiday and I'm staying at a Hampton Inn near my in-laws house…for free.
Last year I signed up for a Hilton credit card and got 75,000 miles plus silver status in their loyalty program. That's enough for a few nights at different hotels, plus I've gotten more miles from using the card in the time since. We'll probably get an upgrade too.
I've done the same thing with IHG and have gotten free rooms from them in three countries and several U.S. states. I put regular expenses on the card and also use it when I'm at that particular hotel chain for incidentals. The points add up fast. It's a nice emergency stash to have too. Last time I got stuck overnight at a hub airport city because of weather delays, I simply cashed in 20K miles and had a place to sleep for the night.
Some credit card programs like Amex Membership Rewards and Chase Sapphire will allow you to transfer points to different programs. I used one of those to top off my Marriott account and got the Westin room above for my last night in Fiji back earlier this year. (See this post on a basic travel hacking strategy for specific recommendations.)
If you're not getting a freebie, belonging to the loyalty program can mean it pays to book direct anyway. You'll usually get the free Wi-Fi they withhold otherwise, plus loyalty perks like later checkout or a room upgrade. Sometimes you even get an extra discount.
What tips have you found to work for getting cheaper hotel deals?