The Cheapest Places to Live in the World – 2017
The cheapest places to live in the world are getting a lot of new transplants who want to escape and cut their expenses.
After an election where the candidate who ran on a platform of hate lost the popular vote but won the presidency, many fearful Americans are ready to bolt. Add to that the Brits who got their own isolationist shock and are no longer going to be part of the EU. Then add the Canadians and Aussies who have watched their earnings power erode (but not prices) and are looking at cheaper options. It's a recipe for lots of emigration to destinations with a cheaper cost of living.
If you're going to make a big move abroad, you might as well make it financially advantageous too.
[Editor's note: This living abroad for less post is still solid, but there's a somewhat newer version here if you want the latest.]
There are a lot more people looking at living abroad than there were when all the economic signs were pointing up and to the right. Regardless of what happens in the markets, the expatriate life in 2017 should be especially attractive for Americans. This strong dollar will continue for a while thanks to already announced fiscal plans. Check out this quote from Bloomberg News.
If you're looking at international living but need some guidance on where to go, my book A Better Life for Half the Price is the best bet. It's got comprehensive run-d0wns for each place and the bonus docs help you figure out the best place to live for your budget and priorities. Premium packages add more in-depth info, a private Facebook group, or even one-on-one coaching.
Meanwhile, following is a quick cheat sheet to get you started with the cheapest places to live in the world.
The Cheapest Places to Live in the Americas
Mexico
Close to a million Yanks and Canucks live here at least part of the year. Now they're spending even less on expenses. Thanks to the president elect's animosity toward the country's people and its favored trade status, the peso's earlier troubles from low oil prices have had gasoline poured onto them. For most of the decade I was visiting and living in this country, the peso ran in a range of 11 to 13 to the dollar. This year it busted the 20 pesos to the dollar mark and hasn't been below 17 all year.
This means a country that was already an easy half-price destination—more like a one-third one in parts of Central Mexico—is now seriously on sale. Imported goods are going up in price of course, but Mexico grows a lot of its own food, brews its own beer, makes it own tequila (and so-so rum), and has relatively inexpensive real estate in most areas. Labor costs remain relatively flat.
For those coming from other countries it mostly means prices haven't risen. For the neighbors in Los Estados Unidos though, most of what you spend your money on that's not imported is around 40% cheaper than it was in 2014. That $3 taxi ride is now $2. That $20-a-week maid is now costing $12. The $2.20 plate of tacos is now $1.50. And on it goes.
The food is varied, there's a robust depth of culture, and you'll never run out of new places to visit. They're also used to foreigners co-existing in their cities. (Unlike rural Americans, apparently…)
There are also some huge practical advantages. Getting residency is fairly straightforward, but a lot of people don't even bother. You get 180 days for the asking on a tourist visa. Flights to get there are usually not more than a long one within the U.S. or one from Canada to the U.S. Heck you can even take a bus if you have the time and stamina. Or drive down with a vehicle full of your most precious belongings. A pet  even. Mexico is close, fun, cheap, and easy to get to, with affordable health care that's quite good in the cities.
Nicaragua
This is probably the best overall value in the Americas. The infrastructure keeps steadily improving, but prices have either flatlined or gone down the past few years depending on what's happening with your source currency. If you're from the USA, it would be hard to find another country that's so cheap to live in without crossing an ocean. If you talk to expats there as you travel around, you'll find plenty of couples feeling content on $1,500 a month and if you're a single person spending more than $2,000 a month in Nicaragua you're living the high life.
Meals where the locals eat are crazy cheap, beers are a buck, and the local rum is deservedly famous around the world. It's relatively easy to get residency here, but if you want to just cross into a neighboring country and come back with a fresh tourist visa that works too. The inexpensive health care is not great outside Managua, but the good news is that all the places expats tend to live are within a two-hour drive of that city. To get residency as a "retireee" here you only have to be 45.
Colombia
For most of last year, the Colombian peso traded between 2,900 and 3.200 to the dollar. If it stays in that range, the country will remain a terrific bargain as a place to live. Medellin has been an expat hotspot for the last few years and there are no signs that's going to change anytime soon. It's one of the few places in South America that really attracts a sizable number of location independent workers from other countries, so if you're looking to network with other online entrepreneurs and freelancers it's probably the best spot on the continent besides Buenos Aires—and has cheaper housing.
I always recommend renting for a while before making a big commitment, but if you're rolling in with a big account balance in greenbacks, this would be a very opportune time to invest in Medellin real estate. Houses in smaller towns and in the countryside are much cheaper, of course, but Cartagena is no bargain, unfortunately. The array of visas here is dizzying, so you might want to hire a local lawyer to sort it out, but once you do it's easily achievable. Health care prices are fixed and transparent, and care is good in the cities.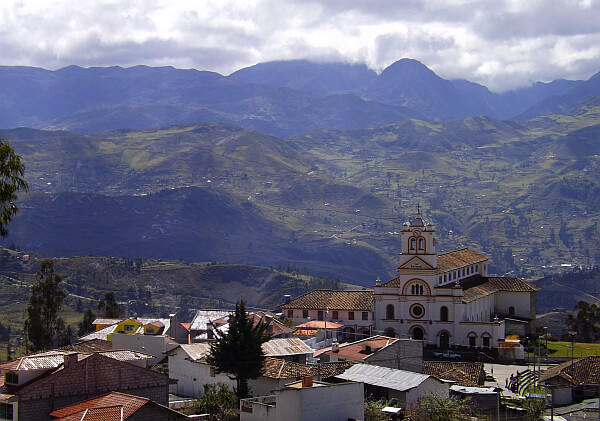 Ecuador
This is the grayest expat destination on this list, with Cuenca especially attracting a lot of economic refugees who moved here more as a matter of survival rather than getting ahead. That lack of cultural curiosity can be a problem, as can the fact that only Vilcabamba can claim great year-round weather. This is one of the easiest countries in the world though for foreigners to get residency and the income requirement is a low $800 per month. If you're retired you get lots of perks and discounts, including flight discounts.
Health care is generally good overall and infrastructure spending has been on a roll for many years. The economy is precarious though, the leadership is very authoritarian, and if you like to drink alcohol you'd better stick to what's made locally. Anything imported has taxes of 100% and up.
Peru
For whatever reason this extremely popular tourist destination is not so popular as an expat one. That's despite the fact they'll give you a generous six months in the country before you have to leave and renew. Gray Lima and other ugly cities aren't exactly the places of dreams, but Arequipa is a different story and the towns in the Sacred Valley attract a lot of foreigners looking to chill out in the mountain air for a while, hiking in the Andes.
The food is good, the scenery varied, and there are plenty of tourism business opportunities if you haven't made the leap to running a portable business. Costs are slightly higher than Ecuador's in most respects, but it's a close race.
Other Places to Live in Central and South America
There are plenty of other countries in the Americas where you can live on half what you're spending now if you go city to city or rural to rural. The only reason Argentina is not in here this time is because their fragile economic clean-up has led to high inflation, which can eat up savings. For now it's still a bargain. Panama has long been the top retiree pick south of Mexico and it's still an attractive place to move to if you avoid the ever-increasing prices in the capital. For lushes, it's got the lowest wine and liquor prices in the world—no sin taxes or duties.
Guatemala and Honduras are quite cheap, though both suffer from safety concerns. They also both have the problem that their most attractive spots for expats (Antigua and Roatan Island, respectively) are also the priciest areas of the countries.
The Cheapest Places to Live in Europe
This is a list that has been growing the past few years rather than shrinking, thanks to a stronger U.S. dollar against the euro and thus non-euro local currencies as well. The following are all cheaper as I write this than they were a year ago.
Portugal
The one country not located on that map above, this is a true "Western Europe" destination that also has warm and sunny weather most of the year. Thanks to a lingering economic crisis and a less robust economy than some other nations in the region, Portugal is far cheaper than Spain and easily half the cost of living of France or the UK.
Despite that, you get all the classic European advantages such as good wine and food, interesting architecture, water you can drink from the tap, and good health care. My line before on visas was "EU country for Brits, much more difficult residency visas for Americans." Post-Brexit though, we may all be in the same situation. You can get residency eventually, but it will require some money and patience. Get to know someone at your local embassy and prepare for a long relationship.
If you have an EU passport though, no sweat. Here's one expat's experience on buying a house in Portugal.
Hungary
If you can get past the right-wing, anti-immigration politics, Hungary is a great place to live. Budapest is one of the world's great cities and it's still quite easy to find a nice apartment for less than 500 euros a month there. Once you get out of the capital though, prices drop dramatically. This is an attractive country with a lot of gorgeous scenery.
Bulgaria
This is on most counts the cheapest country to live in for the whole continent of Europe, yet it's a gorgeous place with green mountain ranges and peaceful towns. Poke around online and you'll find prices like a 2-bedroom apartment in Veliko Tarnovo for €230 a month, or a furnished one in the historic district of Plovdiv for €170. Thanks to the fact a lot of people have moved elsewhere in Europe to work, you can buy a house here for less than you probably spent on your last used car. If you ever wanted to throw caution to the wind and take a flyer on some real estate, there's little downside when you can buy this house for less than US$5,000. That's not a typo!
Romania
This is not on many location independent workers' short list, but it probably should be since it is one of the countries with the fastest internet speeds in the world. It also has some of the cheapest international flights when it's time to escape winter or go see the relatives. Add to that bargain prices on apartments, food, drink, and utilities and Romania is a country where most westerners can chop their monthly expenses by 2/3. As with Bulgaria, a lot of foreigners working elsewhere means it's easy to find an inexpensive place to live. But as with much of Europe, the challenge is enduring the long process to get residency.
Other Countries in Europe to Consider
My next trip to Europe will be researching the Balkan region countries for the 5th edition of The World's Cheapest Destinations book. The steady improvements in the economies and the infrastructure of countries such as Montenegro, Albania, and Serbia make them wild card cheap living destinations for pioneer types up for an adventure. Backpackers are reporting prices that are on par with Southeast Asia in some spots—but with cooler temps and better wine. As with Eastern Europe though, winters can be too cold and bleak for some.
Only slightly higher in cost than some of the others profiled here, Slovakia and the Czech Republic are both good deals and I'll occasionally get raves from people who have settled down a while in Georgia (the country) or Ukraine. Here's an interview with an expat living on the cheap in Turkey.
The Cheapest Places to Live in Asia
Asia is complicated because of its wide variations in prices and the sometimes difficult visa situation. Thailand is a great place to live if you're of retirement age and can meet the requirement of socking away money in a Thai bank. Otherwise it is, for now, a royal pain to get residency without a work permit. You end up doing lots of visa runs and after a while that can just plain stop working. Indonesia is only slightly better, with most expats there doing hops to Singapore several times per year to renew.
Malaysia
This country between Singapore and Thailand is much more welcoming, though again you have a much easier time if you're retired with some money to invest. They have a formal program in place with a long history. This is a good destination to pick if you want to speak English and have reasonably good infrastructure, while still squeaking in for monthly expenses that are half those in a country like the UK, Australia, Canada, or the U.S.
Cambodia
This improving but still poor country is really the best bet in Southeast Asia for both prices and the ease of getting a long-term visa. You just shell out for a business visa (even if you business only makes $5 a month) and you're set for a year. You can easily renew it a year later without any scrutiny as long as you've been a good boy or girl. Plenty of foreigners are living well in Cambodia for $1,000 to $1,500 a person. It would be very easy to have a nice life on two social security checks only. In the archives I've got detailed posts on prices in Phnom Penh and Cambodia in general, with info from people who live there.
India
As I've mentioned a few times here on the Cheapest Destinations Blog, India relaxed its long-term visa requirements and this is now the best "one and done" spot in the world for some nationalities. There's a good chance your passport will expire before your tourist visa does and now when you have to leave every six months, you can turn around and come right back again. This country can be draining, maddening, and frustrating, but there's a vast educated labor pool (especially for tech work you may need) and plenty of people wanting to take care of your domestic chores for what seems to us like a pittance. The cities are best avoided unless you've got a location-specific job, but there are plenty of mellow places to live, especially in the northern mountains and the southern beaches.
Nepal
It's hard to live in Nepal long-term and the electricity is about as reliable as modern day political polls. For a stop of a few months though or as part of a regular back-and-forth routine with somewhere else, this is surely one of the cheapest places on the planet for international living. If you're pulling in more than $2,000 a month while living here, you'll be part of the elite. Plus you'll have million-dollar mountain views if you pick the right spot.
Other Cheap Places to Live in Asia
Vietnam attracts a lot of foreigners thanks to low prices, easier residency than Thailand or Indonesia, and a deep workforce of tech people to work for startups. I'm warming up to the Philippines after spending a couple weeks there recently, thanks to an improving economy, a deep bench of smiling English-speaking workers, and beer that's often a buck in a bar these days. You've got plenty of islands to choose from, plus look at that water in the photo at the top of this post!
Cheap Places to Live in Africa
As I've said every year and in A Better Life for Half the Price, you really have to "go native" in most of Africa to live well on a lot less money. There are too many reasons for that to go into in this post, but it's hard to maintain anything close to the lifestyle you're probably used to without living like one of the elites—and that's more expensive. Here are two exceptions to consider in 2017.
South Africa
Normally no bargain, but right now it's a deal for people earning euros or dollars and spending them in South Africa. The rand has seen one of the worst currency declines of any in the world, thanks to its dependence on mining and other commodity industries. At the beginning of 2013, one U.S. dollar got you 9 rand. Now it gets you 14 (and sometimes more). Lock in a long-term lease if you can.
Morocco
This has long been the best value in Africa for travelers, with a well-developed infrastructure and plenty to see, but prices that are very attractive for both backpackers and mid-range vacationers. It's also a great deal as a place to live and there are expat communities in multiple cities around Morocco.
Other places to consider in Africa
If you're an adventurous type and don't mind roughing it, there are plenty of bargains on this massive continent. Egypt was once a favored expat hangout and if things stay calm for an extended period, someday it will be again. While there are few countries that attract people who can work from anywhere, the ones that show up most as good values and interesting places to kick back for a while are Togo, Ethiopia, and Malawi. Happy hunting!
***
If the idea of moving abroad and having twice as much to spend gets you excited, do it right by checking out the packages at my Cheap Living Abroad site. If you like to hold a real book in your hands, yes there's a paperback available worldwide at Amazon. An audiobook on Audible too.
You may have a fear of change, a sense of complacency, or local roots that go to deep for you to make this kind of move. If you're a good match though, let me save you lots of time and hassle in the planning and doing. After all, what's your time worth?
Or if you're still in the dreaming stage, get on the insider's list and get a free report on where you can stay four months or more on a tourist visa.