My Favorite Travel Gear Brands: Craghoppers
Who makes the toughest and most useful travel clothing on the other side of the Atlantic? That would be Craghoppers, a brand that is a household name in the UK but keeps gaining traction in the USA too. Some have called them "the European ExOfficio," which is a good thing when it comes to how well their clothing will perform and hold up.
When I first started reviewing their stuff at Practical Travel Gear a few years ago, there wasn't much variety in the color palate or the styles. As long as you wanted one of the travel staples in neutral earth tones, you were all set. I didn't care so much because their Nosilife Adventure shirt is about the toughest thing in my closet and there are a couple pair of pants to match. To give you an idea, the buttons are not sewn on with thread, but with strips of cloth that won't break, fray, or unravel.
Over the years they've seen where the trends are headed and have gotten more into the "trail to pub" trend or. as we call it, double-duty gear for light packers. The latest styles don't scream, "I just went on a safari!" You can still get some rugged backwoods items of course—this is a brand that teamed up with survival TV personality Bear Grylls after all—but you don't have to. They're also partnered up with National Geographic, which you'll see noted on some of their product lines.
I tried out a few new items recently in kind of a schizophrenic week. First the Leon swim trunks in a pool in Florida, then a long-sleeve shirt, some travel pants, and a women's puffy jacket in Alaska.
That last one is what's pictured at the top, on my wife who hates the cold. She was able to stuff this synthetic fill Craghoppers Compresslite Jacket into her bag easily when we flew out, then uncompress it when the time came to bundle up. It's a great choice for long-term travelers who will be in cold places but don't want to be carrying a jacket around the rest of the time—or have one take up half their backpack. It retails for $85 and you can get it direct from the company or at Moosejaw.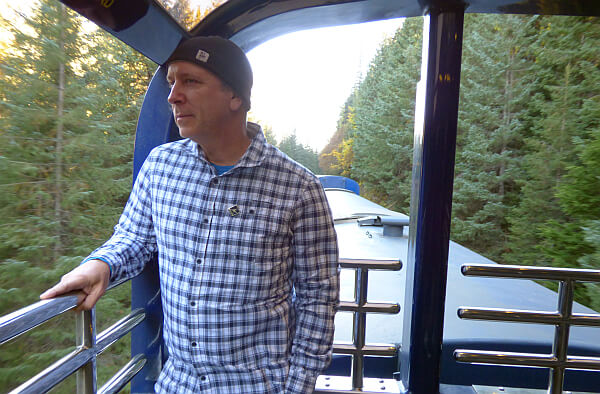 Here I'm sporting a Tristan shirt while riding the rails through the wilderness of Alaska. Looks like a normal shirt, right? But, I didn't get bugged by bugs because it's treated with Insect Shield. It also has a cool hidden zipper pocket on the front for putting cash or a credit card. Other neat traveler features include a loop for hanging your sunglasses, loops for hanging it to dry, and sleeves you can roll up and then button. It also provides good sun protection. Get it from Craghoppers or online here.
I've also taken a pair of Kiwi Pro Lite Trousers on a couple trips with me and have been happy about how little room and weight they require. They're very lightweight, but offer UPF40 SolarShield sun protection, heel tape, and zippered security pockets. They list for $60 for the regular version or $75 for the Insect Shield version.
The only disappointment I had with any of these items was the design of the swim shorts. I love everything about them except one really big factor: there's no elastic or drawstring in the waist. Instead they have belt loops. Who wears a belt in a swimming pool or at the beach? Great shorts I'll be wearing a lot in hot climates, but not in the water.
Whenever you buy anything from Craghoppers, be sure to fill out the registration card. That's because they believe in their products enough that they have a money back guarantee. If the zipper craps out or the seams split (very unlikely), you can get a replacement—a very rare thing in the clothing world.