Those who live a location independent lifestyle have some 200 countries to pick from and different places within them. So where do the digital nomads go when they stop moving for a while?
Some truly are nomads. They never stop in one place for long enough to settle in. That can get tiring after a while though, and make it tough to run a stable business. Eventually most people working remotely end up picking a base and renting an apartment for a while. Some end up investing in a home that we can rent out when we're not there.
Many entrepreneurs and lifestyle freelancers don't feel a need to be in a community of a hundred or more people like them. They're established and they have found their tribe online. For those who do want to be in a hotspot for location independent expats though, here are some of the top places where it's easy to tap into an established scene. The big bonus is, prices in these locations are far lower than Canada, USA, Australia, and much of Western Europe.
Where the Digital Nomads Gather Some Dust
Chiang Mai and Bangkok, Thailand
Chiang Mai gets the location independent crown, with an estimated 30,000 foreigners living there at any given time—most of them young and working, not retired or just passing through. Nicole Fu says, "In Montreal, I spent an average of CAD$3,256 per month." In Chiang Mai, however, "I spent CAD$1,590.66 (48% of what I would spend at home)." If you poke around the web you can find plenty of blog posts outlining expenses of half that, so if you're really on a strict budget while getting a business going you won't be alone. "It was a great launching pad," Nicole says. She was invigorated by being surrounded by other like-minded folks, hustling to live the same dream of location independence.
Tanbay from Traveling Weasels says, "The best place we have seen so far for people like us is Chiang Mai in Thailand, as living there is very cheap, the internet is very fast and there are lots of other bloggers/vloggers around." They say it's easy to find "very nice accommodation for $400 a month and they looked at the visa runs as an opportunity to go spend even less for a break in neighboring Cambodia. It's not for everyone though: "You have to be able to cope with the heat and the lack of food choices, this can be challenging, especially if you don't eat meat."
Kevin Graham of Bulk Buy Hosting has returned to Chiang Mai several times. "With a low cost of living, I was able to extend my 'cash runway' to have more time to focus on building my business and less time worrying about covering rent, etc." He estimates that he spends around $2,000 a month total for the two of them, but "I've had friends who have spent about $700 all in."
Plenty of urbanites opt for Bangkok instead and if you stroll down Sukumvit Road past the Sky Train exits you'll pass a hundred of them. Travis Bennett runs a digital agency called Studio Digita. "For Southeast Asia Bangkok is relatively developed, but still affordable compared to other hubs like Singapore or Hong Kong. There are plenty of expat events, and you've also got world-class shopping malls and great internet which is helping Thailand attract more and more digital nomads by the day. The lifestyle you can have here compared to what you'd get for the same price in Sydney doesn't even compare, and you've never got to worry about winter."We actually bought a place (foreigners can own condos here) but my old apartment (2 bed, 2 bath, 140 sq m) in the city worked out to around $US860 a month. As a family (wife and a young daughter) we spend about 80,000 baht a month (around $2,300), living a fairly decent life and traveling all over Asia. We also save a ton being based in Bangkok as we make far more than we spend."
He notes that the main downside of living in Thailand is the hassle of working legitimately and staying for the long term. "If you're working with Thai customers or setting up an office here you've got to do things by the book, and there's a lot of red tape and special requirements for foreigners (like needing a minimum 4 Thai staff and 2 million baht in your business bank account). The Board of Investment can help waive a few of these requirements, (and is how I set my company up), but it took about two months of paperwork to get approved. Now, I'm on a business visa and work permit with my company that I incorporated here."
Ho Chi Minh City (Saigon), Vietnam
Two of the people I interviewed for this Lonely Planet article a few years back lived in Ho Chi Minh City and I've read dozens more that featured other people living there. As web designer and consultant James Clark says, "For US$1000 a month, you can get by reasonably well here. Some months I've spent around $800. That's with maid service, eating out for all meals, and fast internet. Getting set up to work remotely is easier than most people would think,' he adds. 'In Saigon you can land one day and be in your own apartment the next."
There's an educated, English-speaking, eager-to-work pool of youngsters here that many cite as an additional incentive. If you need to hire coders or assistants, you can meet with them regularly face to face.
Bali, Indonesia
On paper, there are so many disadvantages of living in Bali that you would think nobody would bother. From tough visas to a difficulty in getting fast internet, there are plenty of reasons to pass it by. This Southeast Asia version of paradise draws in plenty of wanderers who stop wandering for a while though. Stuart McDonald of Travelfish.org calls the island home for his business and family . He has managed to work out a visa scheme where he only has to leave the country every six months.
David McKeegan runs a tax preparation and consulting business, Greenback Tax Services and lives with his wife and two sons in Sanur, Bali. They eat meals by the water "for the equivalent of $25" and "we have a nice life here on far less money: the housekeeper is US$70 a month, same for the gardener who also maintains the swimming pool. Our babysitter is US$4 an hour and she used to work for Hyatt."
Ubud is the real center for the shorter stay crowd though, with co-working spaces and ample rentals available for reasonable prices. The overall cost of living is generally $1,500 or less even when eating out every day and drinking beer regularly.
Barcelona, Spain
Marina and Andre run the Barcelona Eat Local food tour business and are long-time residents of the city. "Free WiFi spots are available everywhere in town, there are plenty of cool cafes with delicious treats where you can work, and a range of public libraries with plenty of facilities. English is spoken everywhere in contrast to the rest of the country, the cultural agenda is amazing (plenty of free concerts, top notch exhibitions and the city is an open air museum on itself). Moreover the authorities facilitate at large the development of businesses for expats." They love the proximity to the beach and the mild weather.
Spain is not such a bargain as Portugal, but "a 70 m2 apartment in the city center cost around €700/month (in our case we have a mortgage with a very low interest rate). Public transportation costs around €10/week and there are plenty of public bikes, scooters, and car sharing options to move around for very reasonable prices. The public biking system costs €60/year!"
Lisbon and Porto, Portugal
Portugal's capital and its second-largest city attract the most location independent workers, though there are plenty more in the Algarve, in Cascais, and scattered around smaller towns. I recently interviewed Natalie Sisson after she bought a Portuguese house near Peniche, a small peninsula that's a popular surfing spot. The interest rate on her mortgage is 1.95%. "The average full-time wage in the area is something like 600 euros a month, so you can imagine that makes labor costs to get work done quite reasonable," she says.
Numbeo puts the cost of living in Lisbon at exactly half of New York City's, with the rent prices being 1/5—in a major European capital. There's plenty to keep you occupied in Lisbon. Porto is cheaper still, with lower rent prices. One person I interviewed for A Better Life for Half the Price was paying the equivalent of $540 a month for a house on the edge of the city and said you could get a two-bedroom apartment near the center for that amount that would just be "older and smaller."
Prague, Czech Republic
Once the darling of the expat scene in the pre-internet days, the city started emptying out its bohemian once prices tripled along with a corresponding rise in tourists. It's still a good value though, with many easily getting by here for $1,750 a month or less. Just be prepared for some cold winters and super-crowded summers. It's hard to stay here long-term anyway, so it's a good three-month stop in the spring or fall.
Berlin, Germany
Long a magnet for the creative class, Berlin is the priciest place on this list but still manages to be cheap enough to attract location independent workers in droves. Those who go out a lot will not find Berlin to offer half-price living compared to other developed countries, but the rents are far cheaper than you'll find in London, Paris, or Rome. Expect abundant and fast WiFi, lots of co-working spaces, and plenty of English speakers. For those involved with the arts or music, this is an epicenter where you'll find plenty of like-minded souls.
Medellin, Colombia
It's hard to watch Narcos and not be amazed how far this city has come since its dark days a few decades ago. In many ways it's the move vibrant and future-looking city in South America and its agreeable climate makes it popular with those who hate weather extremes. Check out Medellin Living for the dirt on everything from housing prices to the best nightlife spots, but know that you can live in the best part of the city for a fraction of what you'd spend in one of this size in the USA. On Numbeo's scale where New York City is 100, Medellin's rent prices currently score a 7.6.
Buenos Aires, Argentina
Like your friend with the addictive personality who has constant money problems, Buenos Aires never seems to get her act together—but she sure is a lot of fun. Argentina has gone through more booms and busts in the past century than most countries do in five, but B.A. remains most of the most interesting cities in the Americas and a hub for creative entrepreneurs. It's hard to generalize about prices here since both the exchange rate and inflation have a big impact, but most expats seems to get by well on $2,000 a month or less. Utility bills and health care are especially cheap.
Lisa Besserman, co-founder of Startup Buenos Aires, was profiled in my book and had this to say about the change in prices when she moved from Manhattan. "I pay $700 a month for my duplex apartment in Palermo Hollywood, a great neighborhood, and it's a doorman building with a pool. If you transplanted this place into Soho in Manhattan, which is a pretty similar kind of neighborhood feel, it would easily cost $10,000 to $15,000 per month."
You can get legal status here eventually, or just cross over to Chile or Uruguay every three months to renew.
Bubbling Up
These locations are not on the radar in most of these discussions, but they're showing signs of reaching a tipping point where it goes from a novelty to a scene.
Marrakesh and Rabat, Morocco
Marrakesh attracts the most tourists in Morocco and tends to get plenty of expats who settle down for a while. Others head to the less overrun city of Rabat. Max Robinson of WeSwap Euros says he knows at least 20 other digital nomads, but "there are hundreds of us living here based on chats that I've had on forums." He spends around $250 a month on rent to be right in the center. He says the average in the area for a one-bedroom apartment is around $200. Old friends and family think he's crazy but Morocco is a world away from Egypt and Tunisia in terms of security.
Morocco is very Westernized in the sense that WiFi is readily available and the public transport systems are very reliable and safe, but it is actually a very cheap country to live in. For me, this was the perfect mix of elements that made it a country where I felt I could grow an online business. When I first started I could happily live off $10 per day in Morocco and I was making around $15 per day so I was living very well! I spend 6 months of each year living there and have never faced an issue running my business. As long as I have a good internet connection and a nice mint tea I'm happy!
Mexico
Despite a 180-day tourist visa and easy access from the USA and Canada, no spot in Mexico has emerged as a hub for location independent workers. One big obstacle has been slow internet speed: until recently 5 or 10 mbps was the best you could hope for. The telecom monopoly is finally rolling out fiber to the home, however, and Megacable is providing some much-needed competition. Keep an eye on San Cristobal de las Casas, Playa del Carmen, Puerto Escondido, the towns north of Puerto Vallarta, and Mexico City—the latter having the most working expats overall. There is some entrepreneurial action in San Miguel de Allende and the Lake Chapala region, but most residents in those places are retirees.
Panama
It's wired, has great air connections, and makes it easy to get residency. So far, however, Panama has been more of a banking and retirement magnet than a digital worker one. With a dollar currency and plenty of English-speaking workers to hire, however, this could change at any time.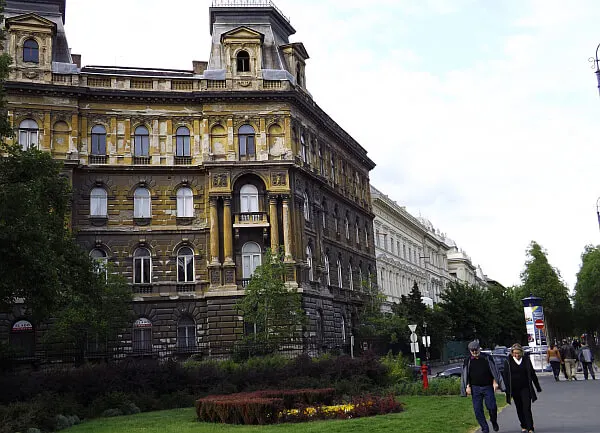 Budapest, Hungary
One of the best values in Europe on everything from apartment rentals to good wine, this centrally located European capital has attracted plenty of permanent expats and digital nomads. It's easy to get around, to find fast internet, and meet other location independent expats making this their temporary home. Winters can be rough, however, and the right-lurching government hasn't been very welcoming to outsiders who don't already look like a hetero Hungarian.
Romania
It has one of the fastest internet networks in the world, it's cheap, and it's relatively easy to get residency and set up a business as a foreigner in Romania. All it'll take is a small community to start inviting their friends for some city to break out as the Prague of the 2020s.
How about you? Have you found a great location with hundreds of other people working from their laptops? Put it in the comments below!