You Don't Have to Live With Unaffordable Housing Prices
Pity the young couple living in the San Francisco Bay area that wants to buy a house. A report in the Wall Street Journal found that 57.4 percent of homes in that city and a neighboring county were worth $1 million or more. A recent "steal of the week" in a real estate round-up I was reading featured a San Francisco condo for "just $459,000." It was a basement studio the size of a typical hotel room.
Want to know what that amount will get you on a bay in Mexico instead? A Zihuatanejo penthouse of 1,720 square feet with a pool and this view every day:
Here's what half that amount will buy you near Cuenca, Ecuador. It's five bedrooms, nearly 3,000 square feet, with lemon, plum, avocado, and orange trees in the back yard.
Even at the luxury level it's hard to find something in that city priced higher than $500k.
Stratospheric Housing Prices in the World's Hot Markets
The median price for an apartment in Manhattan passed the $1 million mark recently and the average sale price of a condo on the market is $1.39 million. You can expect to pay at least $800,000 for an average 1BR place of 750 square feet–before the monthly co-op fees. Or you could spend $185,000 instead and get this place in a prime neighborhood of Buenos Aires. The complex has a pool, barbecue area, and gym.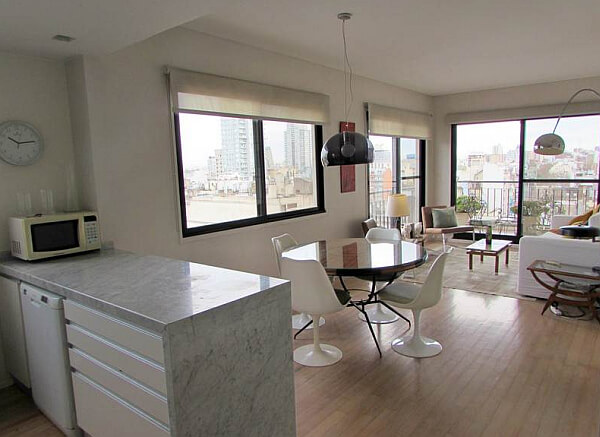 It's not just in San Francisco where prices have gotten out of whack with average wages. A study in The Economist found that 20 of the 26 countries they track had experienced inflation adjusted rises over the past year and the average increase was 5.1% after inflation adjustments. In the hot cities like New York, London, and Sydney, however, the average increase was 8.3%. Home values rose at twice the national rate in four Pacific cities: San Francisco, Vancouver, Sydney, and Shanghai. In some spots such as Tokyo and Shanghai, prices are still in a normal ratio range for incomes. In Sydney, London, San Francisco, Vancouver, and Amsterdam, however, prices are far outpacing rises in household income.
If you're already in a home you own in those cities, you're in great shape. If you bought 30 years ago, you're a poster child for the investment benefits those realtors love to tout. If you're trying to buy now though? It could go well, but you may end up looking more like the suckers who bought in 2007. For most people, real estate in a mature market is not a very good investment once you factor in the total cost of maintenance, interest, and insurance.
What's driving prices in these premier markets is the same factor that can drive your exit: purchases by foreigners. "Foreigners snap up half of London's princeliest dwellings according to Savills, an estate agent," says the Economist report. It's a similar story in Vancouver with investment from Asia. "Housing appears to be more than 40% overvalued in Australia, Britain, and Canada."
So what if you do the same, but go downmarket instead? If UK prices have got you thinking you could never buy a house in your lifetime, take trip to Bulgaria where you can pick up this house pictured here for €5,720. That's not a typo! The price is less than you'd pay for a beat-up Fiat. It's also not unusual. Check out Bulgaria real estate listings on sites like this and you'll find 100+ places going for 50K euros or less. Prices aren't that cheap in Portugal, but there are bargains galore there too, plus you get milder weather. Spain is priced higher, but they're still in a housing crisis hangover so there are plenty of condos and houses priced to sell quickly.
Pick up A Better Life for Half the Price, see which places look appealing, then go do a trial run or two. Rent a place for a year if you like it and start sorting out prices and neighborhoods. Then if you do decide to buy, you'll know the pros and cons and have a good feel for values. Counting a renovated kitchen, new wiring, and other upgrades, we've spent all-in around $110K on our house in Guanajuato, Mexico. Getting the same amount of space close to downtown where I'm currently living in Tampa would cost me…$545,000 at a minimum. That's the cheapest four-bedroom listed. Most are far more.
No thanks, I'll just rent here. The ownership part makes a lot more sense in a place where prices aren't in the stratosphere.
Want to get regular updates on this subject and tips for making the big move? Get on the Cheap Living Abroad newsletter list and you'll get a free helpful report.