14 Useful Travel Gear Items for $20 or Less
I have spent more than a decade reviewing travel gear in some form or another, six of those as editor of the popular Practical Travel Gear Blog that I sold last summer. I originally started that to highlight the inexpensive but essential gear backpackers were carrying but that no magazine was writing about. These items aren't sexy, but they're less than $20 and useful on a regular basis, enough so that they'll easily justify the (limited) weight and space in your pack.
Money Hiding Wallet/Belt/Pouch
You don't want your valuables in a place where pickpockets and thieves can easily reach them. Ideally your cash is behind several defense layers. The least secure is a neck wallet, but that's better than nothing. My favorite is the inexpensive in-your-pants version from Eagle Creek. I've been using some form of this for more than 20 years. Think of either as a cheap insurance policy. You can also find a real leather belt that has a hidden zipper on the back for less than $20. That's where you put your $100 bills.
Sink Stopper
Before you hit the road, stop at your local dollar store or Wal-mart and get a cheap rubber sink drain cover. If you're traveling light and will need to wash clothes in the sink, you can't rely on having a sink with a built-in stopper. Ask any long-term backpacker what simple item they're really glad they packed and this will be at the top of the list. You can often find these in the local markets too in cheap countries. Or add one to your cart for under $5 at Amazon.
Quality Water Bottle
There are probably 50 different water bottles you can buy, but a lot of them either don't have a wide enough mouth to insert a SteriPEN water purifier (all-important item for international travel) or they force you to bite something or suck on something (loudly) to drink from them. My personal favorite is this $15 Avex Brazos 25-ounce one with a trigger mechanism that you can operate with one hand to get a free flow of water when you want it, nothing when you don't. It has a hinged cover to keep the mouthpiece clean. I also like the Vapur bottles for countries where you can drink the tap water because they're inexpensive and they pack down flat when you're not using them.
Packable Water Bottle Carrier
Any traveler heading somewhere hot is going to be carrying a bottle of water around constantly. Holding it all the time is annoying though and a lot of small daypacks don't have a dedicated pocket for one. So whether hiking or hitting the city streets, this water bottle carrier from ChicoBag—which only costs $10—can keep the bottle slung over a shoulder instead. When it's time to pack up and head out, this stuffs down into its own teeny tiny pouch that doubles as a change pocket when in use. Unlike the woven ones you see in markets around the world, this is made from stretchy recycled PEET, so it will fit any bottle from 12 ounces to 40. Get it from Amazon.
LuminAID or Luci solar lantern
Which cheap hotels have great reading lights and bathroom lights? None of them. And if you're camping without an electrical outlet, it pays to have something that nature can power up. So I love these solar-powered LED lanterns: LuminAID and Luci. Both are inflatable, meaning you can pack them down flat when you're not using them, plus they run for what seems like forever on one charge. Great for adding to the dim lighting in cheap hotels or having a light at the ready when power goes out–a daily occurrence in countries like India and Nepal. Each costs less than $20 or you can chip in a bit more and send one to a remote villager in a place with no electric grid. See the LuminAID and Mpowerd Luci sites for more info, or get them at Amazon here and here.
Sea to Summit Pocket Toiletries Tabs

These watertight little plastic cases contain 50 dehydrated tabs that look like thin sheets of paper. When you expose one to water, it turns into whatever the package indicates: shampoo, soap, shaving cream, or laundry wash. These are ideal for light-packing travelers, campers, and those who want to keep soap in their daypack for the inevitable unsanitary restroom or one that's just out of soap. They retail for $7 or less and sometimes you see multi-packs. Get them at your local outdoor goods store or online here.
Mini Flashlight
Yeah I know, you can install a flashlight app on your phone, but it still makes sense to carry a regular flashlight (torch) when you don't want to be stumbling around in the dark with a $600 item or you just need to find your way to the toilet. A tiny LED flashlight you can fit anywhere in your bag is cool and you can find one for less than $5, but one that never needs batteries and can recharge in a laptop's USB slot is even cooler. Since most travelers are carrying around some kind of USB wall adapter as well, this can also get its infrequently needed power-up anywhere there's an outlet. This version the length of a smart phone is $13 and you can find smaller, less powerful ones under $10.
Cords and Gadget Case
Have you ever counted how many cords, adapters, chargers, USB devices, and small gadgets you're carrying around with you these days? You'll spend a lot less frantic searching time if you pack them all away together in one place. There are plenty of organizer cases out there for less than $20, especially if you don't care about the brand name.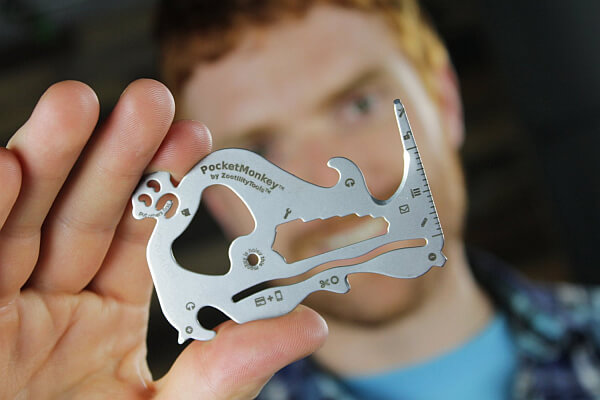 Carry-on Safe Multi-tool
A Swiss Army Knife used to be in most every seasoned traveler's bag, but now anyone not checking a bag has to leave that at home. Leatherman is now making a cool multi-tool bracelet that's TSA approved, but it's $165. I travel instead with this flat Pocket Monkey Tool, which has an oft-used bottle opener and innovative wrench.
Quick-drying Travel Underwear
It might not be the most glamorous thing to purchase, but it may be the one that gets used the most: travel underwear. Several companies make undies that are meant to wick moisture when active and dry quickly after a sink washing. This way you can pack lighter but still be good to go in a hurry when moving on to the next place. The hands-down (pants off?) champ in travel underpants is ExOfficio. Some of their models break the $20 mark for the list price, but you can often find them on sale at outlets like Backcountry for both men and women.
A Spork
Sometimes the cheapest items can be the most useful in a pinch. When you carry a spork, you always have a fork, a spoon, and maybe even a knife depending on the model. This can be a lifesaver in several situations, including countries that don't use utensils, places where you don't trust the water on that wet fork, and self-catering situations where you're trying to dive into what you bought at a grocery store. Get 3 utensils in one from the models by Sea to Summit and Light My Fire.
Retractable Cable Lock
In more than 20 years of travel, I've only been robbed twice. I credit that to a lot of different barriers I've put up, but one of the most versatile has been a retractable cable combination lock. This is really handy for cheap hotels that don't have a safe or when you want to catch some sleep on a dodgy train or bus. The cable will go through various bags and zippers with wide openings, enabling you to lock everything to a stationary pole or piece of furniture. Yes, it could be cut (what happened one of the two times I got robbed, on an Indian train through the window), but most of the time an opportunistic thief will move on to an easier target. I've traveled with a 24-inch version from Master Lock for close to a decade. If you're a couple though, this 36-inch (one-meter) one above is better.
Stretchy Travel Clothesline
A travel clothesline made from braided rubber strands or bungee cord can likely hold most everything in your backpack after a sink washing and is great for places that are short on hooks and furniture for hanging things to dry.
Mini Tripod
OK, this may be the least essential item on the list and the vain among you may choose a selfie stick over this. But if your photography faces outward more than inward, a tripod can dramatically improve your low-light shots, your action shots, and your video from any camera. The Gorillapod ones are cool because they can wrap around a pole or tree branch, but the cheapie ones pack down smaller and go for $5 or less.
How about you? What under-$20 travel gear item have you found to be the most useful?
Disclosure: This post is riddled with affiliate links that, when clicked on, my earn me enough money to buy a pack of gum or a chocolate bar. As always, you don't pay any more by going through those links than you would from going straight to the merchant site.