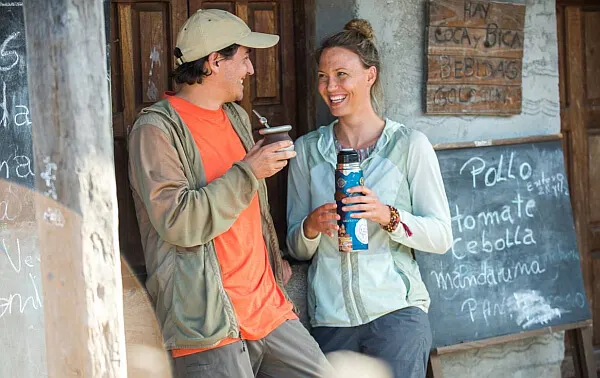 When I ran Practical Travel Gear for six years (and a few years before that alone on Blogspot), one of the brands I kept coming back to again and again was ExOfficio. They almost never disappointed me and despite me packing half my bag with their items when I travel, not a one has ever totally crapped out on me.
Some of their shirts still look new after I've worn them a few dozen times over a period of years. Despite a regimen of sink washing and machine washing, constant packing and unpacking, even the underwear has outlasted every other brand I've used. Despite usually being lightweight and quick-drying, ExOfficio clothing is some of the most rugged and durable you'll find. The only company I'd even put in their league is their British counterpart Craghoppers. I'll profile them some other time.
I intentionally stay out of cold places when I can, but I recently wore the new Ometto Travel Blazer around Istanbul the whole time I was there and really dug it. Here's a video talking about ExOfficio over the years and highlighting the new blazer and Javano quarter-zip sweatshirt.
One thing I really love about this brand is that they're not afraid to discount unsold items on their own website instead of making you go elsewhere to find the deals. If you go to the markdowns section of their site, especially toward the end of a season (like now), you can find some terrific values. Right now some fall/winter items are discounted 40-60% and if you're going somewhere hot you can find great sale prices on last summer's intros.
For ExOfficio, it's a good year whenever people are worried about diseases carried by mosquitoes. The hype and fear over the Zika virus in the tropics meant a spike in business for the company's BugsAway clothing treated with Insect Shield. This clothing looks and smells normal to us, but mosquitoes hate it because it's treated with Permethrin. You can wash these items 70 times or so before the effectiveness wears off, which is more than most people probably wash the majority of things in their closet.
Wearing BugsAway clothing doesn't mean you can leave the repellent at home—your skin will still be exposed in some areas after all—but it sure cuts down the amount of chemicals you have to put on your skin.
I recently had one male travel writer tell me he didn't like this brand because it wasn't fashionable enough, but they have gotten into more fitted, less clunky, and more colorful items over the years. Some women travelers I know who avoided them in the past have been warming up to the new styles. ExOfficio still won't be confused with the likes of Nau or Lulu Lemon anytime soon, but their prices are much better and I'd rather have something light and durable to pack than fashionable and fragile.
I think the last new item I have from this company now is at least five years old, yet despite taking at least one ExOfficio item on every trip, I haven't managed to wear anything out. You definitely get your money's worth with this brand. The clothing takes whatever you dish out in your adventures and I featured it in my post about the travel gear I couldn't kill.
See the whole line of their travel clothing at Backcountry.com, at REI, or at the Exofficio.com site.