I shouldn't have still been hungry at this point, but when the Turkish kebab plate with spicy bulgur wheat and oven-roasted bread landed in front of me, with a fresh-baked lamaçun, on the side, I had to dive in like a glutton.
Most visitors to Turkey spend all their time on the European side of the city, where most of the historic sites and hot restaurants are located. If they do set foot on Asian soil, it's when they step off a Bosphorus cruise trip for a walk around at a docking point.
Even when I lived in a suburb of Istanbul for months in my younger English-teaching days, we rarely found a reason to head to Asia unless we were going to keep going onward to Bursa or Iznik. On this, my fourth time in this great city, I wanted to remedy that. I wanted to do it right though instead of just wandering aimlessly, so I connected with a local guide for a food and markets tour of Kadikoy.
In recent years Kadikoy has become a hotspot on its own terms, a place known for tasty food and great nightlife. It's one of the most liberal parts of the city now, with raki bottles easily outnumbering headscarves. The pedestrian-only market streets have a theme of food porn overdrive, with produce and fish displays tended with the kind of care usually reserved for department store window displays. This is no elitist foodie gathering spot though. Prices are better than than supermarkets' and women of the household fill up bags with what they need for dinner or a party, from olives to oranges to the unique local pastrami.
The guide Karem rode the ferry over from European Karikoy below the Galata Tower and we got to know each other over strong tea in the traditional tulip-shaped glasses. As the ship chugged across the Sea of Marmara, we watched the Blue Mosque, Hagia Sofia, and Topkapi Palace get smaller behind us. Up ahead, the Haydarpa?a train station building dating to 1872 and the imposing Marmara University building dating to 1897 greeted us in Asia.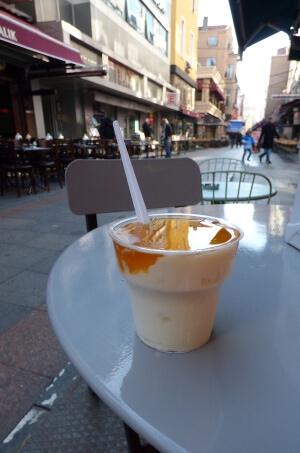 We started and ended our Kadikoy Food Tour with sweets, which was fitting in a country where skipping desert just seems downright sad. We also had fresh yogurt with a big dollop of honey from the countryside, which was simply beautiful and simply delicious.
The first savory stop was for some börek , the flaky and delicious salty cheese pastry that never seems to have the right consistency when I get it in Turkish restaurants abroad. And on those menus it's usually eight or ten dollars, whereas in Turkey it's a cheap and filling snack for a buck or two.
After browsing the nut stands, Turkish Delight stores, and spice vendors, we visited the Turkish equivalent of a Jewish or Italian deli and got a sampler platter. These places have ready-made meze appetizers such as stuffed grape leaves, hummus, and dill yogurt dip, plus a wide variety of olives, cheeses and the unique local pastrami. A nice selection came laid out on a plate with a basket of crusty bread.
Along the way my guide filled me in on some of the history of Turkish food and the traditions that have hung on in an area some have called "the Brooklyn of Istanbul." (That just has to come up for some neighborhood in every rapidly changing city, right?) One highlight that had nothing to do with hipsters or what's cool is Meshur Özcan Tursulari pickle shop. The original founder started making pickles in 1935 and the store has been at this same location since 1956. Many locals came in and ordered a variety to go, while I sampled less than a peck of pickled peppers, beets, and cucumbers from a glass full of red brine.
Eventually it was time for lunch at a local institution, Çiya Kebap. That plate at the top came from there and the photo below is the guys who are working the dough all day long and feeding it into the brick oven. I developed quite a taste for the cheap and delicious lamaçun when I lived here in my younger budget days and it's still one of my favorites. It's a simple food: minced lamb and spices on very thin crust and topped at the table with onions, cilantro, and lemon. It's the kind of thing you get a craving for later though and coming hot out of this oven it was heavenly.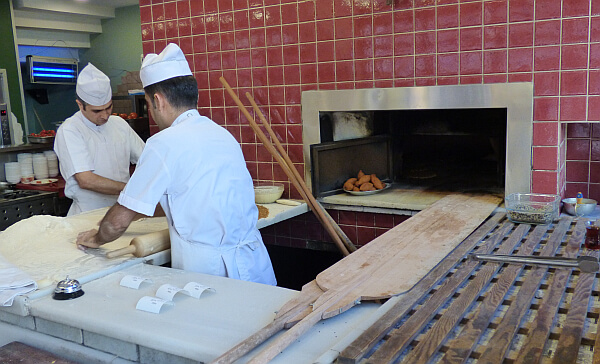 We took a walk by the tea stands by the sea and past a few remaining historic mansions wedged between the unimaginative blocky apartment buildings that look the same almost everywhere in this city. Even the high-priced ones with a sea view look to be erected by the same architect that did the ones ten streets back. There was a stronger dose of aesthetics in the Moda area, where antique stores, comic book shops, and music stores selling LPs are congregated. There's a "nostalgic tram" running up the hill between Kadikoy and Moda, "for mature people who can't walk very well," Karem said.
We ended it all with a Turkish coffee, one prepared in the traditional manner, in a copper pot over burning embers. After waiting for the grounds to settle and inhaling the aroma of cardamom, I also inhaled the baklava I'd been looking forward to since my plane landed the day before.
I barely ate that night, even after adding a couple of miles of walking from my hotel to go meet up with some friends. It was a glorious day of food in the land of one of the world's most interesting cuisines, guided by someone who knew right where to go.
I did this tour originally with Walks of Turkey, but they pulled out of the region when the climate got dicey. You can still book this—with the same local guide for all I know–through GetYourGuide. See other tours they offer below.