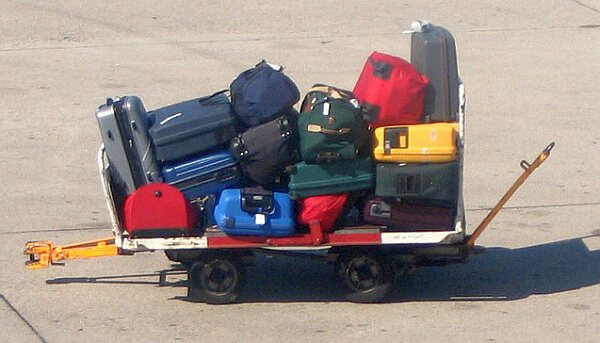 I fly a lot between the USA and Mexico and each time I need to go through customs and get my passport stamped. According to American Airlines though, flying to Mexico does not constitute an international flight when it comes to one allowed checked bag.
Well, it sort of does, but only if you fly to certain cities. Here's exactly how an American rep answered my inquiry asking for clarity.
For coach travel on American Airlines between the U.S. and Mexico (except Guadalajara, Leon, Mexico City and Monterrey), customers may check one bag for $25 and a second bag for $40 each way within the size and weight limitations.
Confusion Means More Fees
What this accomplishes, of course, is confusing the hell out of customers and tricking them into thinking they'll got a free baggage allowance when they really don't. I have flown out of Leon/Guanajuato a lot, and naturally assumed that all flights in and out of Mexico are considered international flights. But no, only those four airports.
United puts another step in the mix to surprise you into paying. If you go on their baggage fees page, you need to put in a specific itinerary to find out whether you'll be charged or not. After spending five minutes punching in city pairs, I found out their policy is as nutty as American's. Tampa to Cancun requires a $25 fee. Tampa to Leon does not. Flying to Los Cabos will cost you an extra baggage fee. Flying to one of Mexico's three largest cities will not require a fee, but flying to #4 Puebla will.
This inconsistency from United extends into Central America, where there's a free checked bag to Guatemala, but you'll get socked $25 for the first bag checked to Costa Rica. Belize bags require a fee, Panama City ones do not.
When you look at Delta's baggage fees page, the confusion goes up a further notch. There's nothing intuitive or clear about it and the exceptions part is as long as the regular part. The Mexico grab/not grab pattern we start to see is similar across these three airlines, which shows that as usual they're quite content to follow each other's spiral to the bottom in tandem. You'll pay a first bag fee to most places Delta flies, but not to Mexico City, Guadalajara, Monterrey, or Leon/Guanajuato. Central America is a mixed bag again, with a free allowed bag in six destinations, but not the others. In the Caribbean there's no charge for Jamaica, the Dominican Republic, or Haiti, but yes elswhere.
The 51st State?
It might come as news to Canada that they're part of the USA, but they are according to the baggage policies of the legacy airlines. If you look at the American Airlines baggage fees section to see what's classified as "domestic," Canada is on that list. You may think you're flying to another country, but AA thinks it's the 51st state, on par with Puerto Rica.
In theory if you have the right American Air credit card from Citi, you are allowed to check one bag on domestic flights with no charge. So if Canada is listed as domestic, your perk would apply. That won't help for Mexico though since, as the gate agent said to me, "That's not a domestic flight." It's also not really an international flight like one to Europe would be, so you're left in purgatory if you're headed to the beach, with no way to avoid fees.
When I mentioned all these inconsistencies on Twitter, @AmericanAir replied back that all I had to do was look at their baggage fees page. But that page doesn't have the Mexico exclusions. It also says Guatemala flights require a baggage fee, which didn't come up in the system when I flew to Guatemala and back a week ago. I checked with someone I know who lives there and she said, "I've never paid a baggage fee on any airline out of Guatemala and I've flown on all of them."
What's the Solution?
The most obvious solution is to avoid the airlines that force people to travel with a carry-on (or reach a high elite status) in order to avoid extra fees. This is a leading indicator: these same airlines are usually going to charge a family to sit together and do other insidious things to extract more money from you. There's a reason these companies show up at the bottom in surveys of customer satisfaction and why they're lucky to even break the top-50 of top airlines around the world. Their practices are also why so many people look at flying as the most unpleasant part of their vacation—or a reason to drive to a vacation spot instead of traveling abroad.
Give your business to the foreign airlines like Copa, Aeromexico, Interjet, and Avianca when heading south, or cheer the continued expansion of Southwest. On these airlines the boarding process goes much faster since people have checked their bags with no fees and the service is usually better too.
The only other way to consistently avoid these fees if you're flying with a legacy airline is to pack light and join the throngs trying to shove everything in the overhead bins. As you've probably noticed, half the time that means your bag gets checked anyway at the gate because there's not enough room for all the baggage-fee-avoiders. Buy lightweight clothing that can be sink washed, make sure all your clothes can go with each other, and choose double-duty footwear. (See more details here.) Would you rather buy new shoes, or give that money to a corporation trying to extract more and more extra fees?