If all the luggage and apparel in your closet is six, eight, ten years old or more, it's ancient. It's time to update your travel gear.
I'm all for using things until they completely wear out, but the leaps forward in technology in the past few years mean that your circa 2008 backpack or waterproof jacket is the equivalent of a clamshell flip phone compared to what mobile technology you could be carrying in your pocket today.
Overall, most of what you buy now in your outdoor gear store weighs half as much, is twice as strong, and is more packed with features than anything you could have gotten just at the beginning of this decade, much less ten years ago. You've also got far more options that are stylish and not just functional.
There's such intense competition in the outdoor goods industry now that anything that doesn't wow people is banished to the clearance racks a few months later—if it even makes it that far. (Some "next spring season" shoes I've looked at during the Outdoor Retailer Summer Market have disappeared before they even got to stores because there weren't enough orders from wholesale buyers.)
Earlier this month I went to the 2015 Outdoor Retailer show and it may be my last one. That's because I just sold my Practical Travel Gear site to free up some of my time and it's now in new hands. I usually do a trends round-up on there with what's on the way for next spring and summer, but this time I'm sharing it here instead. Here's what's in store for travel gear and apparel soon. The general trends though are a continuation, so even what you buy on sale at REI right now is going to be a vast improvement on what you have now if it's old. Just wait a few months or buy out of season to get big discounts.
Lightweight is the New Normal
The new 777 Minimus jacket from Montane is a fully waterproof, breathable, 3-layer jacket that stuffs down into a little pouch. That's not so unusual these days, but here's the amazing part: it weighs 4.9 ounces, or 140 grams. Don't need the waterproofing? Then they make the windbreaker pictured above that's just 1.7 ounces. That's less than a granola bar or a Bic lighter.
Jackets have been getting lighter each year while at the same time keeping you warmer and drier, thanks to advances in technology and fabrics. The same goes for shoes. It's hard to even find heavy hiking boots these days unless you're going for the all-leather and thick soles kind meant for covering hundreds of miles with a big pack on your shoulders. If you're just using them for light hiking or travel, most now weigh roughly the same as a pair of sneakers. And they're not all brown or black.
The technology advances are probably most evident however in luggage, where my suitcases from five years ago seem downright clunky compared to what you can buy now. We were doing this "pinky test" throughout the show floor and brand after brand easily passed it. These days if a suitcase—even with wheels and a handle—weighs much more than 8 pounds, it's probably a lousy brand. The Eagle Creek ones pictured here are way under that.
Comes With a Flashlight!
I started Practical Travel Gear as a place to review items that real travelers would buy and pack. So from the start we focused on multi-functional, double-duty gear that would get used often and was worth the money. The market has now embraced that ethos wholeheartedly I'm happy to say, partly thanks to advances in technology and materials—especially low-power LED lights.
I must have heard, "It comes with a flashlight" or "It's also a lantern" at least 30 times in three days of meetings, and that's a good thing. Since it's so easy and cheap now to add a couple LED bulbs or multi-function tools, items that do just one thing are getting more and more rare. You'll find lights included now with knives, battery packs, tents, and the strap you put around your pants leg when riding a bike. This little $50 gadget to the right is a phone charger battery pack, a flashlight, and a hand warmer.
Shirts and pants with a built-in lens cleaner, RFID shield pocket, and hidden zip pockets to thwart pickpockets. These Nau Acoustic shorts I reviewed recently also come with a pull-out cloth reflector tape in the back pocket.
Multiple items now come with a bottle opener built in, including the cool Stanley insulated pint mug that's meant for brews in the great outdoors. That's a travel gear update I can really get behind.
This little gadget from Nite Ize is a wallet/money clip that does a whole lot more.
A company called Sondpex was getting a lot of attention with its big cooler that had a full-blown remote controlled Bluetooth stereo built in, as well as a tablet/smart phone protected compartment, a phone charger, a bottle opener, and yes, a detachable flashlight! Oh, and it hold 48 cans or 24 bottles inside.
Travel Clothing with Function AND Style
For eight years I've been writing about multi-functional clothing and shoes that could make the transition from hiking trail to city streets to the bar. After all, if you're packing light or traveling around the world. you can't afford to waste space on specialty items. When you update your travel gear with these items, you'll pack lighter on every trip.
Now the big brands are all talking about "trail to pub" and "outdoor lifestyle clothing" like they've finally woken up to the fact people don't buy a closet full of specific clothing for specific tasks. This is partly driven by the demographic that is spending the most on new apparel. They want the look and the lifestyle of outdoor adventure, but in the context of group fun and social sharing. They want to look good when they're snapping that selfie at the top of the mountain.
So now travel clothing comes in the same wide range of colors and patterns you find in any other clothing and is finally getting downright stylish after years of baby steps in that direction. You see it in the always-cool brands like Nau and Prana, but there's also been a sea change in what's on offer from the likes of ExOfficio, Craghoppers, Columbia, and Patagonia. If you've been scornfully saying "I don't like travel pants" for a decade now, it's time to take another look.
Camping ? Roughing It Is Not Rough
It feels to me like this is the year when camping gear makers are finally admitting the obvious: most people are not using camping gear to isolate themselves from everything in the middle of nowhere. They're going somewhere in a car, carrying their gear a short distance, and then having fun in the fresh air. Just because they're going into the woods or staying at a campground doesn't mean they're leaving their phone or tablet at home either.
This year the camping displays were actually fun to browse instead of making me think I'm supposed to be suffering outdoors at high altitude while on some epic adventure. There are some neat collaborations going on between Goal Zero and Big Agnes tents where solar panels are charging batteries used for LED lights, lanterns, and speakers.
Stanley and GSI make all kinds of easily-packed items to launch a party on the peak. Tents now routinely have flaps for tablets and Sierra Designs had the brilliant idea of making a "lantern pouch" in their tents which just requires you to insert your headlamp.
More and more, that headlamp (and any camp lantern) comes with a rechargeable battery too, so with those solar panels, you'll never run out of light. Another collaboration from Goal Zero pictured to the left: a Gregory pack with a built-in solar unit that charges while you hike.
Tents are now far easier to set up than they used to be and are lighter. Sleeping bags have gotten lighter and less bulky if you go for synthetic fill, but at the other end of the scale companies are wisely taking the focus off weight and going for comfort. The car camping crowd doesn't care much about a few extra ounces. They want something comfortable. So new ones are roomier, have arm holes, maybe a pillow, and can be integrated with a cushy sleeping pad.
Packs Down Small
We've long had jackets and daypacks that stuffed into a pouch for easy packing, but until recently few companies seemed to realize that many people live in apartments with limited storage space. Not everyone has a two-car garage and a basement for keeping a collection of luggage and gear.
There's a renewed emphasis now though on gear that expands when needed and packs down when not needed. Those lightweight wheeled duffel bags at the top are a great example and we're now seeing some actual suitcases with a handle that get much smaller as well. Like the largest one in this photo, from Granite Gear.
I saw a stylish camp stove from Primus that packs into a small case while most of the new cooking utensils are made for preparing good meals, then collapsing or nesting together for storage and carrying.
And hey, you can buy a kayak that folds down into a suitcase.
I wrote about the Oru kayak a couple years ago on this blog when it was first introduced and now they have some new models beyond the original.
There are also inflatable or in-pieces kayaks and paddleboards that can "fit in the back of a Prius."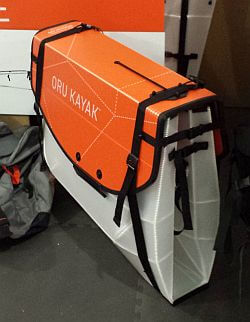 Alas, there was one development from this year's OR show that bummed me out: Cushe is kaput. One of my favorite shoe brands is being shut down by its struggling parent company Wolverine, despite its distinctive style and strong fan base. There are already some deep discounts online and if you keep an eye out, those discounts will probably get deeper and deeper as the year goes on, at their site and elsewhere.
Always remember though, don't be enticed to buy travel gear you don't really need. If it's just going to sit in your closet or be dead weight in your pack, you'll be cursing the purchase later.