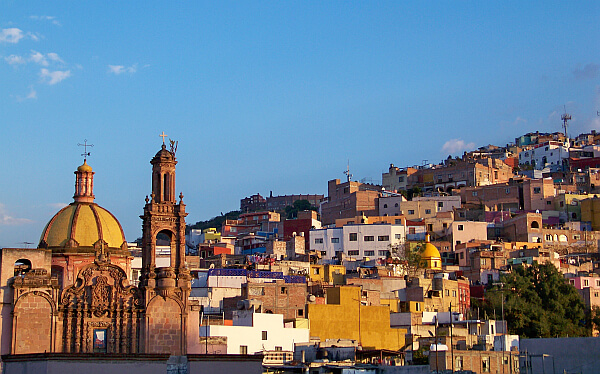 So…why did you decide to move there?
It has become so predictable that I could just make a recording on my phone to play back when people ask. The question is always the same, their struggle to ask without seeming rude so clear on their face.
Occasionally it's a well-traveled person just asking what made Guanajuato speak to me—why that particular place out of so many to choose from in Mexico alone? But usually it's a baffled person trying to express a subtext: Why would you leave the USA (or Canada) and move to a less developed country on purpose? And with your family? What were you thinking?
I patiently go through the script about how inexpensively we live, the lower stress levels, the ability to spend more time with friends and family, the ability to just go out and enjoy life more, the fact that we don't need a car here in a city where most streets are pedestrian-only. I can communicate in Spanish now and my daughter is truly bilingual.
But often it's a fruitless exercise. Their eyes have already glazed over by sentence two, like a robot saying, "Does…not…compute." Moving somewhere in another country when you're not even retired, without any job or family reason, is just, well, insane! Even if the weather is close to perfect all year and this is the view when I look out my window:
That's okay though. I understand. There may be a few million of us Americans and Canadians living abroad, but that's a tiny fraction of the total population. When we settle down somewhere exotic sounding, we run into dozens, hundreds, maybe thousands of others just like us. So it starts to feel normal. But reality is we're a small minority. We may add up to the population of Connecticut, but the population of that state is smaller than the number of yee-haws just in Houston. For now anyway, we're a fringe movement.
I'm quite okay with being on the fringe though. I work for myself and take time off whenever I want. Unless my family is calling, I never have an urgent need to consult my smart phone. I've got no boss to answer to and no time clock to punch. I'm Anti Fragile. Let those with "normal" lives stress out over their bad boss, infrequent vacations, commutes in traffic, and office politics. Plus I just like living in a place that surprises me, where I can see something like this every year at the beginning of November.
Alas, all good things must come to an end. In total I've lived abroad roughly five years in three countries, this last stint two years in central Mexico. It's always been great for our finances and I always regret returning to the land of consumerism and 24-hour noise dressed up as news.
In late July though I'll be back in Tampa, Florida for one reason only: so my daughter can finish high school in the USA. Who knows if she'll participate in the ever-more-expensive scam known as college, but if she's going to have a chance at that option she's going to need to go to a better high school than we can send her to in our Mexican city of 150,000. So I'm being a good dad and biting the bullet for her future.
At least I'll have really fast internet again. But sorry, that's not reason enough to spend twice as much money each month on bills. Nearly every other quality of life aspect of our lives will decrease and most of our costs will rise significantly. So as soon as we're able, we'll return to the house we own in Guanajuato and go back to living the good life for less. Whether anyone else gets it or not.
If you'd like to learn more about how to cut your expenses in half while having a less stressful life as a byproduct, check out the expat stories from A Better Life for Half the Price.