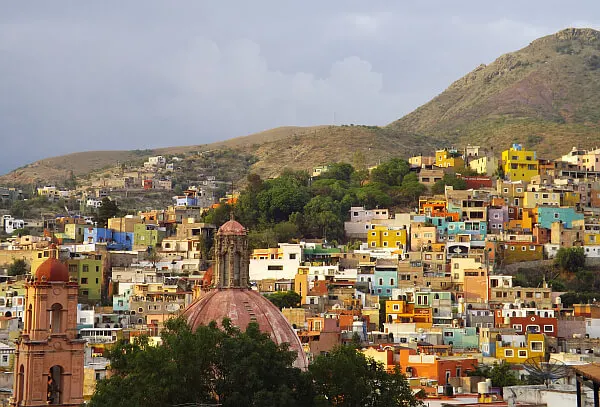 Finding a short-term apartment to rent is very easy these days. Finding a place to rent for a year isn't all that hard either after arrival. The in-between option can be a little tougher. Here's a question I seem to get at least once a month about where I live in Guanajuato or for places in my living abroad book, this one pulled straight from the blog comments:
Can you recommend a place to stay for 30-60 days? Thank you.
No, I really can't. Sorry. I'm not a real estate agent or landlord and I work full-time. I can't be your shortcut to find local accommodation for a month or two. I can tell you where to find cheap accommodation for a month or longer, but then it's up to you. If you want a decent place to stay for a decent price, anywhere in the world, you'll have to do a little work. I have some ideas for you though.
If you have loads of money, it's very simple. You pull up the vacation rental sites, pick a place, and you're done. Most of them that are not a primary residence list a cheaper price for a monthly rental than they do for a weekly one. If you're not loaded though, you have to invest some time to find the right rental place for one to three months. Here are your options to find local accommodation for a month or more.
1) Start with the obvious: vacation rental websites.
If you're in a hurry, you want a wide selection, money is not tight, and you want to set everything up from your sofa with a laptop or tablet in hand, just go to a vacation rental site like VRBO or Airbnb and book something. Sure, you'll pay way above the market rate, but it's very easy. If your time is worth a lot, just do it and get exactly what you want.
If you go beyond these entrenched players, there are plenty of regional agencies that specialize in longer-term rentals, so you're not seeing places rented out for a weekend and for two months in the same place. I used one of those that only serves Bansko, Bulgaria and got this great apartment for 260 euros for an entire month, plus about 17 for the electricity, billed afterward. Mine was kind of a splurge too in order to get more space. Many residents I met there were paying €200 or so per month. See their current listings here.
So it can pay to check the local Facebook groups or co-working spaces to see if there's something like this in the place where you're headed. Supplement that with some searching that goes past the first page of results on Google, Bing, or Duck Duck Go.
If you're a salaried remote worker who can spend more, there are lots of agencies in Europe now that specialize in monthly stays without a long-term lease. One of the biggest is HousingAnywhere and it operates in more than 50 countries, with a lot in Europe. If you go to this sample page you can find dozens of options for accommodations in Rotterdam ranging from €400 a month for a private room in a house to full apartments from €550 to €1,650–the latter for 3 bedrooms. Nearly all are furnished and include utilities. They do charge a 25% fee on the first month's rent (capped at €25o max), so you'll probably want to use this for more than a month.
2) Negotiate a longer-term deal via the rental websites.
On my YouTube channel, I have one video showing apartment rental costs in three cities in central Mexico, with tours of them. Then there are some older videos with some apartments that various friends of mine have rented in the city where I live. I put these together originally for the people in my Cheap Living Abroad Committed and All In groups to show what the typical costs are like in central Mexico.
But the other purpose is to show what you can negotiate in advance or find by just showing up. Two of the houses featured for $500 a month were booked through Airbnb or Vrbo. These people didn't pay list price though. They offered the landlord a deal for a longer period and the landlord took the "bird in the hand" option so the place wouldn't sit empty.
You can still find a nice apartment in central Mexico for $500 or less if you look around and in many parts of the world, it's fairly easy to find a cheap apartment for rent for a month, three months, or a year at that price. It'll be nice too if you're in one of the countries featured in A Better Life for Half the Price. If you step your budget up to $750 or $800 per night, you'll be in great shape, including in some major capital cities such as Buenos Aires, Quito, Budapest, Tirana, Istanbul, Tbilisi, Kuala Lumpur, or Bangkok. (See more on the cheapest cities to live in here.)
3) Get the word out after arrival.
If your budget is the main concern, it's almost always cheaper to line something up after arrival than to try to do it in advance. Most of what you see online—especially in English—is geared to tourists coming for a short vacation. What you find for rent after arrival, via people who may not speak your language, will be priced much closer to the local market rate.
Get a short-term apartment or cheap hotel and then start telling everyone you run into that you're looking for an apartment for rent. Jason in that video found his this way, through someone at the school where he was taking Spanish lessons. Others have found cheap monthly stays through a person they met via an online message board. Still others via a random friend of a newfound friend.
4) Check the local classifieds.
In much of the world, print media hasn't become so irrelevant as it has in the USA. Apartment ads still show up the old-fashioned ways: in local newspapers and in printouts stuck to bulletin boards. Try Craigslist anyway in case, but it's better to grab a dictionary or app and start searching ink on paper.
To find local accommodation in these places, you may need to enlist a local who has some skills in your language, but there can be a huge payoff. There's a little weekly paper here in Guanajuato called Chopper that has loads of apartment and house rental ads for $200 to $600 per month, furnished with utilities. There are for rent flyers up in local coffee shops, restaurants, and bars. Your options expand exponentially when you give up the idea of trying to do everything online.
Understand though that most landlords advertising this way want a year-long commitment, so it's not the greatest for monthly places to stay. Still, it's worth a try, especially if you're willing to pay a bit more for something shorter. Or if you're in a college town, a resort location, or a place favored by digital nomads, so the landlords are used to rentals that don't last a whole year.
5) Keep an eye out for signs.
Nick and Dariece from Goats on the Road were about to give up on the Mexican seaside town of San Pancho because after doing all the above, they were striking out. In a small town with a lot of expats, they were having trouble finding an apartment or house they could rent for months at a decent price. After three days of searching, they had started talking about where else they should go instead until one day they took a different walking route and saw a for rent sign in Spanish on the side of a building. They worked out a deal and stayed for two months.
This pic above is from one of my walks around where I live in Guanajuato. This is a common way for locals to advertise that a place is available. They want you to call and then they'll want to see you face-to-face. Only then will they let you rent their house. So shower and put on a clean shirt!
6) Become a permanent hotel guest.
My buddy Ellen Barone has been in my town here for almost six months and where she and Hank stayed is in that first video above. If you ask them about their best deal ever though, it's when they got a huge suite (1,400 square feet, with a dining table for six) in a hotel in Granada, Nicaragua for less than $20 a night. With breakfast for two. The owner was willing to give it to them for so cheap because it seldom got booked at the regular price (listed at $150 a night in low season) and they were going to commit to it for three months, paying in cash.
In popular parts of Asia, like Chiang Mai and Saigon where lots of digital nomads live, there's already a whole system in place of short-term furnished rentals for expats. Some are like hotel rooms with a little extra room and daily maid service, some are apartment buildings full of short-term rentals. James Clark, one of the digital nomads I interviewed for a Lonely Planet article, says he lands in Saigon, gets a hotel for one night, and then has a place to live for months set up within 24 hours.
If you start doing the math, renting an apartment for $900 per month comes out to $30 a night. In many markets, you might be able to rent a hotel for a month for less than that. No worries about cleaning, a deposit, utilities, or security.
7) Do a home exchange.
This doesn't work if you're a homeless vagabond, but if you're normally grounded in a home and you just want to spend the summer in Spain, for example, you can sign up with a home exchange website and find someone who would like to trade places. Naturally, this is a lot easier if you're in Manhattan than if you're in Oklahoma City, but if you're a little flexible it can be done.
If you own a vacation home it's even easier. You can do a "non-simultaneous exchange" where the weeks don't have to match. For those who have an asset to trade, this can be the cheapest way to stay somewhere for a month. I've done it multiple times already using our home in Mexico and this is ideal for digital nomads who can work anywhere with their laptop.
8) Become a house sitter.
I know quite a few permanent travelers who find their home base via Trusted House Sitters or some similar site. In exchange for watering plants, taking care of pets, or just making the place look occupied, owners will let people stay in their house for free or close to it. Sometimes they'll even provide a car or bikes to use.
The big international sites can be quite competitive, so keep an eye out for more specialized or regional house sitting sites. There's one called House Sit Mexico that could work for us since we live in that country and are location-independent. It is easy for us to move our virtual offices to another location for a while.
If you're short on cash but you're willing to put in some time to do what's needed, being a housesitter is ideal if you need a place to stay for a month for free. Or longer!
9) Get Creative for a Place to Live
These are a few of the options to find a place to stay for a month or more that doesn't involve taking over someone's sofa. But there are plenty of others, like long-term RV parks that a lot of snowbirds use in the Baja Peninsula or long-term travelers use near national parks. There are homestays, college dorms for rent in summer, and other offbeat possibilities.
If you're willing to invest some time volunteering or you're willing to trade work for accommodation, you can look into barter options like farm work, teaching, NGO work, and helping out at hostels. These can result in places to stay for a month, for three months, or a year even if they like you.
It's not impossible to find local accommodation for a month or more for an affordable price, but it may not be as simple as pulling up choices online in English and clicking on your favorite. You may have to invest some time to avoid investing a lot of money.
How has it worked out for you in finding a place to live for more than two weeks, but less than a year?
This post on finding places to rent for a month or more abroad was updated in December of 2022.
Keep up with what's new on this blog by receiving new post updates by e-mail. Or if you're interested in moving abroad, get on the Cheap Living Abroad Insiders list.