It has been quite a while since Istanbul was anywhere close to being the cheapest major city in Europe. It can still be a great value though if you do it right.
Turkey has come a long way since I lived there in the mid-90's as a young English teacher in the midst of backpacking around the world. Back then the skies of Istanbul were filled with so much coal smoke that the sun was a rarity in the winter. When we would go to exchange our Turkish lira for dollars, we would be lira millionaires and the rate could go down several times in one day. The destination was so cheap that it had no problem making the first edition of The World's Cheapest Destinations and it squeezed into the second one because it was still far cheaper than most of Europe.
Those days are long gone. Turkey is a powerhouse on the economic stage now and Turkish Air fliest to more destinations around the world than any other airline. When I lived there we would see a smattering of foreign tourists at the sites around Sultanhamet in Istanbul and barely a smattering elsewhere. Now Istanbul alone gets more than 12 million foreign visitors a year. If you believe Travel + Leisure, the Grand Bazaar is the most-visited tourist attraction on the planet. There's talk that the city could pass Paris this year in sheer number of tourists.
So the days of coming here as a shoestring backpacker and getting by for next to nothing are no more. There are tactics that will make it more reasonable, however. Plus with the Turkish lira being around 2.5 to the U.S. dollar as I write this, like the rest of Europe this is a good year to be going.
1) Choose carefully on where to stay
The first thing to realize is that accommodation can cost you a lot here, but it doesn't have to. Hostel prices are pretty much in line with a lot of other not-too-crazy big cities, like Lisbon and Prague, at around $13 to $22 per bed in a room with 6-10 bunks. Couples or triples are often better off getting a cheap hotel room instead and splitting the cost. Better yet, tap into the fact that apartment rentals in Istanbul are far more reasonable than hotels are overall. I ran a check on Wimdu for Istanbul rentals and found these:
– 1BR 45 square meter apartment in heart of Taksim (pictured below) with washer and balcony: $54 per night
– Studio 30 square meters in Sultanahmet with washer and TV: $28 per night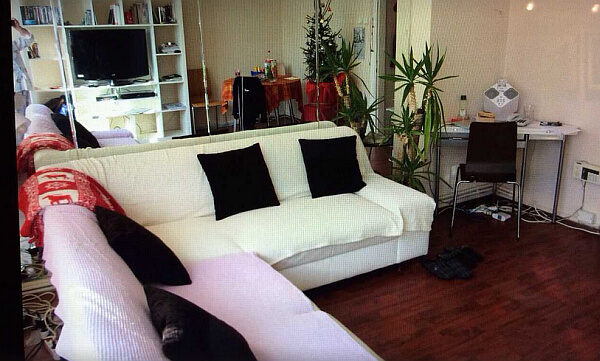 This article is about traveling cheaper in Europe, but you can actually save in Istanbul by staying in Asia. That's not as big a deal as it sounds: you just cross the Boshphorus waterway. Do that and you could get a deal like this:
– 2BR, 90 square meter apartment in Kadikoy elevator building with A/C, big TV, washer/dryer: $124 per night up to 5.
– 2BR, 1 bath, 100 square meter more basic apartment in Kadikoy: $88 per night sleeps 4.
– 1BR, 60 square meter modern flat with dishwasher and washing machine near ferry stop: $45 per night
2) Choose your attractions even more carefully
The government of Turkey has socked it to the tourists as hard as they can when it comes to entrance prices and the tourists have kept taking it. With so many cruise ships docking here and so many short-vacation Europeans and Middle Easterners popping in, there's not much economic sense at work. Since the number of visitors keeps climbing year after year, they can keep raising prices without any adverse effect on the number of museum tickets sold. Every place is still crazy crowded. So what do you really want to see in this great historic city? What you do you have your heart set on?
With a multi-pass costing 85 Turkish lira ($34) for 72 hours or 115TL ($46) for 5 days, you'll probably not want to spring for this if you're on a budget. However, Topkapi Palace can be $20 if you do everything and Hagia Sofia is nearly $12. Just seeing the mosaics of Kariye Chora Church can cost you $6, as will the underground cisterns. Take your time and figure out what's going to be memorable. And remember there are plenty of other mosques besides the famous blue one…
3) Use public transportation, preferably off the roads.
Traffic in Istanbul is horrendous. There's no way to sugar coat the problem and rush hour is more often than not. Avoid it at all costs by taking the metro ($1.60) or a tram (70 cents). A taxi from the airport will cost you at least $15, but if you get the express bus it's more like $4.
Getting to the Asian side or up the Boshphorus is often best done on a boat, which again keeps you off the clogged roads.
4) Drink tea
The conservative government has been in power quite a while in Turkey and they have make their presence felt in many ways when it comes to drinking. Alcohol is heavily taxed and just staying open when people want to go out is a major challenge for bar owners. Raki and Turkish wine used to be dirt cheap here and beer was pretty reasonable. Now a night of partying can really cost you. It pains me to say this since I had so many fun nights in the good old days, but now you should drink in moderation or plan to do it at home. Or drink tea.
5) Snack like a Turk
In almost any place, "eat like a local" is great advice for those on a budget. But here it's even more vital. Restaurants geared to tourists are really pricey, even if they don't look like much. Find the back alley places the locals who aren't in suits are eating at. Or get doner kebab sandwiches, semit snacks, and cheese borek varieties when you just need to fuel up. There's a lot of good Turkish street food.
For the latest prices you'll probably encounter in this great city, or at least a general idea, see the Price of Travel page for Istanbul.