Snag the Cheap Flight, Then Go Elsewhere
It's a given that if you want to go to Antigua, you must first fly to Guatemala City. If you want to go to Granada, you must first fly to Managua. For the Grand Canyon, you will probably fly into Las Vegas or Phoenix first. So why do people forget to think beyond the gateway when looking at flight prices for other destinations?
When talking with other travelers, especially the kind who take short vacations instead of long journeys, I often run into a curious mind block. They think of a destination as being where the airport is, and can't get their head around the fact that you can easily travel elsewhere—without being on an organized tour.
I'll say something like, "You can get a cheap flight to Cancun and then just take a bus to Merida and beyond."
"Whaaaatt?! How would I do that?!" is a typical reply, like I've just told them they have to navigate a giant obstacle course.
I've heard people say they haven't been to Place X because the flights there are expensive, yet they could fly to the city two hours away in another country for hundreds of dollars less and cross over. They just can't fathom how to connect the dots.
I found this odd in the days when all that info was available in guidebooks, but I find it even stranger now when a properly worded search query can turn up instructions after a few clicks. Sure, you may have to take a taxi to a bus station, or make your way to the shuttle window in the airport, but it's akin to level 3 of Candy Crush, not solving a calculus equation.
Savvy long-term travelers know to always "look for the second right answer" as Roger Van Oech said in his creativity books. Just because you grab a cheap flight to busy San Jose del Cabo airport doesn't mean you have to spend your vacation in expensive Los Cabos. You can take a bus or Interjet shuttle at 4:00 and be having a sundowner in La Paz a few hours later. The next morning you can be swimming with whale sharks or be on an excursion like this: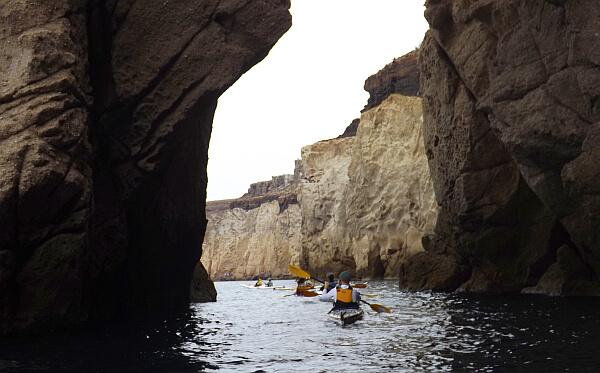 Snagging a cheap flight to Cancun doesn't mean you have to spend more than an hour in Cancun. Take the airport shuttle to the bus station downtown and you can be off on your own to somewhere amazing. And the prices in that somewhere else will be a better deal too.
If you're fortunate enough to live in Europe, you've got some crazy cheap air options to choose from. I pulled up May 16 at random on Google flights and here are just a few of the one-way options, in U.S. dollars.
Lisbon ($69)
Athens ($78)
Bucharest ($48)
Istanbul ($110)
Marrakech ($64)
Split ($71)
Palermo ($70)
Rome ($47)
I'm practically salivating looking at that. Yeah, some are on budget airlines so you'll have to pack light and cough up some fees, but you could justify a spontaneous getaway at those prices. So what if you don't want to go to Bucharest, Athens, Marrakech, or Lisbon? Snag the cheap flight and then you can easily go overland to a dozen fantastic places.
Take a bus, grab a train ticket, or just rent a car and hit the countryside. If you've already been to Lisbon twice, don't ignore the bargain flight. Head out to Alentejo or somewhere else. If you see a $424 round trip from Toronto to Lima like I saw today for May, grab it! Head to Paracas, or Trujillo, or Arequipa.
You can stay in that international gateway city if you would like, of course, but you don't have to.