Quetzaltenango, in Guatemala, has a name that seems ready for tales of exotic travels and interesting experiences. I didn't have any pre-set expectations before I got there, but I did expect it to at least be a place worth hanging around for a few days.
Well…not really.
As I've found in so many places round the world that are jumping off spots to adventure activities, calling Guatemala's second largest city "not very attractive" is being charitable.
Xela, as it's more commonly known, is often described by the Guatemalans who don't live there as grimy, run-down, and messy. There's a historic center, yes, but it's small and has a strange mixed bag of building styles. If something collapsed after an earthquake (not uncommon here), something contemporary and purely functional went in its place. Sometimes it fit in, usually it didn't. The church in the main square has a historic facade, but it's like a movie set piece just for show: it's not even connected the real church behind it. I took six photos total in the center and this is the best one I managed: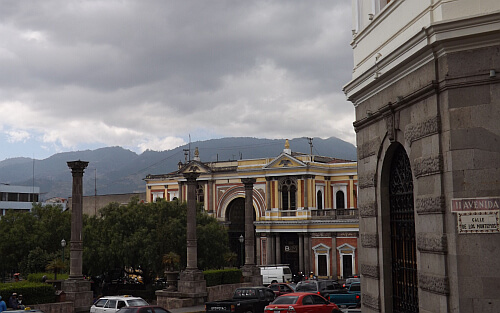 The reason you go there has little to do with any of that though. You use this city as a home base to explore the region around Xela. You do some serious hikes up serious volcanoes. Or you go hiking to that crater lake pictured at the top of this post.
Or you go biking through the countryside and end up at the oldest church in Central America:
Perhaps you drive through an area filled with small little farms all growing different crops and end up at these fabulous hot springs, Las Fuentes Georginas:
Adventure Towns are Just the Base
This situation in Guatemala is not uncommon. Have you ever been to La Fortuna in Costa Rica? It's a mess. But you have Arenal Volcano in the background and you get to pick from dozens of fun activities like this:
Have you heard of Uyuni, in Bolivia? It's a dump with a capital D, but it's where you need to go if you're going to the famous salt flat.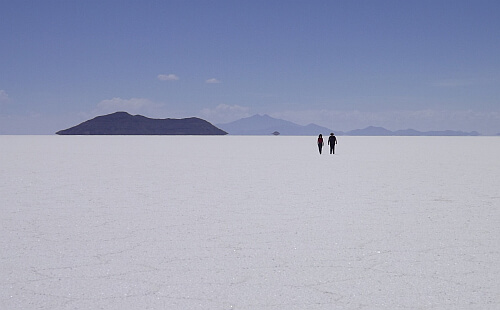 Ciudad Valles in San Luis Potosi state of Mexico is not a place you would stop in normally, but from there you can do all kinds of crazy adventure activities.
This is not just true for the Americas. Even the worst hack travel writer is not going to call Krabi's Ao Nang in Thailand "charming." Nor most of the places you'd do a volcano hike from in Indonesia.
In Africa, the jumping-off places are seldom where you want to stick around for long. Like the capital of Botswana, Gabarone. You usually have to fly into there though to get to somewhere like this:
So hey, suck it up and understand that where you'll be spending the night before and after your great adventure may not be the highlight of your trip. But here's what I've found in my couple of decades of travel: the towns and cities that are bases for adventure tours usually have plenty of beer. And at least a few good places to eat.
Find info for Xela (Quetzaltenango) on the Guatamala Tourism site or the website of the local English magazine XelaWho.