Most of Western Europe is tough to pull off as a budget traveler and despite the economic crisis, Athens is still not a bargain on the level of Sofia or Budapest. If you plan it right and take your time, however, you can stretch your money much further here then in many popular capitals to the north.
Accommodation in Athens
If you search for Athens on Hostelbookers, you'll find loads of dorm beds in the $10-$20 a night range, which by EU standards is quite good. And these are places in convenient locations, not in the outskirts. If you search a regular hotel site like Expedia or HotelsCombined, you can find central Athens double hotel rooms for less than $50. I paid that amount for a place right off Syntagma Square, a block from the bus I needed to take to the airport in the wee hours. It wouldn't win any style awards, but it had fast Wi-Fi, a hot shower, and an elevator.
That value proposition extends all the way up the chain. As someone from Visit Athens said to me, "a 5-star hotel here will cost you what a 3-star hotel does in France or Italy." If you want to rent an apartment, you can find an even better deal. While Greece isn't all that cheap , it's housing is proportionally less expensive than other things locals spend money on. So you can find an apartment for two for $50 to $70 per night pretty easily and have a kitchen and more space. But you can really get a great deal if there are four or six of you. This great kitchen below is in a place that's $138 a night and has two bedrooms.
Transportation
This city is a dream to get around by subway and it's not going to set you back too much. A trip all the way from the airport to the center is 8 euros, or you can take the express bus (like I did on the way back) and that's €5. Getting around locally on the metro is €1.20 adults, half that for students. Passes can make it even less: one for an entire month is just €30.
Taxis are a bargain by European standards, despite fuel that's $8 a gallon. The flag drop is €1.19 and it doesn't tick up too fast after that. From the airport to the center is is fixed €35.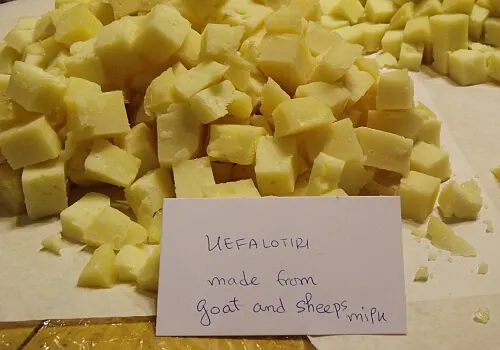 Food & Drink
I didn't have as much experience with this as I usually do as I was at a conference and related events much of the time, but you can find a souvlaki lunch with a salad for as little as two euros and there are loads of sandwich and snack places serving up something filling for €2-3. For a quick hunger killer you can get a koulari (semit in Turkey) sesame bread ring for half a euro or less. In general, basic worker places are going to seem on par or cheaper than what you would pay in the U.S., but nice restaurants can be all over the map. You"ll find plenty of good finger food for a picnic though, like Greek cheese, olives, and bread.
You can grab a beer at a kiosk and drink it on the street for one euro, or pay €2-4 in a bar depending on size and atmosphere. Wine is a real bargain in stores, with good bottles going for €5-12, but in a restaurant you'll probably be ordering house wine by the half liter or liter and paying about the same.
The cheapest options are distilled tsipouro grape liquor (Greece's version of grappa) made from wine production's leftovers, and anise-flavored ouzo.
Coffee prices vary widely, along with the quality and if you want an American-sized one to charge up your day you'd better hit a Starbucks.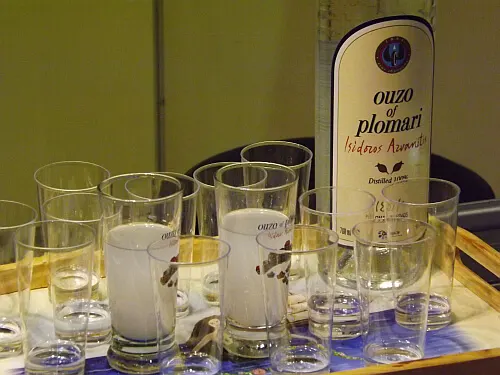 Cheap and Free Sightseeing
It's pretty pointless to come to Athens and skip the attractions, so set aside some money in the budget for admissions. Again though, compared to typical prices in Western Europe or even Turkey, you're not going to get hit too hard. It's €12 to get into the Acropolis–the most expensive attraction in town—and just €1 to get into the museum. From there it drops down to €7 for the National Archeological Museum and then a whole slew of other ones are €5 or less. Many are free, either all the time or on certain days, so you could do days of sightseeing for next to nothing if you planned it out right. Here's a good guide to prices and free days. If you're a student, bring your ID! You'll get half off at most places.
Like any capital city, Athens has its fair share of free things to do as well, from summer concerts and free museums to leafy parks and fun flea markets. The National Gardens and Zappeion building inside often have events going on. Check the local print rags like Athens Voice for what's new. There are several companies offering a free walking tour if you want to get your bearings after arrival. You can see the changing of the guard outside the parliament building gratis or head out to one of the nearby public beaches in the summer.
If you're a budget backpacker, you'll be much better off in Albania, Macedonia, or Bulgaria in this region. But if you want a classic European experience without breaking the bank, for mid-range travelers or short vacationers, Athens is a good value. See more at the This is Athens website.