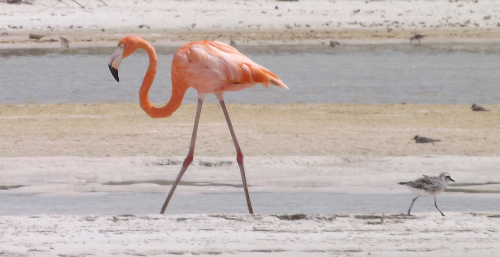 We drove away from the gigantic oceanfront resort we were staying at in Cancun, Mexico for the Travel Bloggers Exchange conference and two hours later were in a completely different world. A place where the biggest hotel has 55 rooms. Isla Holbox is reached via ferry from the Yucatan Peninsula, and once we got there we could pick from three ways to get around: bicycle, walking, or on a golf cart taxi.
Holbox is a place to really go unwind. It's quiet, mellow, and only partially paved. Only 1,500 or so people live on the island. "There are three or four policeman," said our guide Gustavo. "They read the paper all day, with nothing to do." The island sits on the Chicxulub Crater (where the meteor hit that is thought to have wiped out the dinosaurs), so you have to walk out quite a ways before the water is over your head. It's an easy place for the toddlers to play in the water without getting knocked over by a wave.
In the right time of year, the big draw is well offshore though: big whale sharks swim in the waters and you can go snorkel above them.
We didn't have any luck on that front though. It was the end of the season and the seas were very rough. It's already a rough ride to get there anyway and some people who did go that week told me a majority of the group ended up puking, some of them while they were snorkeling. Ugh. So instead we took a more laid-back excursion with VIP Holbox and went fishing and flamingo spotting instead. After catching a slew of grouper, red snapper, and dog snapper ("be careful, it bites"), the captain and guide whipped up some very fresh ceviche to eat with tortilla chips while anchored here.
There's not a whole lot to do on Holbox Island itself, which is just fine. You can while away the afternoon drinking micheladas and eating seafood, or you can just bike or stroll the town and check out the artwork. They recently held an International Festival of Public Art and commissioned visiting street artists to paint some murals after they got a feel for the place. Here's what they produced.
The island actually gets more Mexican visitors than foreigners, so hotel prices are a good value. This is true at the high-end places like Villas Flamingos, at middle-range ones like Hotel Arena in the center, or hostels where you can find a bed for $10 or $11 a night. There are also a couple camping places. The ferry over costs about $8, golf cart taxis are $4 or less, and you can get a bus from Cancun center.
If you're looking at getting a cheap flight to Cancun but then going somewhere more chilled-out after landing, Holbox is a great excursion for a place to unwind. There's Wi-Fi here, but be advised the only cell signal is Telcel, so you'll have to have their Sim card or be roaming with someone who is allied with them if you want to use your phone.