Tango in Kenya, Boy Monks in Myanmar, and Green Gold in Washington State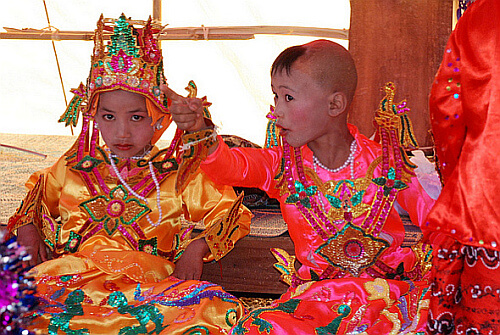 Yes, it's time for a new issue of Perceptive Travel, bringing you interesting travel narratives from wandering book authors since 2006.
This month we visit three continents and explore areas that aren't usually on the tourist map. Camille Cusumano returns with a recounting of her time teaching tango to disadvantaged youths in a rough part of Kenya's capital. With the program running on donated funds, it's not a happy dance when the money starts lining pockets. See Dance of Betrayal in Nairobi.
Michael Shapiro exits the well-worn pagoda trail in Myanmar and visits Kalaw, once a British hill station. He lucks upon a two-day event meant to anoint new monks to be, from ages 4 to 11, before they enter the monastery. With parades, grand costumes, and head shaving, it's a colorful glimpse into local culture. See Rites of Passage in Myanmar's Tribal Highlands.
Becky Garrison goes on a very strange press trip when she hooks up with Kush Tourism for a "Cannabis Grow Tour." With Washington State being the next in line to legalize marijuana, farmers and vendors are gearing up for a green gold rush. See the full story here.
Every month we feature round-ups of new travel-related books worth checking out and dive into some world music worth downloading to take on the road. William Caverlee reviews a book on riding the seas on a gargantuan warship, going from the top of Everest to the sea by paraglider and kayak, and yet another pictorial list book from Lonely Planet.
Graham Reid does the music honors, spinning a rare union of NYC and Guinea, time-travel in India on a collection from the vaults, classic old soul from Africa, and a surprisingly good compilation of African blues from Rough Guides. See them all here.
Each month our newsletter subscribers and Facebook followers have a shot at winning something useful and in August it was Don L. of Alaska. He scored a new pair of Pickpocket Proof nylon business pants, which are my current faves. He'll be holding onto all his valuables when he heads off to Southeast Asia next month.
This time we're giving away my new book, A Better Life for Half the Price to one reader, while another will get the Committed package that comes with a lot of extra insider access goodies ($89 value). If you are already on the newsletter list, watch your inbox. If not, pay attention to the Facebook feed. Subtitled "How to prosper on less money in the cheapest places to live," it's essential reading for anyone contemplating a life upgrade by moving abroad.