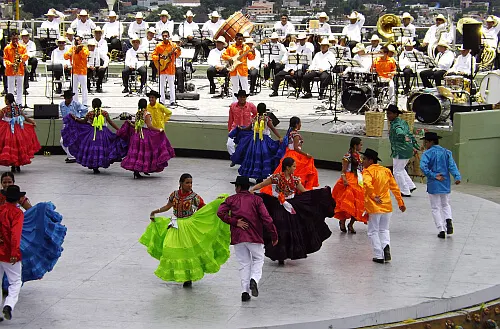 When dishing out budget travel advice, I usually tell people to avoid going somewhere when it's high season. There's a whole chapter on timing in Make Your Travel Dollars Worth a Fortune about finding the sweet spot of shoulder season where you're going. When crowds are at their peak, prices are bound to be at their highest.
Sometimes it's worth it though. Sometimes it's high season not just because of vacation schedules, but because there's really something fantastic going on. That's what I'm experiencing right now during the week of the Guelaguetza Festival in Oaxaca. We didn't even know this was going on when we first planned our vacation; we just lucked out. But now that we're here during prime time, I'm really glad we made it when we did.
I was originally going to call this post "Mole and Mezcal in Oaxaca" since we spent the first morning here at a tamale festival (many of the tamales featuring different kinds of mole sauces) and the next afternoon at a mezcal fair. In both cases we got to try a huge variety of them in one place. The tamales were less than a dollar each and the equivalent of $3 got us into the Feria de Mezcal where we could walk around sampling them or buying bargain-priced cocktails for a few dollars each. Both of these events were unique to the Guelaguetza week and would not be going on other times during the year.
The same goes for all the artisan stalls taking up the whole rest of that park, with each booth listing the Oaxacan village that artisan came from. You can buy direct from them at this time, with no middleman and no traveling out to some remote town and finding the workshop behind an unmarked door. Two other artisan areas were set up in different parts of the center, also temporary, coming down in a few days.
But what's Guelaguetza? It's an incredible dance performance featuring groups from different villages around Oaxaca. It's an elaborate affair in an amphitheater overlooking the city and was far more spectacular than I had expected. There were 16 dances in all, over several hours. That sounds kind of excessive, but it never got boring because they were all very different. My daughter was also more into it than I thought she'd be too due to one key factor: at the end of each dance they threw things into the audience. So besides the hat, seat cushion, fan, and t-shirt we got upon arrival, gifts were flying through the air every 15 minutes or so. We scored some things like cool little baskets, woven fans, fruit, rolls, chocolate, and packets of coffee.
Guelaguetza is the reason to have lots of other things going on in Oaxaca the same week though. We saw Lila Downs one night in that same amphitheater and it was quite a production with all the extra dancers in town.
We had already planned to do some shopping to buy things for our house in Mexico, so we had a lot to choose from with all the artisans in town. Thankfully we're taking a bus back instead of a flight because we have loads of extra stuff to carry.
There was one downside to being here in high season: we couldn't rent an apartment to stay in near the center, so we ended up in a hotel. The hotel, Las Golondrinas, didn't jack up its rates though and we paid 780 pesos a night for a triple. It's a decent deal. We got into restaurants fine and no place felt packed out. This is a tourist city anyway, so Oaxaca can absorb the traffic okay. So in the end, I don't think we paid a premium at all for being here during high season, despite renting a car for two days too. Everything was just more crowded than it would normally be.
For more information, see the Oaxaca Tourism site, where they'll have info posted on the 2015 Guelaguetza Festival far in advance. See their festivals page in Spanish for others or get a good guidebook. You can also trust what you see on the About.com Mexico site because the writer Suzanne lives in Oaxaca and also works as a guide.