Some Random Books Worth Reading
There's a lot of chatter in the publishing industry right now about how independent, self-published authors are totally kicking butt and realizing that they can do a lot better on their own than they ever could have done with a traditional publisher. Part of this is because they don't put all their efforts into a first-week launch and then move on to the next thing. Most of their sales come well after that because they're still visible and as many have said, "A book is always new if you've never read it."
So in that spirit, many of these books are not brand new and are not stacked by the dozens at the front of Barnes & Noble, but they're as great as when they first came out. The last one two are new though, if you want to get something hot off the press.
Last Days of the Incas
I put off reading this 2007 release for a long time because it's a really thick, heavy book and I thought it would be a tough slog. I was oh so wrong about that. Last Days of the Incas has all the pacing and character development of an epic novel. It just happens to all be true. Meticulously researched but written by someone who is great at telling a story, this is one of those tales that would seem completely unbelievable if someone made it up.
It's the story of how a motley band of 168 greedy, low-class Spaniards managed to rout an entire Inca empire that stretched 2,500 miles from northern Ecuador down to the bottom of Peru. Solely because they had horses and steel weapons, they were able to hold off an army of more than 10,000 rebels that tried to take back Cusco. Full of strategic blunders, fateful egos, and double-crossing, it's the greatest movie you've never seen. Here's an interview with author Kim MacQuarrie if you want to learn more.
Going Clear
While at a resort in Zihuatanejo, I found this on a book exchange shelf and figured I'd educate myself about the wacky cult based in my sometime home of Tampa Bay. Going Clear was even wackier than I expected. It starts with L. Ron Hubbard's self-embellished, odd life history, then the growth of his "religion," to the secretive, exploitative compounds and control mechanisms the organization now uses to keep everyone locked in and financially feeding the beast. There have been a few brave books like this by authors who soon get harassed and sued over and over again afterwards, but this one benefits from interviews and stories from very high-ranking officers who left the organization, despite the great personal risk and isolation that entails. This book is fascinating in the same way as a Stephen King book—a terrible horror story you're glad you can view from a safe distance.
Getting Out & The Expat Guidebook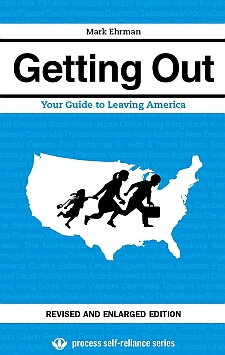 I've finishing up my latest book, A Better Life for Half the Price, about cutting your expenses in half by moving to a cheaper place to live. (Get on the notification list here.) To make sure I haven't missed anything fundamental, I've been getting a gut check by reading two in-depth guides to moving abroad. Getting Out makes the case for moving away just to, well, get out. So it's not focused on costs so much as a better quality of life. And better health care–which you get almost anywhere else you would move to from the USA.
The Expat Guidebook starts out as a diatribe, then offers a solution, then gives you all the answers to the nitty-gritty questions you'll pose to make a transformation happen. The overall premise is that you can live much better abroad by escaping the consumer-driven rat race. By following author T.W. Anderson's 568 pages of tips gleaned from living in two countries, you'll be prepared for whatever the world throws at you.
Travels with Baby
I reviewed the first edition of Shelly Rivoli's excellent book on traveling with babies, toddlers, and pre-schoolers when it came out. My daughter, who once fit that profile, is now 13, so I've just been skimming through this to see how the new one looks. Susan Griffith has a detailed review of it in this month's issue of Perceptive Travel though, so you can see more there. From what I have seen though, Travels with Baby is the most thorough, comprehensive book out there on the subject and it goes well beyond the little Ziploc bag tricks and Disney ticket advice things you see in most mommy blogger titles. Shelly's a real travel writer who is out and about with her family more than most and she strikes a good balance between urging you to explore and staying safe and healthy along the way. Good solid advice if you're a parent wanting to travel with little ones.
The Rules of Travel
I put this little pocket book last because I could be accused of being a little biased: I wrote the forward to it. The Rules of Travel is from my long-time buddy Andy Graham, the Hobo Traveler. If you've read the budget travel in Africa guest post he did for me earlier, you know he's an opinionated guy who doesn't believe in acting politically correct to keep from pissing people off. Whether you agree with every one of his rules or not, you're sure to spend a lot less and be a lot safer when you travel if you follow even half of them. I don't know anyone who has been on the road for a longer continuous period than Andy. Sure, that makes you a bit cynical after a while, but it also makes you wise.
This is not a book you're going to curl up with in the hammock to keep you entertained for hours. It's something to pick up, digest a chapter of, and then come back to later. When you're finished, you'll be more savvy than 95% of your follow backpackers out there circling the globe.